bundle fun
Eén van mijn favoriete dingen uit de Stampin' Up! catalogi zijn de bundels die worden aangeboden. Fijn toch? Stempels met bijpassende stansset of punch én een 10% korting als je deze als bundel aanschaft.
One of my favourite things from the Stampin' Up! catalogs are the bundles that are offered. Nice right? Stamps with corresponding dies or punch ánd a 10% discount when purchasing them as a bundle.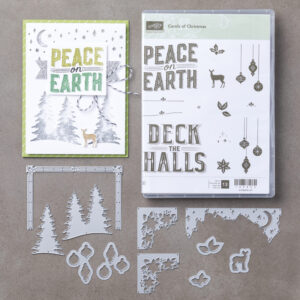 Een hele mooie bundel uit de Herfst/Wintercatalogus staat deze week bij mij in de Spotlight: Carols of Christmas. Deze bundel bestaat uit de mooie Carols of Christmas stempelset en de prachtige bijpassende Card Front Builders Thinlits Dies.
A very pretty bundle from the Autumn/Winter catalog is my Spotlight product this week: Carols of Christmas. This bundle consists of the beautiful Carols of Christmas stamp set and the gorgeous Card Front Builders Thinlits Dies.
In Duitsland hebben ze ook een Duitse variant van de stempelset en ik heb deze aangeschaft vanwege de tekst 'Stille Nacht', ik had het gevoel dat ik daar meer mee kon doen dan met de teksten van de Engelse set.
In Germany they've a German stamp set and I bought that one because 'Stille Nacht' (= Silent Night) is spelled the same in Dutch, so it would be easy for me to use.
card front builders thinlits dies
Voor het eerste kaartje van deze week heb ik alleen maar de Card Front Builders Thinlits gebruikt. Ik vind de boompjes en het kleine hertje namelijk geweldig. Ik heb een collega die heel erg van zwart-wit houdt, dus haar kaart heb ik dus bij dezen gemaakt 🙂
For the first card of this week I've only used the Card Front Builders Thinlits. I really adore the trees and the small deer. I have a colleague at work who's really into black & white, so this is going to be her Christmas card 🙂
De basis is Thick Whisper White cardstock en als blikvanger heb ik een Silver Foil Snowflake gebruikt. De laagjes bestaan uit Black Shimmery Ribbon, Whisper White cardstock en Dazzling Diamond glimmer paper. Het hertje is uit Basic Black cardstock gestanst, de tekst komt uit de Nederlandse stempelset 'De juiste woorden' en de White Perfect Accents maken het geheel af.
The basis is Thick Whisper White cardstock and I used a Silver Foil Snowflake as a focal point. The layers consists of Black Shimmery Ribbon, Whisper White cardstock and Dazzling Diamond glimmer paper. The deer is cut from Basic Black cardstock, the sentiment comes from the Dutch version of Teeny Tiny Sentiments and the White Perfect Accents finish off the card. 
more projects are coming…
Meer Spotlight projecten met deze prachtige bundel volgen, dus houd m'n blog in de gaten 🙂
More Spotlight projects with this wonderful bundle will follow, so keep an eye on my blog 🙂
P.S. Vergeet niet dat er op dit moment t/m 31 oktober een hele leuke DSP-actie is! Klik op de afbeelding voor meer informatie.
Hieronder vind je alle door mij gebruikte materialen. Wil je hier iets van aanschaffen? Dan verzorg ik graag je bestelling (mail: danielle@mrsbrightside.nl)! Je kunt op de onderstaande afbeeldingen klikken om naar mijn webshop (Credit Card only) te gaan.
Product List
| | | | | |
| --- | --- | --- | --- | --- |
| | | | | |
| | | | | |
| | | | | |