Stamp-on-line event
Afgelopen week vond er op onze Facebookgroep 'Online Stampin' Party NL' weer een Stamp-On-Line event plaats. Tijdens zo'n event maak je een project aan de hand van aanwijzingen die een van de beheerders plaatst. Je weet van te voren alleen wat je nodig hebt aan materialen, maar komt er pas tijdens het volgen van de aanwijzingen achter wat het project wordt. Een hele leuke manier om gezellig een avondje te craften en nieuwe inspiratie op te doen.
Last week, we had another Stamp-On-Line event on our Dutch Facebook group 'Online Stampin' Party NL'. During one of those events you make a project by following the hints of one of the admins of the group. You only know which materials you're going to use, but you only find out what you're making when you follow the hints during the event. A fun way to craft and get some inspiration.
Deze maand was het de beurt aan Caroline om het Stamp-On-Line event te begeleiden en ze liet ons een hele leuke geschenkkaarthouder maken. Hieronder zie je mijn versie van dit project en klik hier om naar Caroline's project te gaan!
This month, it was Caroline's turn to run the Stamp-On-Line event and she let us make a super fun gift card holder. Below you'll see my version and click here to see Caroline's project.
Christmas in the making gift card holder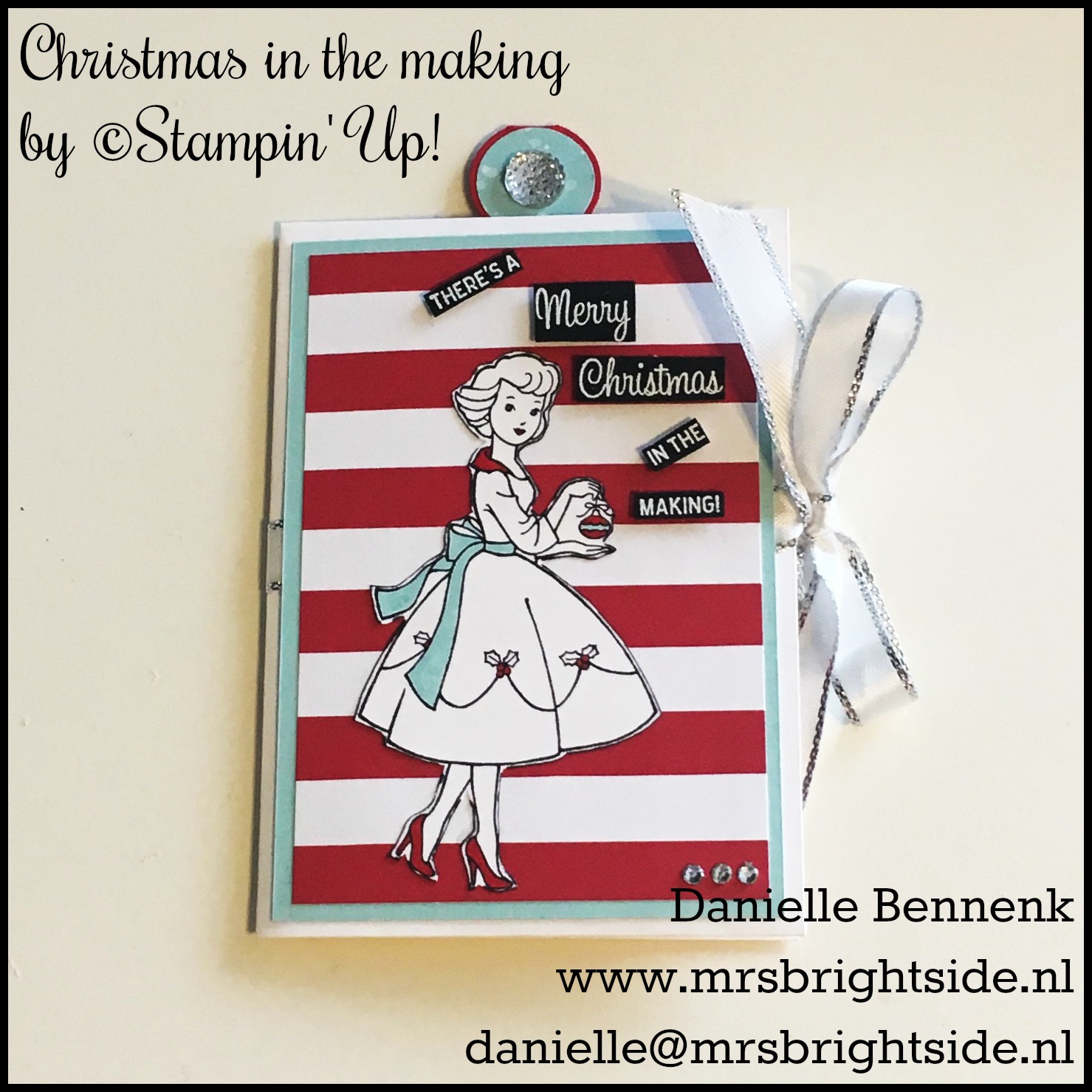 Het mapje bestaat uit een dubbelgevouwen envelop, die is 'aangekleed'. Ik koos er voor om mijn Whisper White envelop te combineren met Pool Party cardstock en het Real Red/Whisper White gestreepte papier uit de Christmas Around The World designer series paper. Dit papier maakt trouwens onderdeel uit van de DSP-actie (klik hier) die nog de hele maand geldt!
Mijn gestempelde afbeelding, uit de Christmas in the Making stempelset, heb ik maar gedeeltelijk ingekleurd met een Real Red en Pool Party Stampin' Marker. De tekst is net als bij mijn eerste Spotlight project weer met wit op zwart cardstock embossed.
The holder consists of a folded envelope that has been embellished. I chose to combine my Whisper White envelope with Pool Party cardstock and the Real Red/Whisper White paper from the Christmas Around The World designer series paper. My stamped image, from the Christmas in the Making stamp set, is only partially colored with a Real Red and Pool Party Stampin' Marker. The sentiment is just like my first Spotlight project white embossed on Basic Black cardstock.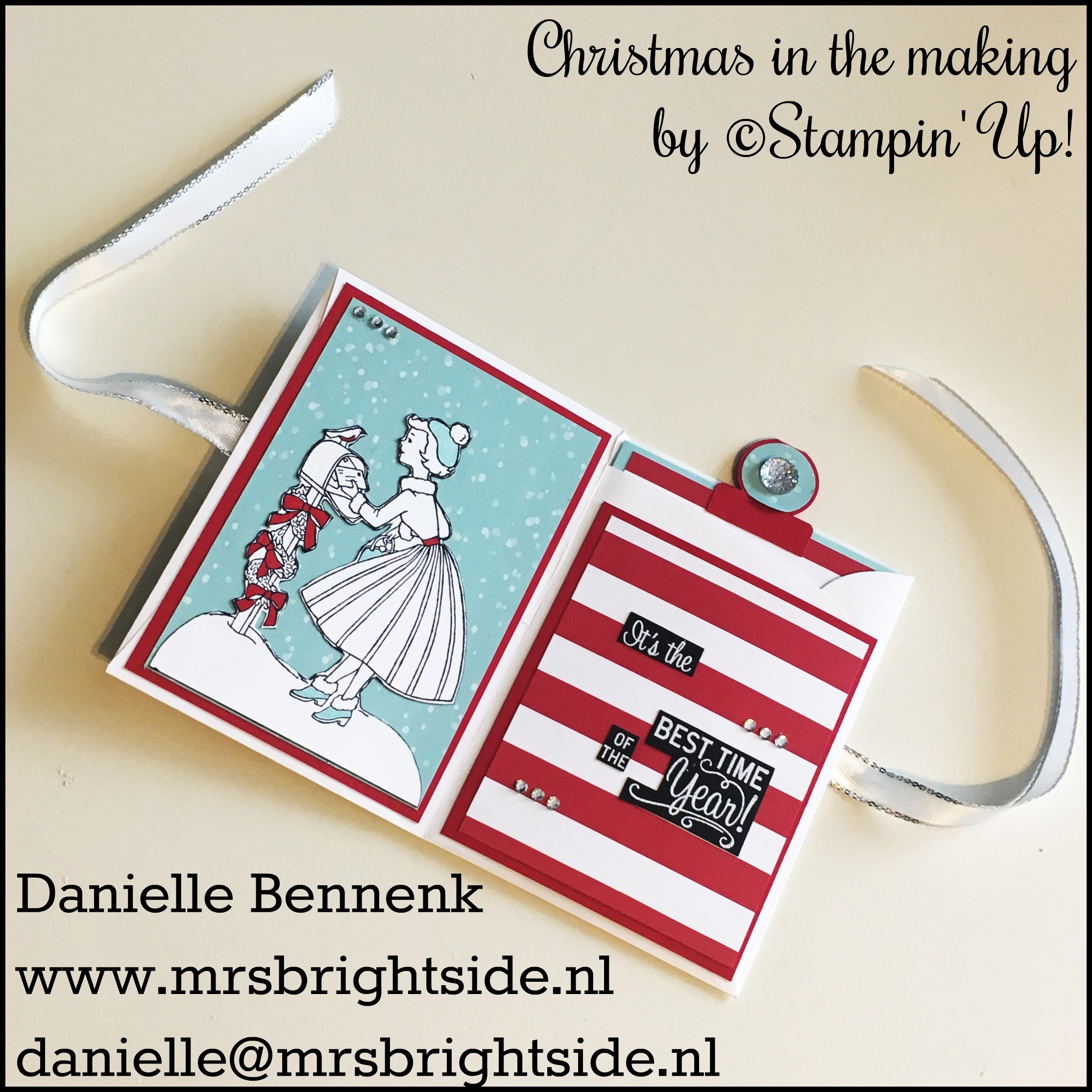 Aan de binnenzijde van het mapje vind je nog een afbeelding en wederom het mooie Christmas Around The World DSP. Lijkt het niet net alsof het sneeuwt?? 🙂 In het envelopje vind je ook nog een kaartje waarin je, aan de binnenkant, de geschenkkaart kunt stoppen.
On the inside of the holder you'll find another image and once again the beautiful Christmas Around The World DSP. Doesn't it look like it's snowing?? 🙂 In the envelope you'll find the insert to hold the gift card.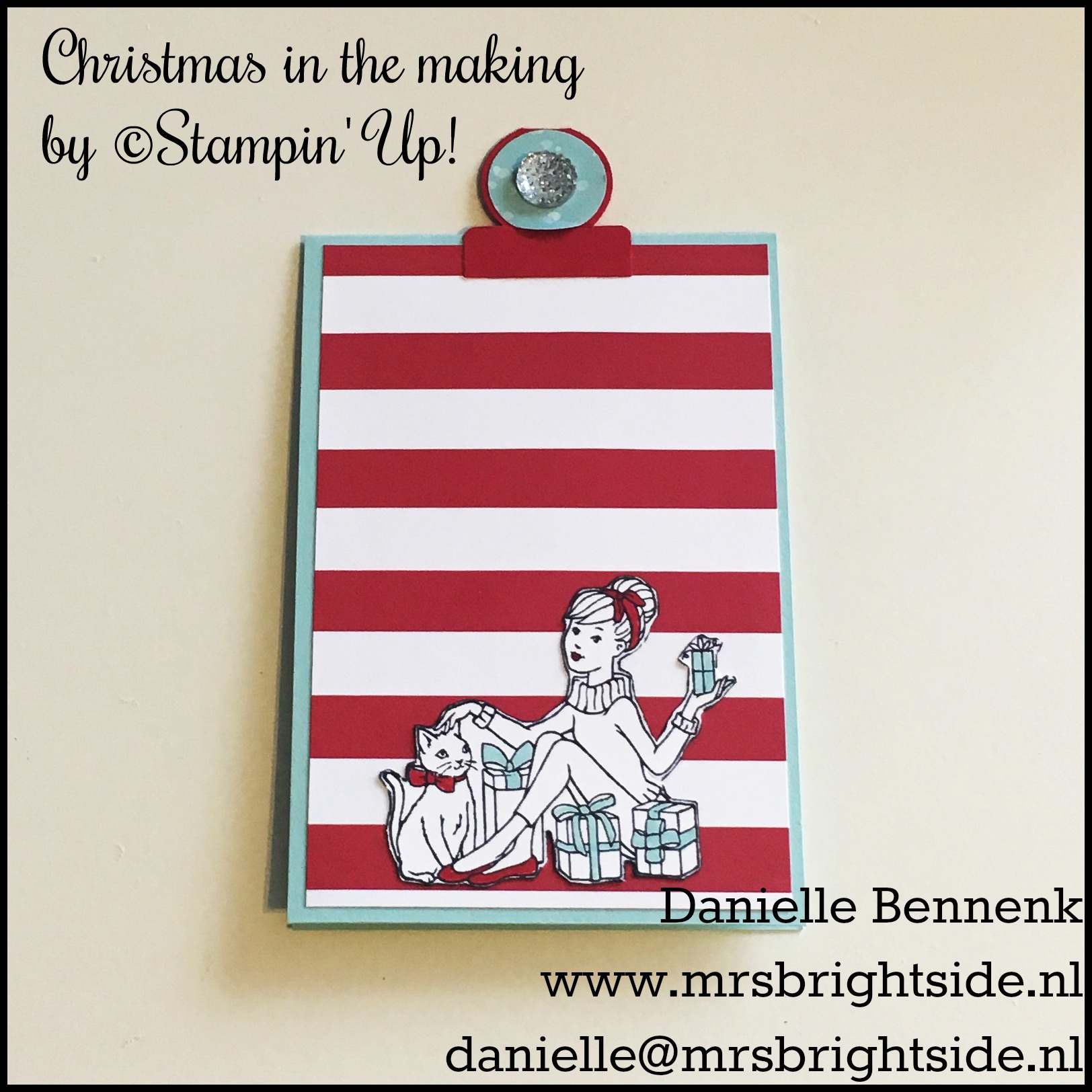 Wat een geweldig mapje, niet waar? Heel makkelijk te maken en aan te passen voor verschillende gelegenheden. Ik vind het ook leuk dat de Christmas in the Making stempelset zo een heel andere look heeft gekregen. Vrijdag ben ik er weer, met mijn laatste Spotlight project van deze week!
What a fun gift card holder, right? Very easy to make and to fit to different occasions. I also like the fact that the Christmas in the Making stamp set got a completely different look. Friday, I'll be back to show you my last Spotlight project of this week!
Hieronder vind je alle door mij gebruikte materialen. Wil je hier iets van aanschaffen? Dan verzorg ik graag je bestelling (mail: danielle@mrsbrightside.nl)! Je kunt op de onderstaande afbeeldingen klikken om naar mijn webshop te gaan.

Product List