Welkom
Stempel, Inkt & Papier is een creatief initiatief van vier Nederlandse Stampin' Up! demonstratrices die elke maand een specifiek Stampin' Up! product centraal zetten in een 'Live' workshop programma.
We hebben dit programma liefdevol geadopteerd van de dames van het 'Crafty Carrot Collective' en zijn erg blij dat zij ons steunen bij dit initiatief!
Hoe ziet dit 'Live' workshop programma eruit?
Iedere maand bieden we tenminste 4 online workshops aan via Facebook Live uitzendingen in een besloten Facebook groep. Dit zijn dus 'Live' workshops waarbij jij als kijker meteen met ons mee kan doen of later aan de slag kan gaan.
Deze 'Live' workshops zijn verdeeld over de maand (1 per week) en vinden plaats op verschillende dagen en tijden. Het uitzendschema staat in de Facebook groep. Op die manier kun je zelf bepalen of je live mee doet of de workshop later bekijkt.
Tijdens de live workshops tonen we projecten in verschillende categorieën, o.a. Alles Behalve Een Kaart en Technieken. Deze projecten worden allemaal gemaakt met hetzelfde Stampin' Up! product. Hierdoor krijg je super veel inspiratie voor dat specifieke product.
Ook als je geen Facebook hebt kun je gebruik maken van het 'Live' workshop programma van Stempel, Inkt & Papier. Jij krijgt dan de linken van de video's per mail toegestuurd op de zondag van die week.
Wie zijn wij?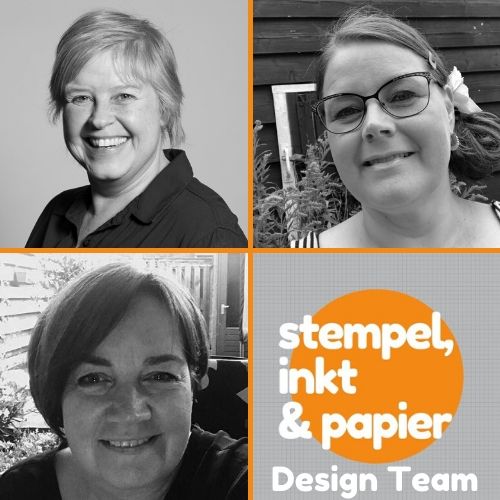 Lotte Noordzij-Walther
Hoi, ik ben Lotte Noordzij. Getrouwd met Martin en heb 2 kinderen: Marlot en Koen. Ik woon in hartje Rotterdam. Sinds 2011 ben ik Stampin' Up! demonstratrice, eerst in de VS en sinds 2015 in Nederland. Het allerleukste vind ik het delen van mijn enthousiasme voor en mijn kennis van Stampin' Up! tijdens workshops.
Sandra Korten
Mijn naam is Sandra Korten. Ik woon samen met Michel en onze 3 dochters in Etten-Leur, Noord Brabant. Als Scrapbookingfanaat was ik altijd op zoek naar het bijpassende papiertje, lintje, embellishment, enz. En na mijn eerste Stampin' Up! party in 2013, kreeg ik een WOW reactie. Alles paste perfect bij elkaar! Ik kocht het starterspakket en geef nu met heel veel plezier workshops en zie ik telkens dezelfde WOW reactie terug bij mijn lieve klanten.
Danielle Bennenk
Mijn naam is Danielle Bennenk, ik woon samen met mijn lieve vriend, Johan, en onze kat, George, in Dreischor (Schouwen-Duiveland). Sinds 2015 ben ik besmet met het Stampin' Up! virus. Niets is leuker dan creatief bezig te zijn en dit gevoel te delen met anderen.
Hoe kun je deelnemen?
Wanneer je bij één van ons in een kalendermaand voor minimaal € 50 Stampin' Up! producten bestelt, krijg je de maand daarop gratis toegang tot onze exclusieve Stempel, Inkt & Papier Facebook groep.
Wanneer je één van onze directe teamleden bent krijg je iedere maand automatisch toegang tot onze exclusieve Stempel, Inkt & Papier Facebook Groep. Meer informatie over het Stampin' Up! starterspakket vind je op onze websites.
Wanneer je geen klant of direct teamlid van ons bent dan kun toegang tot onze exclusieve Stempel, Inkt & Papier Facebook Groep krijgen door € 15 te betalen. Wil je van deze optie gebruik maken, mail dan naar een van ons om je aan te melden:
Lotte Noordzij-Walther – lotte@alottestampingfun.nl
Sandra Korten – korten@ziggo.nl
Danielle Bennenk – danielle@mrsbrightside.nl