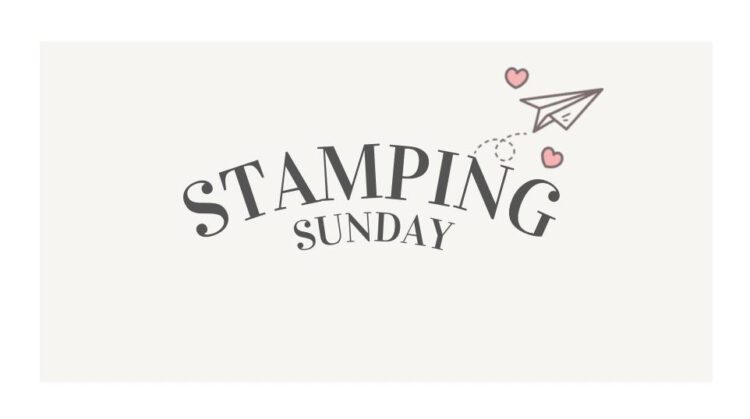 Thema: Stocking Fillers
Hallo, vandaag hop ik weer met het Stamping Sunday Design Team. We hoppen iedere 3e zondag van de maand rondom een specifiek thema. Deze maand hoppen we met het thema: Stocking Fillers. Dus projecten die je in een kerstsok voor Kerst of in een schoen kan doen bij Sinterklaas.
Het Designteam is natuurlijk aan de slag gegaan met hun favoriete product(en) van Stampin' Up! om projecten te creëren waarin het thema Stocking Fillers terugkomt. Ik ben erg benieuwd naar de creaties van de andere design teamleden. :). Ik ben zelf aan de slag te gaan met het mooie Sending Cheer Productpakket uit de Minicatalogus.
Onderaan dit bericht vind je een link naar de complete lijst met gebruikte materialen. Ik verzorg graag je bestelling, dus zit er iets voor je tussen. Klik dan op de 'Stampin' Up! bestelling'-knop of de 'Webshop Stampin' Up!'-knop in de zijbalk om deze te plaatsen.
Stocking Fillers: Nagelvijl verpakking
Voor dit thema heb ik een leuke nagelvijl verpakking gemaakt met een basis van Bubble Bath Cardstock. Hierin zit een leuke nagelvijl met een wolken dessin. Dat dessin heb ik als uitgangspunt gebruikt voor de verpakking.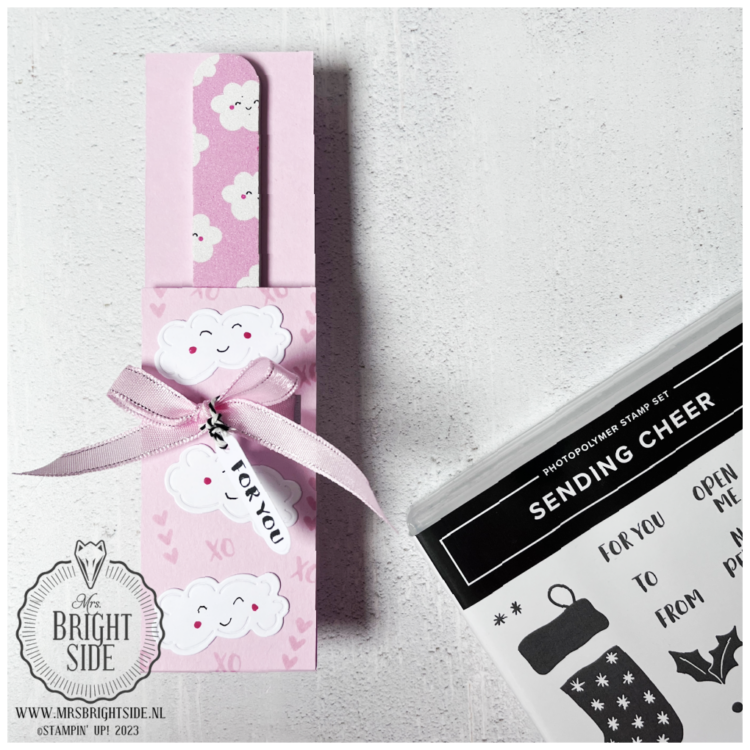 Ik heb een van de Sending Cheer Dies gebruikt om 'wolkjes' te stansen. Normaal doet hij dienst als bontrand van de kerstmuts of kerstsok uit de set. Het hoesje heb ik bestempeld met een aantal kleine afbeeldingen van de Sending Cheer Stempelset en Bubble Bath Classic Stampin' Ink. Daarop zitten de kleine wolkjes die ik een gezichtje heb gegeven met een Basic Black en een Melon Mambo Stampin' Write Marker.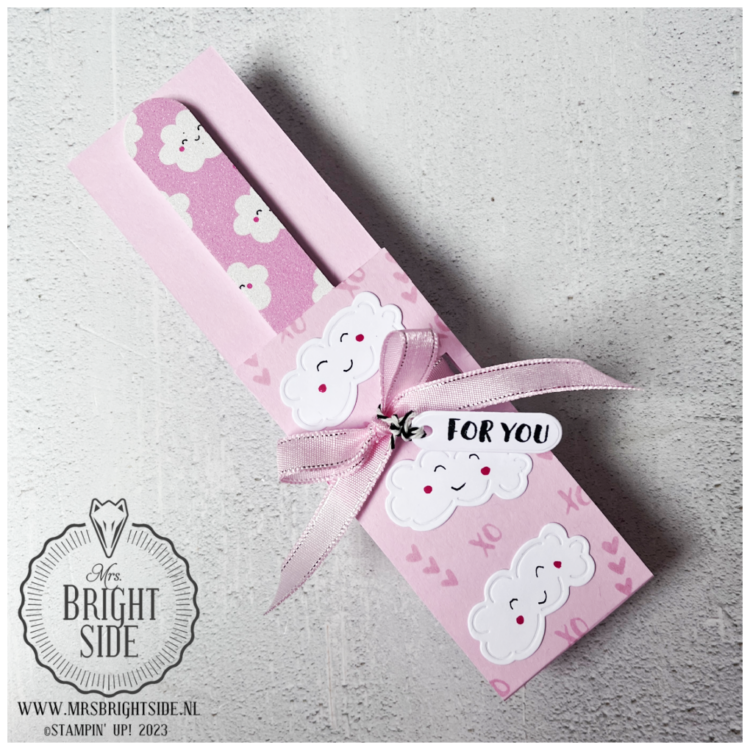 Het hoesje is dicht gemaakt met Bubble Bath Sheer Ribbon, dat ik bevestigd heb door gaatjes in de zijkant te ponsen met de Trio Punch.
Wil je zien hoe ik deze verpakking heb gemaakt? Kom dan vanavond vanaf 19 uur (UTC) naar mijn Youtube kanaal 🙂
Meer Stocking Fillers inspiratie
Ook de andere Design Teamleden hebben projecten met het Stocking Fillers thema gemaakt. Door op de tekst 'Next Blog' te klikken ga je naar het volgende blog. Daaronder zie je ook de gehele blog line-up, dus een hele lading inspiratie op deze mooie zondag.
Hartelijk dank voor je bezoek aan mijn blog. Ik zou het leuk vinden als je een reactie achterlaat en natuurlijk wens ik je nog veel plezier en inspiratie toe!

Gebruikte Materialen
Ik verzorg graag je bestelling. Klik op de 'Stampin' Up! bestelling'-knop of de 'Webshop Stampin' Up!'-knop (Ideal, PayPal en credit card betaling) in de zijbalk om deze te plaatsen.