Wat is nu precies Sale-A-Bration?
De aankomende twee maanden – Augustus & September – viert Stampin' Up! een feestje. De zogenaamde Sale-A-Bration. Maar wat houdt de Sale-A-Bration nu precies in? Sale-A-Bration bestaat eigenlijk uit 3 voordelen, waar je uit kunt kiezen
Winkelvoordeel
Starterspakket voordeel
Gastvrouw voordeel
1. Winkelvoordeel
In de Sale-A-Bration folder staan twee verschillende producten: €60 producten en €120 producten.
Een €60 product kan uitgezocht worden als je voor een bedrag van €60 besteld. Een €120 product kun je uitzoeken wanneer je voor een bedrag van €120 besteld hebt.
Voorbeeld: Bestel je voor € 120 aan Stampin' Up! producten, dan kun je dus zelf kiezen of je voor 2 €60 Sale-A-Bration producten gaat of voor 1 €120 Sale-A-Bration product. Bestel je voor bijv. €180, dan kun je kiezen om 3 €60 producten uit te kiezen of 1 €60 en €120 product.
In de Sale-A-Bration folder staat bij ieder product duidelijk aangegeven of het gaat om een €60 of €120 product.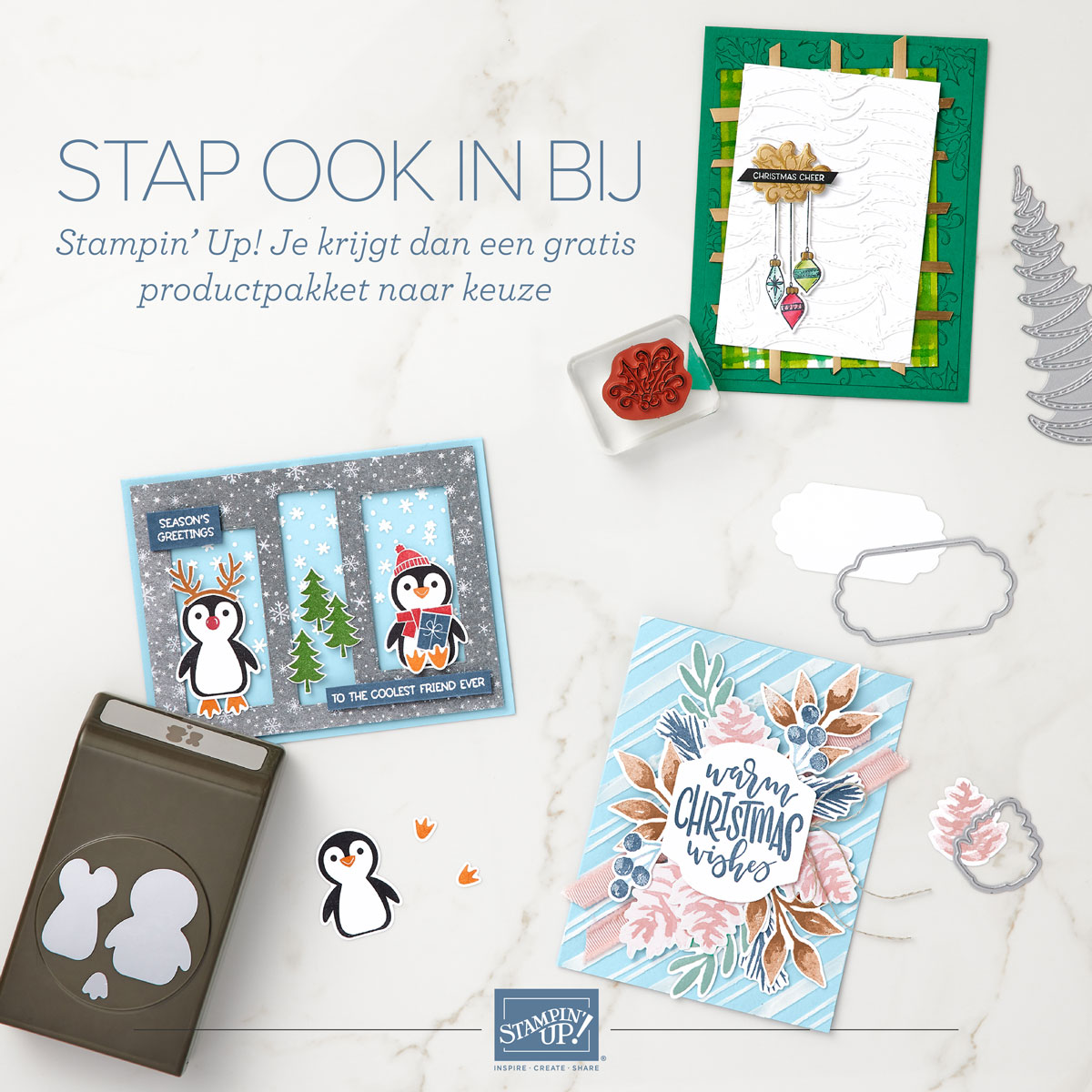 2. Starterspakket voordeel
Het Stampin' Up! Starterspakket is altijd al een geweldige deal, maar tijdens de Sale-A-Bration doet Stampin' Up! er een schepje bovenop.
Tijdens de gehele Sale-A-Bration periode ontvang je bij de aanschaf van het Starterspakket niet alleen het reguliere voordeel: €129 betalen en voor €175 halen! Maar ook dit voordeel:
 Een gratis productpakket van een uitgebreide selectie uit de Aug-Dec Mini Catalogus. Dit is een extra voordeel van max. €65,50 (het duurste aangeboden productpakket) bovenop het voordeel dat je al ontvangt! Klik op de onderstaande afbeelding om naar de pdf van de productpakket selectie te gaan!
Nadat je het starterspakket hebt aangeschaft, heb je recht op 20% korting bij iedere volgende aankoop (excl. BTW) die je doet bij Stampin' Up! Dit betekent, wanneer je nu het starters/product pakket zou aanschaffen, dat je nog tot 1 maart de tijd hebt om alsnog jouw favoriete gratis Sale-A-Bration sets te verzamelen met daarbij 20% op jouw nieuwe aanschaf. Je kunt in ieder geval tot en met eind juni zelf met korting blijven kopen bij Stampin' Up! En die korting kan zelfs oplopen tot 25%!   Buiten de korting en de prachtige gratis producten die je uit mag zoeken bij je starterspakket brengt het demonstratorschap nog veel meer voordelen met zich mee:
Je mag als eerste producten aanschaffen uit de nieuwste catalogi van Stampin' Up!
Je maakt onderdeel uit van Team Brightside, een team vol gezelligheid én creativiteit
Je hebt de mogelijkheid om van je hobby je werk te maken
Wil je meer weten? Klik dan hier of neem geheel vrijblijvend contact (danielle@mrsbrightside.nl) met mij op voor een afspraak per telefoon of Zoom.
3. Gastvrouw Voordeel
Wanneer je samen met je vriendinnen (maar ook alleen!! Dus heb je een lange wensenlijst, lees dan snel verder 🙂 ) bestelt, heb je vanaf € 200 recht op Stampin' Rewards. Een soort gastvrouw cadeautje. Met deze rewards kun je gratis Stampin' Up! producten uitzoeken naar keuze of je kunt het gebruiken om bij het Stampin' Up! starterspakket te leggen en hiervoor nog minder te betalen.
Tijdens de Sale A Bration heeft Stampin' Up! ook nog een speciale Sale-A-Bration hostess stempelset beschikbaar: In Je Eigen Woorden. Super gave Nederlandse teksten!! Je krijgt deze stempelset gratis bij een besteltotaal van € 375 of meer.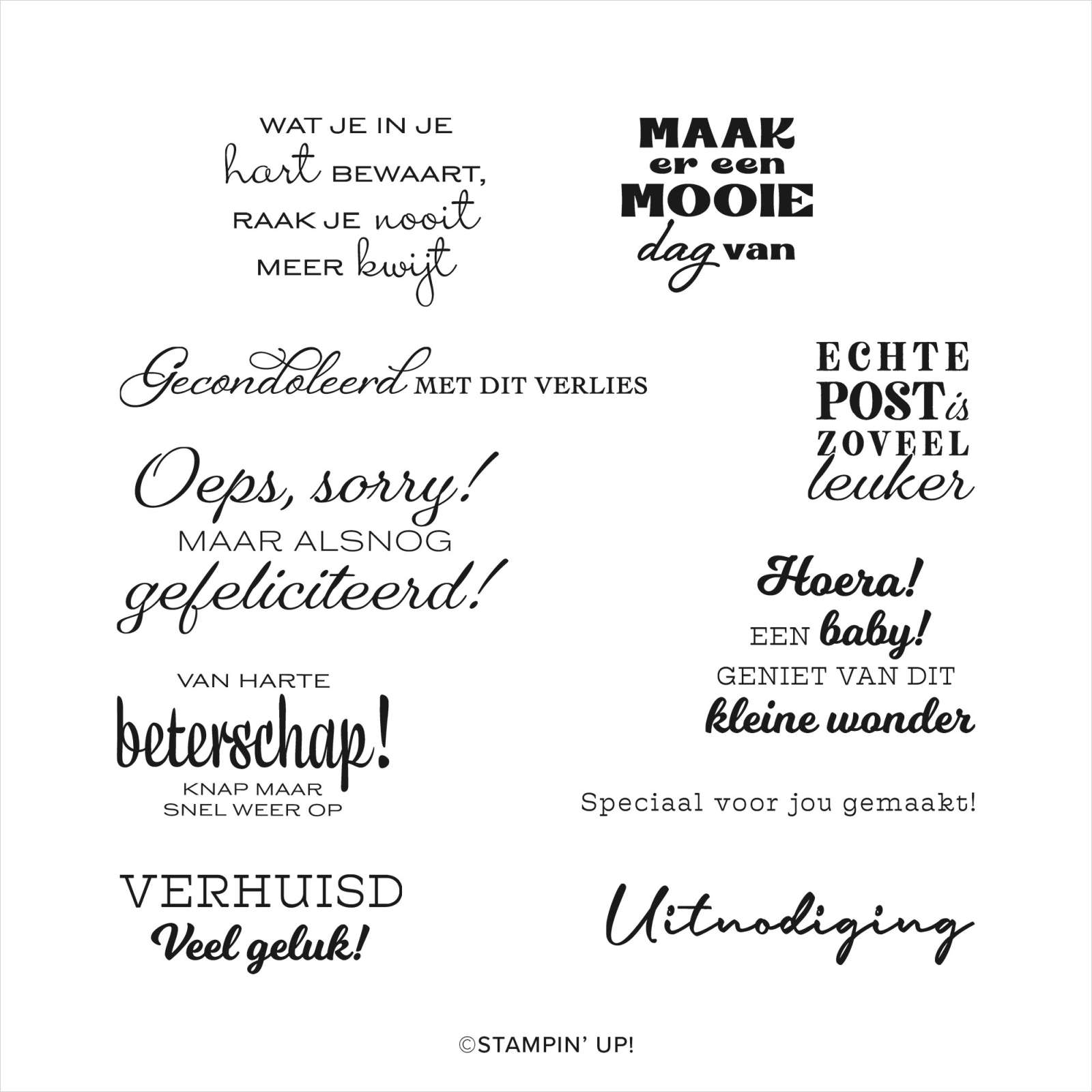 Al met al heeft Stampin' Up! deze Sale-A-Bration periode weer heel veel leuke voordelen voor de Stampin' Up! fans!   Sale-A-Bration loopt van 3 augustus tot en met 30 september 2021!   Mocht je vragen hebben over een van deze drie voordelen, dan mag je mij altijd een mail sturen (danielle@mrsbrightside.nl).