Global Monthly Video Hop 'Sale-A-Bration': Adorable Owls
Ook deze maand doe ik weer mee aan een internationale video hop met Stampin' Up! demonstrators vanuit de hele wereld. Er is een specifiek thema per maand en rondom dit thema maken we een video tutorial van een project. Natuurlijk maken we gebruik van de mooie producten van Stampin' Up!
Deze keer is het thema Sale-A-Bration. Ik koos ervoor om aan de slag te gaan met de Adorable Owls Stempelset uit de Stampin' Up! Sale-A-Bration Folder. Deze stempelset kun je gratis uitkiezen bij een bestelling van € 60 of meer.
Adorable Owls Kaart
Dit frisse kaartje is een combinatie van de Adorable Owls Stempelset en het toffe Dandy Designs Designpapier. Dat laatste is gratis uit te kiezen bij een bestelling van € 120 of meer. Je krijgt dan een pakket papier met maar liefst 48 vellen.
Het Balmy Blue van het designpapier heb ik ook terug laten komen in de ogen van het uiltje én de pastel sequins.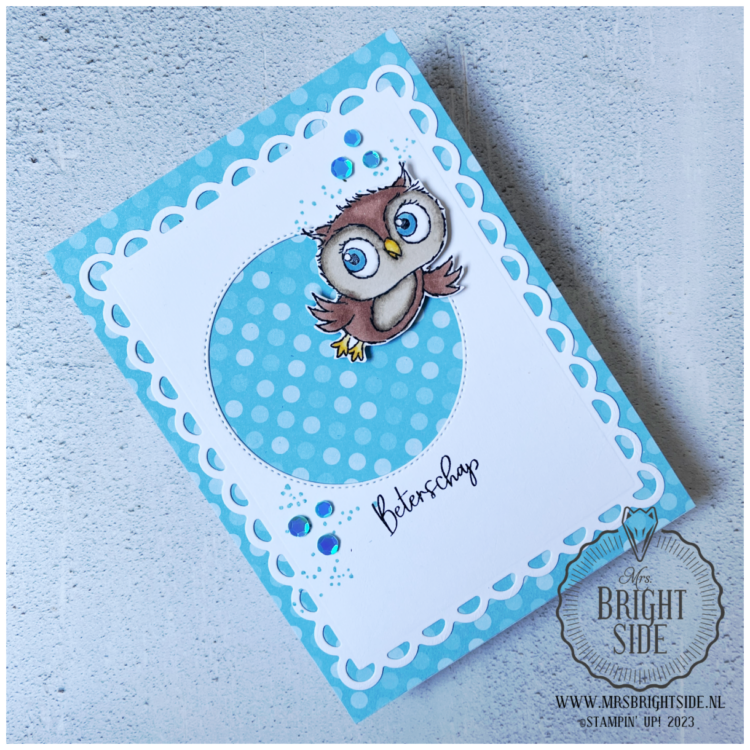 De basiskaart is van Basic White Thick Cardstock, daarop zit een mat van het Dandy Designs Designpapier. Vervolgens heb ik een cirkel gestanst uit de mat die ik gestanst heb met de Golfjesrandstansen.
Het uiltje is ingekleurd met Stampin' Blends, zie de link naar de gebruikte materialen onderaan dit bericht, en daarna uitgeknipt. Voor de tekst en de kleine spetters gebruikte ik de Lieve Bloemen Stempelset. Deze gave Nederlandse stempelset staat eveneens in de Sale-A-Bration Folder.
Gratis Video Tutorial
Zoals ik bij de inleiding al schreef, maakt ieder Design Teamlid een video tutorial. In deze video leg ik stap-voor-stap uit hoe ik dit project maak en vermeld ik ook alle afmetingen en gebruikte kleuren. In de description box van de video vind je tevens de linken naar de video's van de overige deelnemers.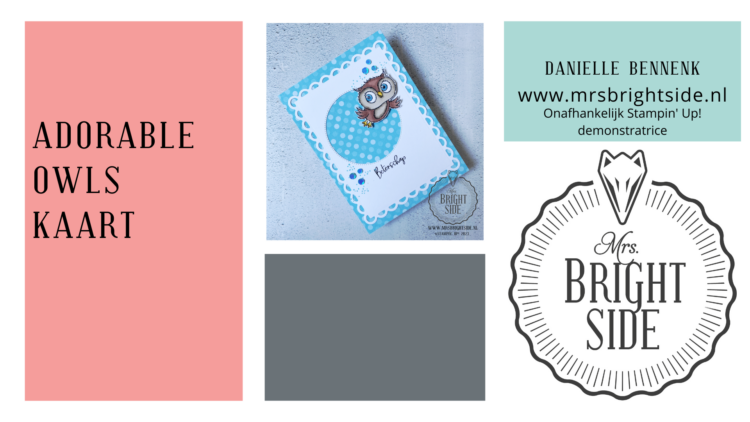 Klik op de bovenstaande afbeelding om naar mijn video tutorial te gaan. Ik wens je veel kijkplezier en inspiratie toe bij deze Global Video Hop!
Heel erg bedankt voor je bezoek.

GEBRUIKTE MATERIALEN
Ik verzorg graag je bestelling. Klik op de 'Stampin' Up! bestelling'-knop of de 'Webshop Stampin' Up!'-knop (PayPal en credit card betaling mogelijk) in de zijbalk om deze te plaatsen.