Thema: In Color Combo
Welkom bij Mrs. Brightside! Vandaag hop ik met het Stampin' Creative Design Team met het thema: In Color Combo. Dus alles draait om projecten de nieuwe In Colors en combinaties ervan. Bij mijn project heb ik een combinatie gemaakt met alle vijf de nieuwe In Colors, want ik vind ze echt allemaal even fabulous!
Om deze prachtige tinten goed te tonen heb ik het All Things Fabulous productpakket uit de nieuwe Stampin' Up! jaarcatalogus gebruikt. Een prachtige polymeer stempelset met bloemafbeeldingen die je in verschillende stappen stempelt en een handige bijpassende stansset: Fabulous Florals Dies.
*Dear international readers, please use the translate button on the right (see side bar) to translate this message to your preferred language.
All Things Fabulous In Colors Kaart
De basiskaart (14,5 x 21 cm, rillen lange kant op 10,5 cm) is van Whisper White Thick Cardstock. Daarop heb ik een Misty Moonlight Cardstock mat van 9,5 x 13,5 cm geplakt.
Op de Whisper White Cardstock mat (9 x 13 cm) heb ik een stuk Whisper White Cardstock geplakt dat gestanst is met de 'kant' stans uit de Fabulous Florals Dies. Op het 'kant' heb ik diverse bloemen en blaadjes geplakt die gestempeld zijn met de All Things Fabulous stempelset en 4 van de 5 In Colors: Bumble Bee, Magenta Madness, Misty Moonlight en Just Jade Classic Stampin' Inkt.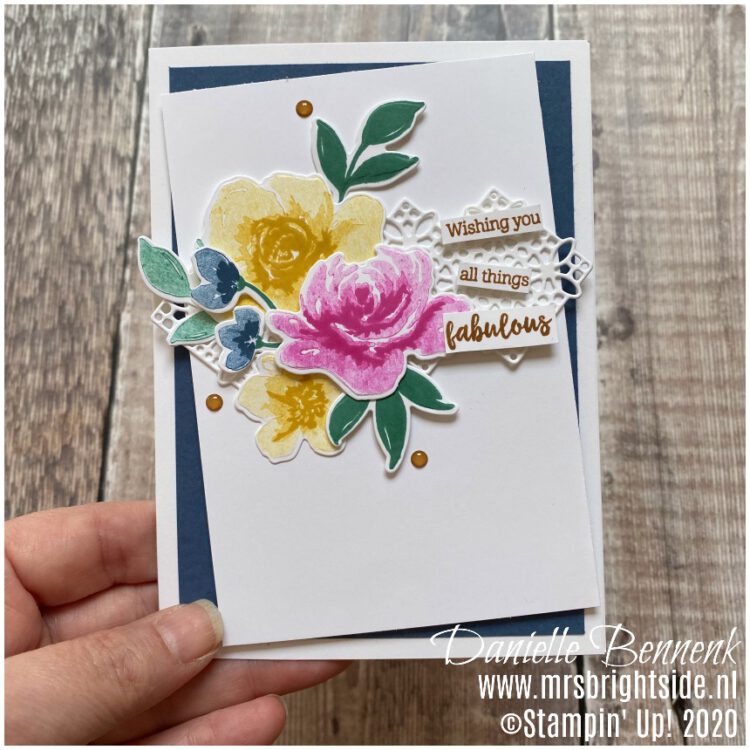 De vijfde In Color kleur, Cinnamon Cider Classic Stampin' Ink, heb ik gebruikt om de tekst 'Wishing you all things fabulous' te stempelen. Ook komt deze kleur terug in de 2020-2022 In Color Enamel Dots. Hieronder zie je de kleuren nog een keer in detail. Ze passen echt geweldig bij elkaar, niet waar?
Meer inspiratie van het Stampin' Creative Design Team
Ik hoop dat je mijn interpretatie van het thema kan waarderen en ik hoop dat ik je met dit project geïnspireerd hebt. Ben je net als ik ook benieuwd naar de creaties van de andere Stampin' Creative Design Teamleden? Dan kun je eenvoudig door hoppen door op de naam onder die van mij (ik ben Danielle Bennenk) te klikken.
Ik wil je hartelijk danken voor je bezoek en wens je nog veel plezier bij het hoppen.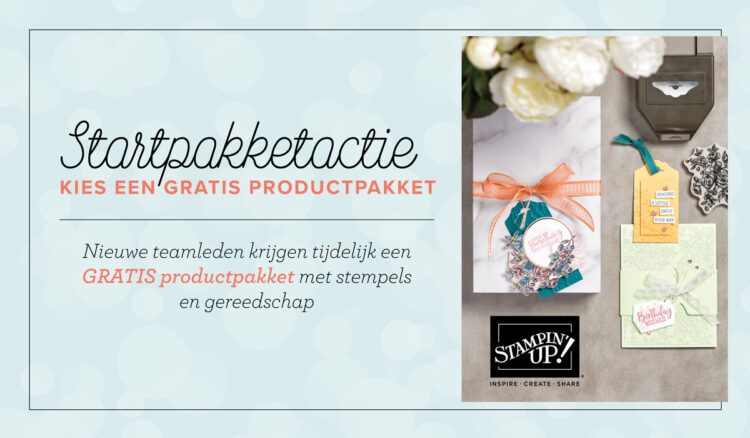 Gebruikte materialen
Ik verzorg graag je bestelling. Klik op de 'Stampin' Up! bestelling'-knop of de 'Webshop Stampin' Up!'-knop (credit card only) in de zijbalk om deze te plaatsen.