a little love & inspiration: Alles is liefde
Welkom bij onze maandelijkse Creatieve Harten bloghop. We zijn weer blij dat je een kijkje komt nemen op onze blogs. We zijn vandaag met z'n veertienen, dus veel projecten om van te genieten!
Deze maand hopen we je te inspireren met ons thema:  "Alles is liefde". Al onze projecten, gemaakt met de prachtige materialen en producten van Stampin' Up!, staan dus in het teken van de liefde en natuurlijk Valentijnsdag 🙂
Welcome to our monthly Creatieve Harten (=Creatieve Hearts) blog hop. We're very happy that you're visiting our blogs. We're hopping with 14 gals, so that's a lot of projects to enjoy!
This month we hope to inspire you with our theme: "Alles is liefde" (=All is love). All our projects, made with the wonderful materials and products of Stampin' Up!, are focussed on Love and of course, Valentine's day 🙂
envelope accordion style booklet
Ik heb voor mijn lief een accordion-stijl boekje gemaakt met envelopjes. In een envelopje zit een lief kaartje en in de andere envelopjes zitten Valentijns-tegoedbonnen.
I made an accordion style booklet with envelopes for my sweetheart. In one of them there's a sweet card and in the other envelopes I put some love-coupons.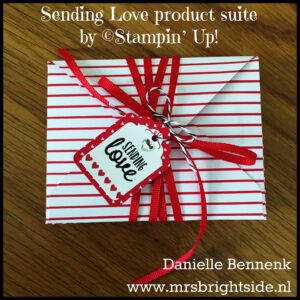 Het boekje bestaat uit een totaal van 9 envelopjes (6″ x 6″ vel per envelop, 1e punch: 6,7 cm) die ik gemaakt heb met de envelope punchboard en het prachtige Sending Love DSP. Elk envelopje heb ik met de flap aan een ander envelopje geplakt en vervolgens heb ik de hele rij van envelopjes in accordionstijl (om en om) opgevouwen. Het papier van het eerste envelopje is hetzelfde als het laatste, daardoor kon ik de flap over alle envelopjes vouwen en zo het eerste envelopje sluiten.
The booklet consists of a total of 9 envelopes (6″ x 6″ piece of paper per envelope, 1st punch: 6,7 cm)  that are made with the envelope punchboard and the beautiful Sending Love DSP. Each envelope is stuck to another with the flap, when that was done I folded the entire row of envelopes in accordion style. The paper of the first envelope is the same as the last one, that's how I could fold the flap over all the other envelopes and close the first envelope that way.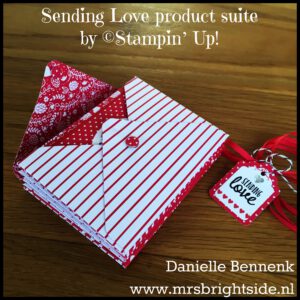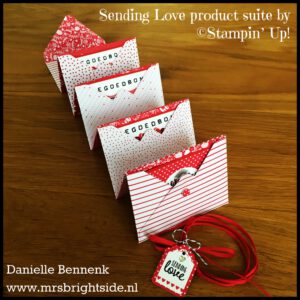 Love coupons
In ieder envelopje zit een Valentijns-tegoedbon die mijn liefje de rest van het jaar kan inwisselen. De afmeting van het kaartje is 7,5 x 10 cm en de mat is 7 x 9,5 cm. De basis van ieder kaartje is gelijk met de kleuren Real Red, Basic Black en Smoky Slate. Alle teksten heb ik met de Labeler Alphabet stempelset gestempeld, wat is dat toch een fantastische set!!
In each envelope there's a Love-coupon that my love can exchange during the year. The measurement of the card is 7,5 x 10 cm and the mat is 7 x 9,5 cm. The base of each card is the same with the colors Real Red, Basic Black and Smoky Slate. Alle texts are stamped with the Labeler Alphabet stamp set. I really LOVE that set!!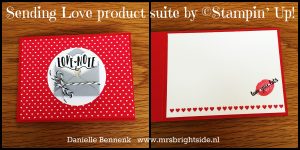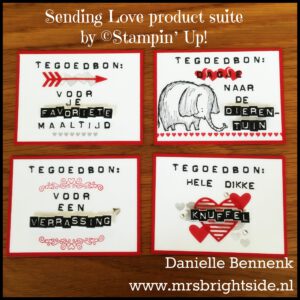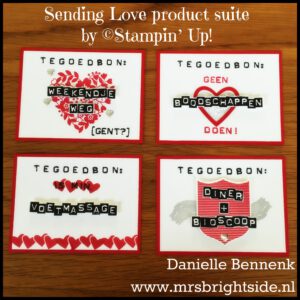 Tip: Dit lieve boekje is ook heel leuk om als mini-album te gebruiken. Je kunt dan de achterzijde van de envelopjes beplakken met foto's o.i.d. en in de enveloppen kun je i.p.v. tegoedbonnen foto's en labels doen.
Tip: This lovely booklet is also really easy to use as a mini-album. You can embellish the back of the envelopes with photo's and such and in the envelopes you can put photo's and labels instead of coupons.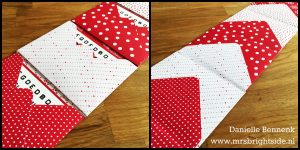 keep on hopping
Ik hoop dat je mijn "Alles is Liefde" project leuk vindt en ik zou het leuk vinden als je een reactie achter laat. Wil je nog meer prachtige projecten zien? Hop dan gezellig verder en bekijk alle 14 projecten van vandaag. Een complete lijst van deelnemers vind je onderaan dit bericht.
De volgende stop van onze bloghop is het blog van de getalenteerde Dominique Bergen! Klik op de 'Volgende' knop en je wordt door de magie van het internet naar haar blog getransporteerd 🙂
I hope you like my "Alles is Liefde" (= All is love) project and I would love it if you would leave a comment. Would you like to see more beautiful projects? Keep on hopping and view all 14 projects of today. You'll find a complete list of participants below this message.
The next stop of our bloghop is the blog of the talented Dominique Bergen! Click on the 'Volgende' button and you'll be transported to her blog via the magic we call internet 🙂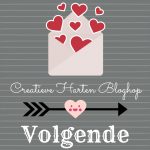 Veel plezier gewenst bij de rest van de bloghop en hopelijk tot de volgende keer!
Have fun with the rest of the blog hop and we'll hopefully see you again soon!
  Product List