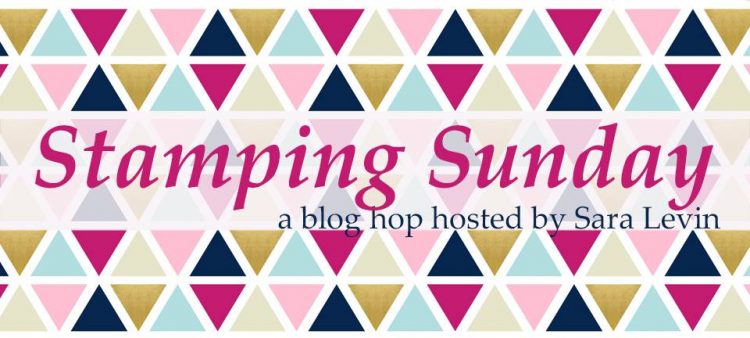 This With That: Beyond Basics
Hallo, vandaag hop ik met het Stamping Sunday Design Team en het thema is Beyond Basics. Het Designteam is aan de slag gegaan met hun favoriete product(en) van pagina 139 van de Stampin' Up! Jaarcatalogus, op deze bladzijde staan allemaal soorten papier, anders dan de basissoorten. Denk bijv. aan Vellum, Kraftpapier, etc.
Onderaan dit bericht vind je een link naar de complete lijst met gebruikte materialen. Ik verzorg graag je bestelling, dus zit er iets voor je tussen. Klik dan op de 'Stampin' Up! bestelling'-knop of de 'Webshop Stampin' Up!'-knop (Paypal en credit card only) in de zijbalk om deze te plaatsen.
Beyond Basics Kaartentrio
Ik besloot voor mijn Beyond Basics projecten een oude vertrouwde techniek te gebruiken. Bij deze techniek snij je drie matten van gelijke grootte maar van verschillende soorten papier. Vervolgens leg je deze op elkaar en snij je deze in drieën. De manier waarop is naar eigen inzicht, ik koos voor diagonale lijnen.
Daarna mix je de afzonderlijke gesneden onderdelen maakt zo in een handomdraai drie kaarten!
Disclaimer: Dit was nogal een rush job, dus de lijm onder het vellum was nog niet compleet droog toen ik de kaarten fotografeerde. Vandaar dat je de lijm ziet zitten. De kaarten zijn nu droog en de lijm is nu niet meer zichtbaar.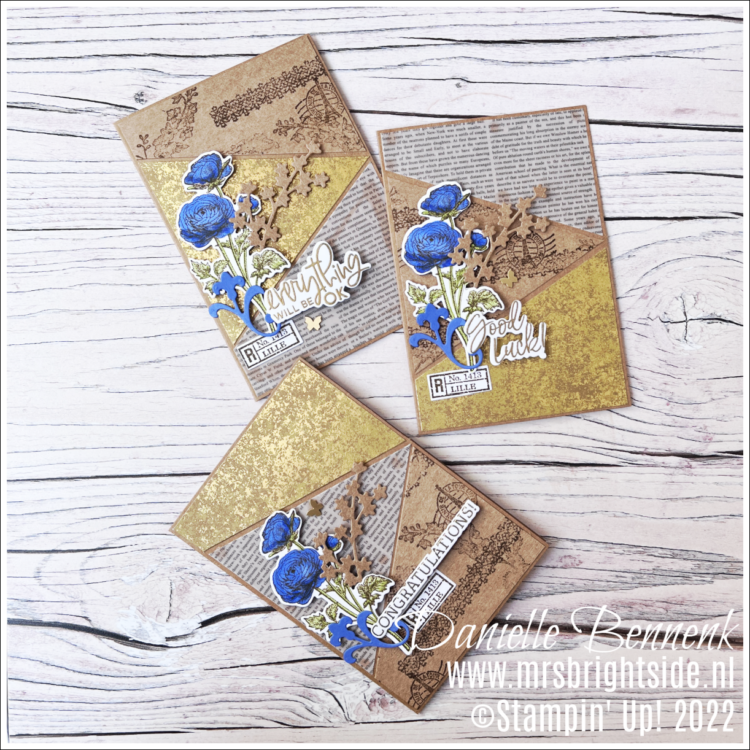 Als basis heb drie Notecards van Kraftpapier gebruikt. Ik heb drie matten gesneden: 1 van Gold Distressed Specialty Paper, 1 van Vellum voor Laagjeskunst en 1 van Kraftpapier die ik bestempelde met Soft Suede Classic Stampin' Inkt en de Ranunculus Romance Stempelset.
Daarna heb ik de matten gesneden en op de kaarten geplakt. De versiering heb ik samengesteld uit diverse elementen gestanst met de Ranonkelstansen, een aantal stempelafbeeldingen met de Ranunculus Romance Stempelset gestempeld met Soft Suede inkt en ingekleurd met Granny Apple Green en Orchid Oasis Stampin' Blends.
De tekst van de Charming Sentiments Stempelset is gestempeld met Versamark en hitte-embossed met Goud Stampin' Emboss Powder, daarna is de tekst gestanst met de Tekst Silhouette Stansen. Een kleine Brass Butterfly maakt het geheel af.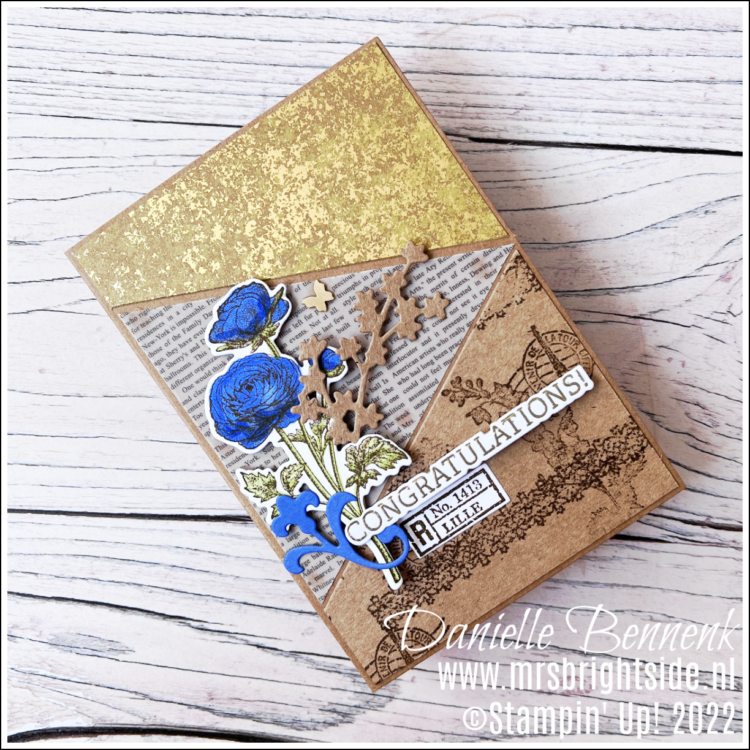 Meer inspiratie!
Ook de andere Design Teamleden hebben projecten met het Beyond Basics Thema gemaakt. Door op de naam die volgt na die van mij (ik ben Danielle Bennenk) te klikken, ga je naar het volgende blog.
Hartelijk dank voor je bezoek aan mijn blog. Ik zou het leuk vinden als je een reactie achterlaat en natuurlijk wens ik je nog veel plezier en inspiratie toe!

Gebruikte Materialen
Ik verzorg graag je bestelling. Klik op de 'Stampin' Up! bestelling'-knop of de 'Webshop Stampin' Up!'-knop (PayPal en credit card betaling) in de zijbalk om deze te plaatsen.