*Dear international readers, please use the translate button on the right (see side bar) to translate this message to your preferred language.
Bijzondere Zonnebloemen productpakket staat centraal!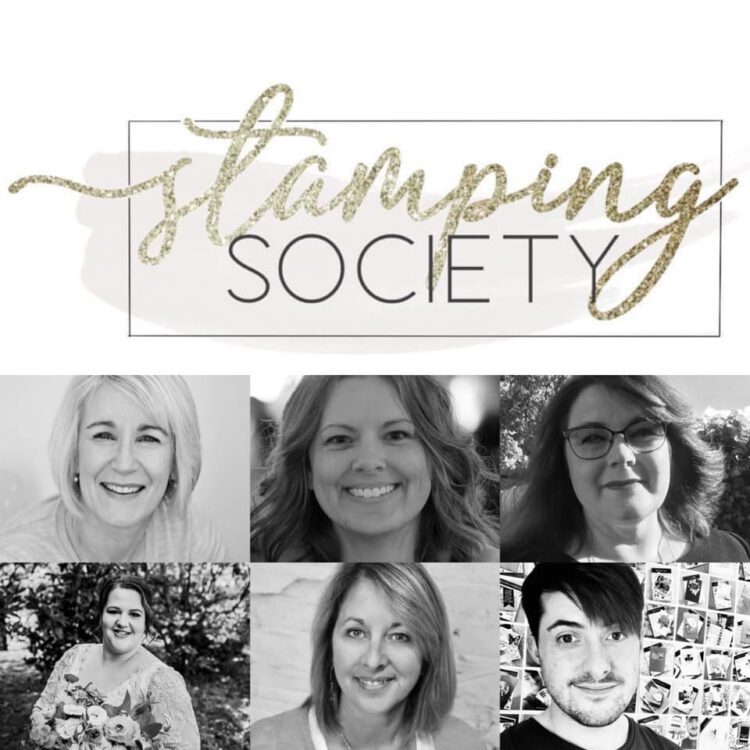 Hallo! Welkom bij de Stamping Society bloghop. Deze maand draait om een thema in plaats van een specifiek product. Alle designers gaan namelijk aan de slag met hun favoriete preorder product voor deze bloghop en tutorial bundel. Bij mij is dat het Bijzondere Zonnebloemen product pakket . Een prachtig, nieuw Nederlands productpakket dat bestaat uit de Bijzondere Zonnebloemen stempelset en de bijpassende Sunflower Dies. Dit productpakket staat in de nieuwe Stampin' Up! jaarcatalogus, die op 3 juni 'live' gaat!
Vanaf vandaag hebben we twee nieuwe Design Teamleden in ons midden. Kayla McCreadie uit Australië en Angela Meiritz-Reid uit New-Zealand. We zijn super trots dat we deze getalenteerde dames in ons midden hebben!
Clean kaart met Bijzondere Zonnebloemen
De Sunflower Dies heeft prachtige snijmallen waarmee je stempelafbeeldingen kunt uit stansen, maar ook mooie frêle snijmallen van een grote zonnebloem en blaadjes.
Deze laatste heb ik gebruikt om een achtergrondje te creëren. Ik heb een stuk Whisper White Cardstock beplakt met deze uitgesneden blaadjes en zonnebloemen en vervolgens heb ik het stuk cardstock gestanst met de Stitched Rectangle Dies. Deze rechthoek heb ik vervolgens met Multipurpose Liquid Glue op de Whisper White Thick Cardstock basiskaart (14,5 x 21 cm, rillen lange kant op 10,5 cm) geplakt.
Vervolgens heb ik de kleine zonnebloem gestempeld met Sahara Sand Classic Ink op Whisper White Cardstock en ingekleurd met de So Saffron, Granny Apple Green en Ivory Stampin' Blends. De Sunflower Dies heb ik gebruikt om de afbeelding uit te stansen. De bloem heb ik vervolgens met Stampin' Dimensionals op de kaart geplakt.
De tekst is gestempeld op Sahara Sand Cardstock met Early Espresso Classic Inkt en uitgeknipt met mijn Paper Snips. Daarna heb ik de tekst op de kaart geplakt met Mini Stampin' Dimensionals. Een drietal Gold Glitter Enamel Dots maken de kaart af.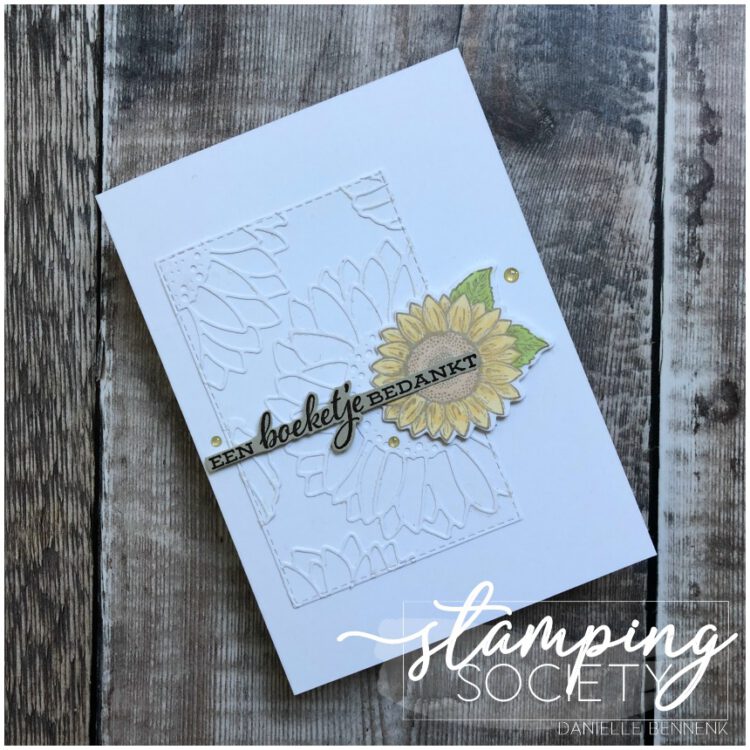 Hoe kun je de Stamping Society Tutorial bundel ontvangen/aanschaffen?
Er zijn drie manieren:
Je ontvangt de Stamping Society Video tutorial bundel gratis wanneer je een bestelling van 22 Euro of meer bij mij plaatst via mail of mijn webshop. De bundel wordt vervolgens aan het eind van de maand naar je gemaild!
Je ontvangt de Stamping Society Video tutorial bundel wanneer je lid bent van mijn team, hierover ontvang je maandelijks informatie. Wil je ook onderdeel uitmaken van Team Brightside en meer weten over het startpakket? Klik dan hier.
Je kunt de Stamping Society Video tutorial bundel ook los aanschaffen voor 6,15 Euro, zodra ik je betaling binnen heb wordt de bundel gemaild. Klik gewoon op de link hieronder om per mail je bestelling te plaatsen.
Klik hier om je bundel aan te schaffen!
Voor mijn tutorial heb ik een leuke kaart met dit Bijzondere Zonnebloemen productpakket gemaakt! En de andere Design Teamleden hebben ook prachtige projecten gemaakt met hun preorder favorieten 🙂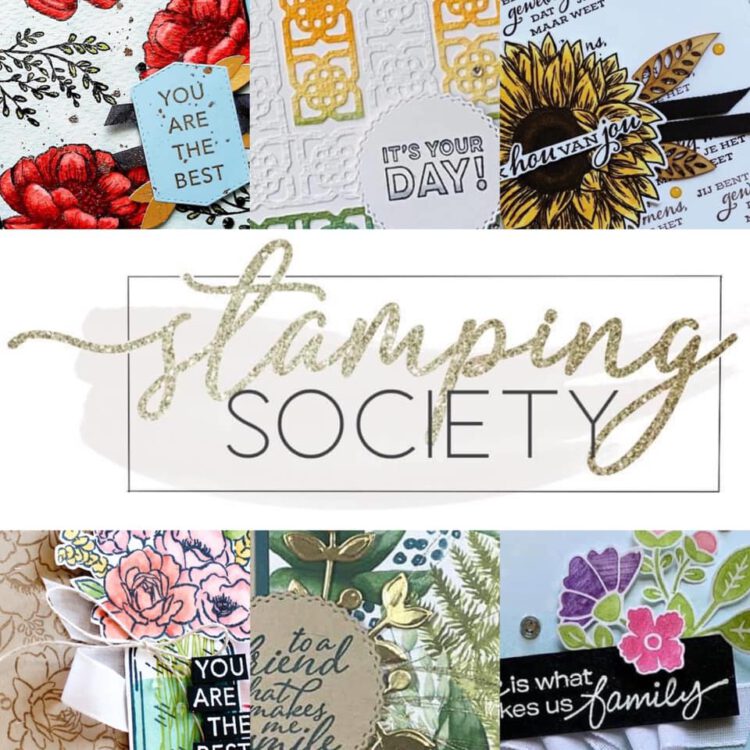 Meer inspirerende projecten
Wil je nog meer inspirerende projecten met ? Klik dan snel op de eerste naam van de lijst en het wonder van het internet brengt je waar je moet zijn!
Heel erg bedankt voor je bezoek en nog veel plezier gewenst.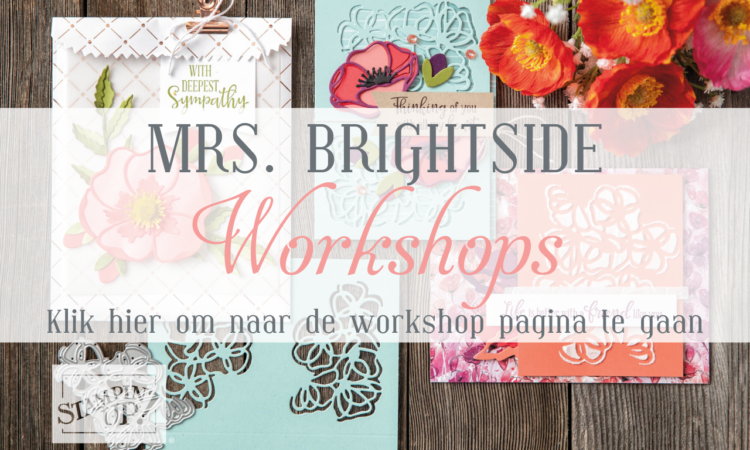 GEBRUIKTE MATERIALEN
Ik verzorg graag je bestelling. Klik op de 'Stampin' Up! bestelling'-knop of de 'Webshop Stampin' Up!'-knop (credit card only) in de zijbalk om deze te plaatsen.