Thema: Creative Coloring
Het thema is deze maand Creative Coloring, ofwel projecten waarbij er creatief gekleurd wordt. Ik ben aan de slag gegaan met het Blessings Of Home Voordeelpakket uit de huidige Mini Catalogus, maar die ook doorgaat in onze nieuwe Stampin' Up! Jaarcatalogus die 3 mei van start is gegaan!
*Dear international readers, please use the translate button on the right (see side bar) to translate this message to your preferred language. 
Kleurinspiratie Mrs. Brightside
www.mrsbrightside.nl
Blessings Of Home Kaart
Voor deze kaart heb ik mij laten inspireren door een project van Stacy Marsh. Als basiskaart (14,5 x 21 cm, rillen aan de lange kant op 10,5 cm) gebruikte ik Starry Sky Cardstock met hierop een mat (10 x 14 cm) van Starry Sky Cardstock die ik embossed heb met de Painted Texture 3D Embossing Folder.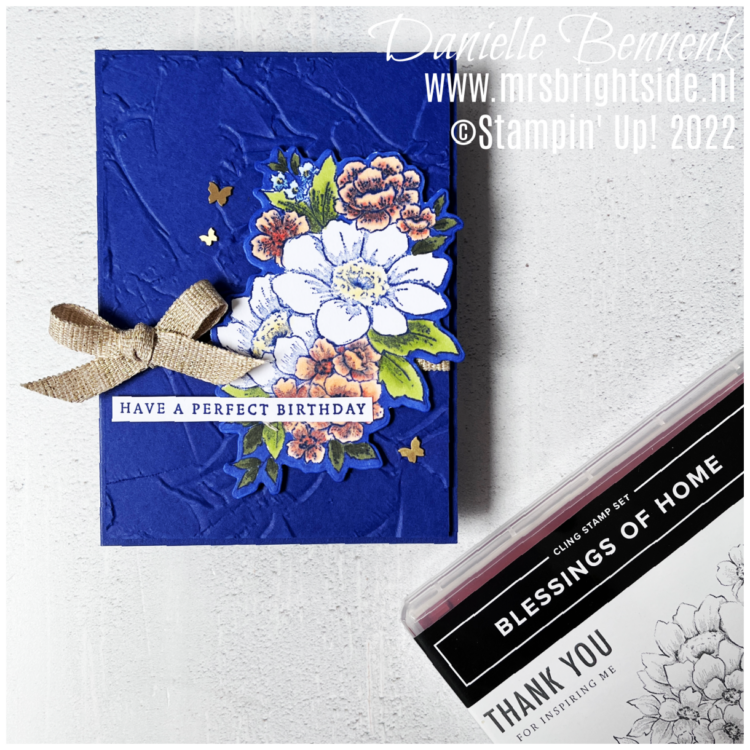 De grote bloemenafbeelding van de Blessings Of Home Stempelset heb ik gestempeld met Starry Sky Classic Stampin' Inkt en vervolgens gestanst met de Flowers Of Home Dies.
Daarna heb ik de afbeelding ingekleurd met diverse kleuren Stampin' Blends. Zie een lijst met de gebruikte kleuren onderaan dit bericht. Om de bloemen 'weg' te laten vallen op de kaart heb ik de rand langs de bloemen ingekleurd met de Light Starry Sky Stampin' Blend.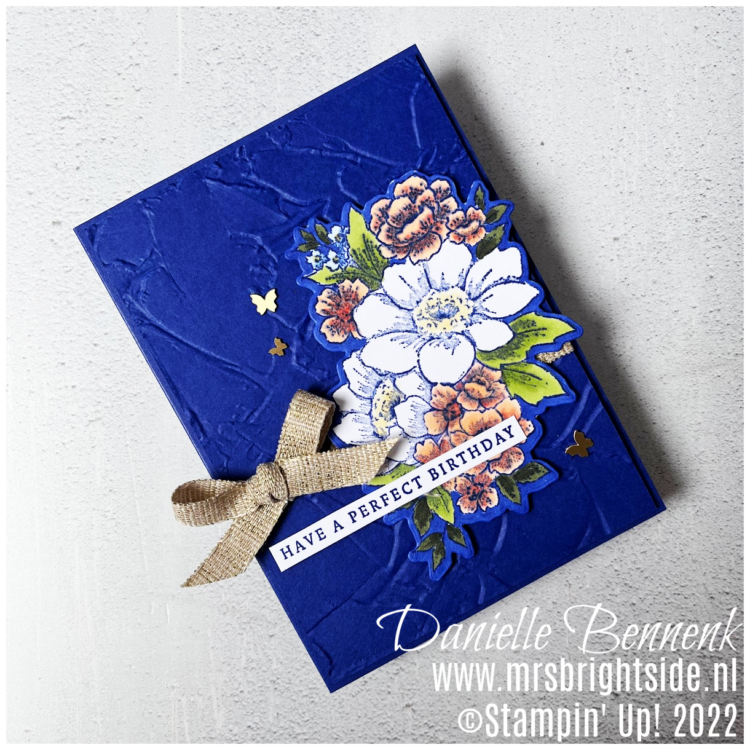 Rondom de mat heb ik een strik gemaakt met een lint dat helaas niet meer beschikbaar is, het heeft een subtiele gouden glans. Over het lint heb ik de bloemen geplakt met Stampin' Dimensionals.
De tekst heb ik gestempeld met Starry Sky Classic Stampin' Inkt op een restje Basic White Cardstock. Daarna heb ik deze op de kaart geplakt. Een aantal Brushed Brass Butterflies maken het kaartje af.
Meer inspiratie van het Stampin' Creative Design Team
Ik hoop dat je mijn interpretatie van het thema kan waarderen en ik hoop dat ik je met mijn project geïnspireerd heb. Ben je net als ik ook benieuwd naar de creaties van de andere Stampin' Creative Design Teamleden? Dan kun je eenvoudig door hoppen door op de naam onder die van mij (ik ben Danielle Bennenk) te klikken.
Ik wil je hartelijk danken voor je bezoek en wens je nog veel plezier bij het hoppen.

Gebruikte materialen
Ik verzorg graag je bestelling. Klik op de 'Stampin' Up! bestelling'-knop of de 'Webshop Stampin' Up!'-knop (PayPal en credit card betaling) in de zijbalk om deze te plaatsen.