Welcome to another Scrap Sunday!
Welkom bij Scrap Sunday! Ik ben weer eens aan de slag gegaan met restjes uit mijn scrapmandje, zoals hier en hier. Ik vind het een leuke uitdaging om met al die losse restjes aan de gang te gaan en er iets moois van te maken. Helaas, doe ik het veel te weinig want mijn scrapmandje loopt alweer bijna over 😉
Welcome to Scrap Sunday! Just like here and here I worked with the scraps from my scrap basket. I find it really challenging to make a nice project with all those loose scraps. Unfortunately, I don't do it often enough as my scrap basket is almost over flowing again.
Celebration Time, Delightful daisy scraps and a badge
Ik heb een aantal uitgeknipte afbeeldingen van het prachtige Delightful Daisy designer series papier gepakt en een geponste Copper foil badge die ik eerst heat embossed had met een Badges & Banner stempel en het Copper Embossin' Powder.
Ik besloot de koperen badge als focus punt te nemen en heb deze op een Wood Textures designer series papier achtergrond geplakt. De uitgeknipte bloemen heb ik er over heen geplakt en op het laatst heb ik de tekst 'Time To Celebrate' uit de Celebration Time stempelset met koper heat embossed, los geknipt en met dimensionals op de kaart bevestigd. De Celebration Time stempelset staat al de hele week in de spotlight op mijn blog, zie de galerie onderaan het bericht.
I started off with a couple of fussy cut images from the beautiful Delightful Daisy designer series paper and a punched out Copper foil badge, which I first heat embossed with a Badges & Banner stamp and the Copper Embossin' Powder.
The focal point of the card is the copper badge and I adhered it to a Wood Textures  designer series paper background. The fussy cut flowers were glued on top of it and lastly I heat embossed the sentiment 'Time To Celebrate' from the Celebration Time stamp set with Copper. I cut the sentiment and adhered it in pieces on the card with dimensionals. The Celebration Time stamp set has been featured on my blog this entire week (see gallery below this post).
Ik vind het ton-sur-ton koper op de badge er geweldig uitzien. Dat moet ik vaker doen, heat embossen met metallics op foil papier, het effect is namelijk prachtig.
I'm loving the look of the ton-sur-ton copper on the badge. I need to do that more often, heat embossing with metallics on foil paper, the effect is awesome.
more scrap Sunday inspiration
Vandaag tonen diverse  stempel & scrap vriendinnen hun Scrap Sunday creaties. Hieronder vind je een linkenlijst. Het is geen bloghop, want niet iedereen zal iedere week meedoen, maar door op hun naam te klikken kun je hun blog bezoeken en genieten van hun creaties.
Today, a couple of my stamp & scrap friends are also showing their Scrap Sunday creations. Below you'll find a link list. It's not a blog hop, because not everyone will participate every week, but by clicking their names you can visit their blogs and enjoy their creations.
Morgen ben ik er weer met een Makkelijke Maandag kaart! Kom je een kijkje nemen?
Tomorrow, I'll be back with an Easy Monday Make! Will you come by?
Fijne zondag nog/ Happy Sunday,
gaLlery
If you missed some of the other projects I made with the Celebration Time bundle, just click on the small pictures below to go to the original posts for those projects! / Als je een aantal van mijn andere projecten met de Celebration Time bundel gemist hebt, klik dan op de fotootjes hieronder om naar de originele berichten te gaan!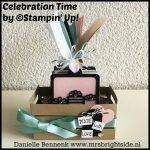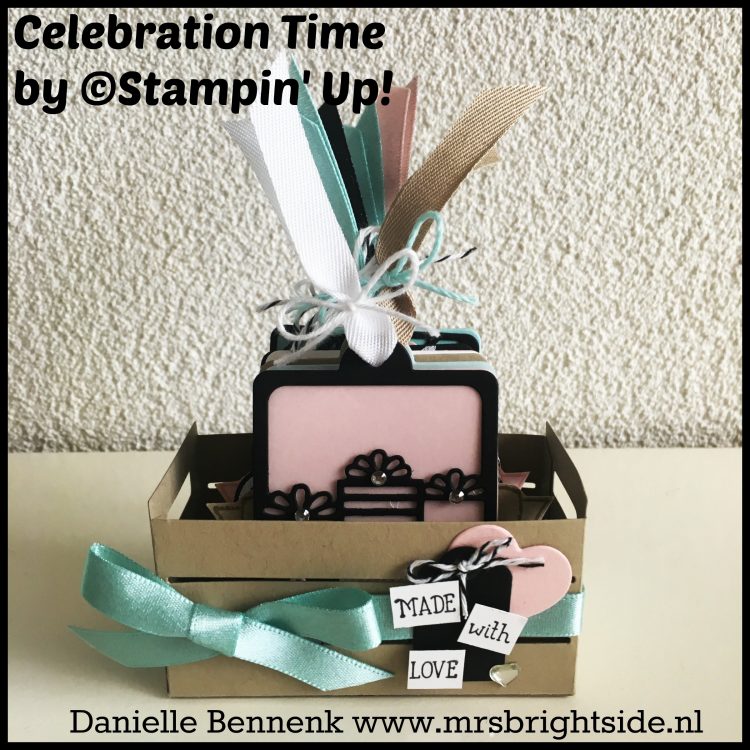 P.S. Hieronder vind je alle door mij gebruikte materialen. Wil je hier iets van aanschaffen? Dan verzorg ik graag je bestelling (mail: danielle@mrsbrightside.nl)! Je kunt op de onderstaande afbeeldingen klikken om naar mijn webshop (Credit Card only) te gaan.
Product List