Christmas in the making birthday card
Al de hele week staat de stempelset Christmas in the Making in de spotlight op mijn blog. Klik hier en hier om naar mijn projecten van maandag en woensdag te gaan.
Vandaag laat ik een kaartje zien dat geen Kerst thema heeft, maar een verjaardagsthema. Ja, zelfs daar is deze leuke stempelset voor te gebruiken!
All week I've been shining the spotlight on the Christmas in the Making stamp set. Click here and here to see Monday's and Wednesday's projects.
Today, I'm showing you a card that doesn't have a Christmas theme, but instead a birthday theme. Yes, you can even use this cute stamp set for birthdays!
Happy birthday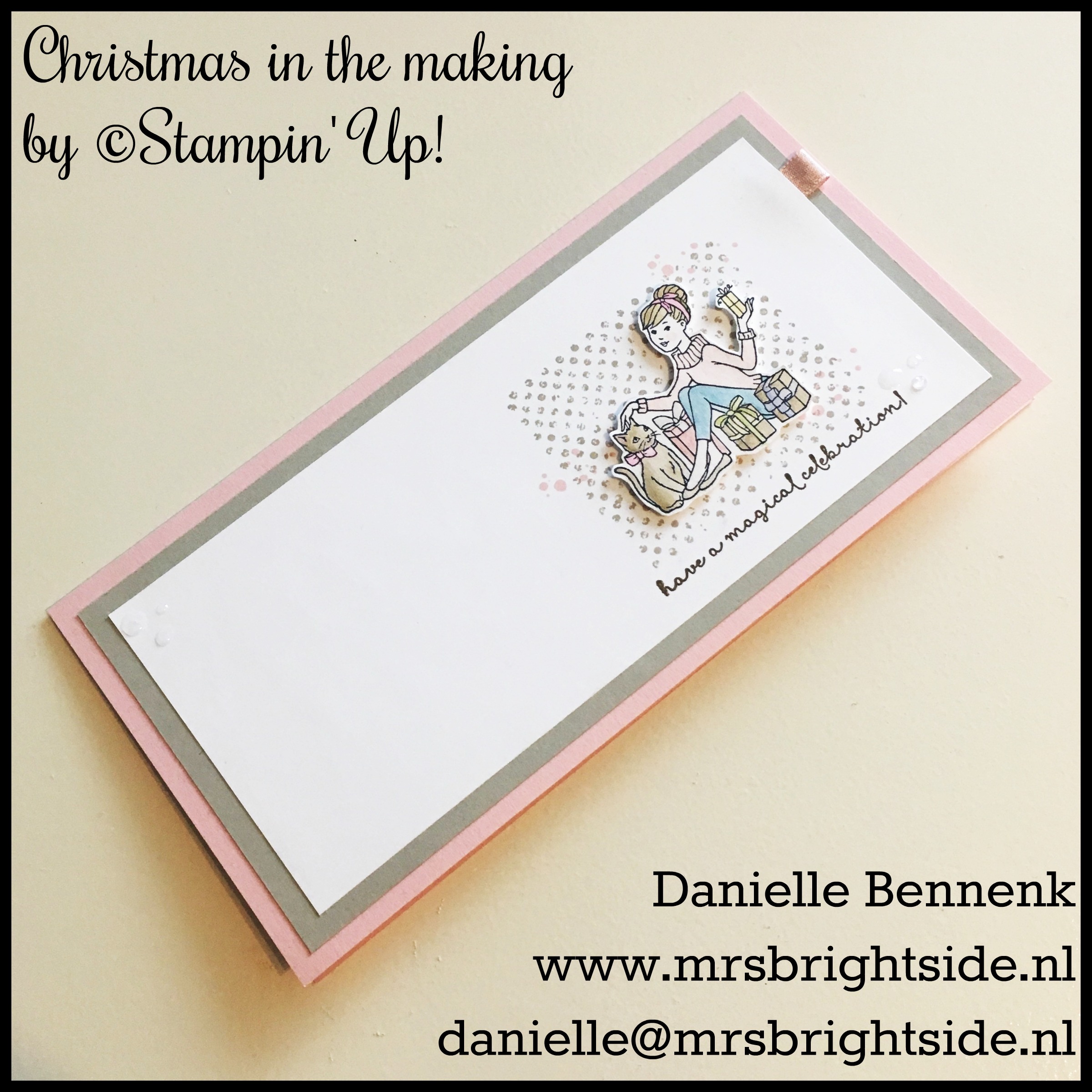 Deze schattige verjaardagskaart is gemaakt op een rechthoekige basiskaart (21 x 21 cm, rillijn 10,5 cm) van Powder Pink cardstock. De mat is van Sahara Sand (9,5 x 20 cm) en de achtergrond is gestempeld op Whisper White cardstock (8,5 x 19 cm).
De afbeelding is gestempeld op Shimmery White cardstock en ingekleurd met de aqua painter. Het schattige tekstje is afkomstig uit de Fairy Celebration stempelset.
This cute birthday card is made on a rectangular base card (21 x 21 cm, rillijn 10,5 cm) of Powder Pink cardstock. The mat is Sahara Sand (9,5 x 20 cm) and the background has been stamped on Whisper White cardstock (8,5 x 19 cm).
The image is stamped on Shimmery White cardstock and colored with the aqua painter. The sweet sentiment comes from the Fairy Celebration stamp set.
Tutorial
Gisteravond bedacht ik me ineens dat het wel leuk zou zijn om een video op te nemen met een tutorial voor deze kaart. Er ging wel een en ander mis en het licht was niet top, maar ik heb toch besloten hem op YouTube te plaatsen.
Dus als je wilt weten hoe dit kaartje gemaakt wordt, klik dan hier of bekijk het onderstaande filmpje. Vind je het een leuk filmpje dan zou ik het leuk vinden als je jezelf op mijn videokanaal abonneert. Ik ben van plan om er meer op te gaan nemen en dan wordt de kwaliteit van zelf beter… hoop ik 🙂
Last night, I decided to shoot a video with a tutorial for this card. A couple of things went wrong and the lighting wasn't good, but I still decided to post it on YouTube.
So, if you want to know how this card is made, click here or just watch the video below. By the way, it's spoken in Dutch, but you'll get the drift. If you like the video, please subscribe to my channel. I'm planning to shoot more video's, quality will improve that way, at least I hope so… 🙂 and I just ordered a microphone so I can add (English) voice-overs to my video's. 
In de video heb ik andere kleuren gebruikt dan de originele kaart: Smoky Slate en Berry Burst.
In the video I used different colors than the original: Smoky Slate and Berry Burst.
scrap sunday
Zondag ben ik er weer met een nieuw Scrap Sunday project, dus ik hoop dat je dan weer een kijkje komt nemen.
Sunday, I'll be back with another Scrap Sunday project, so I hope I'll see you again.
Geniet van de rest van je dag!/Enjoy the rest of your day!
P.S. Vergeet niet dat er op dit moment t/m 31 oktober een hele leuke DSP-actie is! Klik op de afbeelding voor meer informatie.
Hieronder vind je alle door mij gebruikte materialen. Wil je hier iets van aanschaffen? Dan verzorg ik graag je bestelling (mail: danielle@mrsbrightside.nl)! Je kunt op de onderstaande afbeeldingen klikken om naar mijn webshop te gaan (Betaling alleen via credit card).

Product List