Focus thema: Condoleance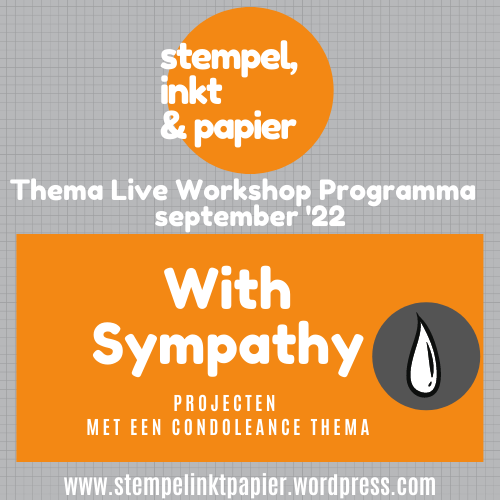 Hallo en welkom bij de Stempel, Inkt & Papier bloghop! In de maand september richt Stempel, Inkt & Papier zich op het thema: Condoleance. Een thema voor kaarten die je liever niet verstuurd, maar als je dan toch een condoleance kaart nodig hebt, is het wel mooi dat je dan een zelfgemaakte kan versturen.
We hebben allen gebruik gemaakt van producten uit de lopende Stampin' Up! catalogi.
Ik koos ervoor om aan de slag te gaan met het prachtige zwart-witte Uitstekend Getekend Designpapier en het Lovely & Lasting productpakket. Deze bestaat uit de Lovely & Lasting stempelset met de bijpassende Lasting Label Punch.
Stijlvolle Condoleance Kaart
De basiskaart (14,5 x 21 cm, rillen lange kant op 10,5 cm) is van Basic White Thick Cardstock. Hierop zit een mat (10 x 14 cm) van Uitstekend Getekend Designpapier. Voor ik de mat op de kaart heb geplakt heb ik het stuk papier eerst in tweeën gesneden. Dan krijg je een stuk van 2,5 x 14 cm en 7,5 x 14 cm. Een strook heb ik gekeerd, waardoor het design op de achterkant nu zichtbaar is.
Waar de twee stukken papier elkaar raken heb ik een strookje – 0,5 x 14 cm – Petal Pink Cardstock geplakt.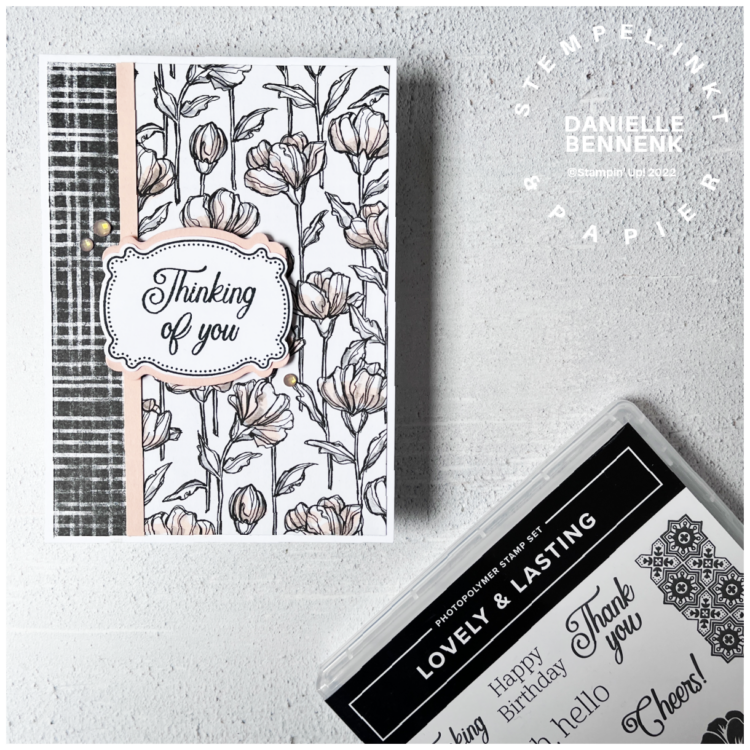 De getekende bloemen heb ik licht ingekleurd met de donkere Petal Pink Stampin' Blend, dit geeft een mooi zacht, maar stijlvol effect.
De tekst en het frame zijn gestempeld met Memento Tuxedo Black Inkt op Basic White Cardstock. Daarna heb ik de Lasting Label Punch gebruikt om de tekst te ponsen. Ik heb ook nog een label geponst uit een stuk Petal Pink Cardstock. Dat heb ik doormidden geknipt en achter het witte label geplakt.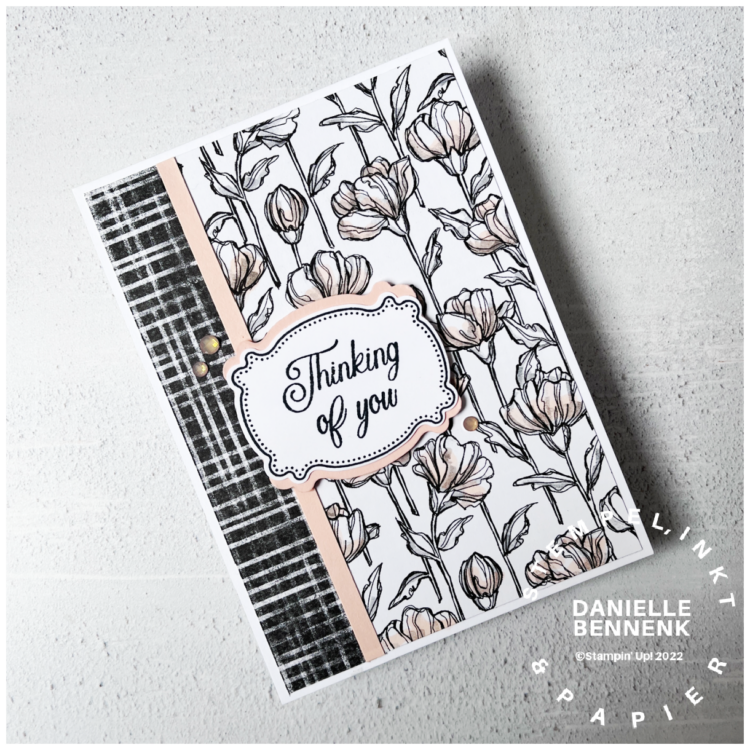 Vervolgens heb ik het label op de kaart geplakt met Stampin' Dimensionals. Een aantal Petal Pink Elegant Faceted Gems maken de condoleance kaart af.
Wat is Stempel, Inkt & Papier?
Nog even ter informatie: Stempel, Inkt & Papier is een creatief initiatief  van drie Nederlandse Stampin'Up! Demonstratrices – Sandra Korten, Lotte Noordzij-Walther en ikzelf – die elke maand een specifiek Stampin'Up! Product of specifiek thema centraal zetten in een exclusief workshop programma.
In dit programma bieden we exclusieve online workshops aan rondom thema's als techniek, step-it-up, alles behalve een kaart, Case The Catty of Memory Keeping, in een besloten Facebook groep. We doen ook altijd iedere maand een creatieve uitdaging met onze deelnemers.
Meer Condoleance inspiratie
Hieronder vind je de linkenlijst, klik gewoon op de naam van Lotte of Sandra om door te gaan naar het volgende blog.

Gebruikte materialen
Ik verzorg graag je bestelling. Klik op de 'Stampin' Up! bestelling'-knop of de 'Webshop Stampin' Up!'-knop (PayPal en credit card betaling) in de zijbalk om deze te plaatsen.