*Dear international readers, please use the translate button on the right (see side bar) to translate this message to your preferred language.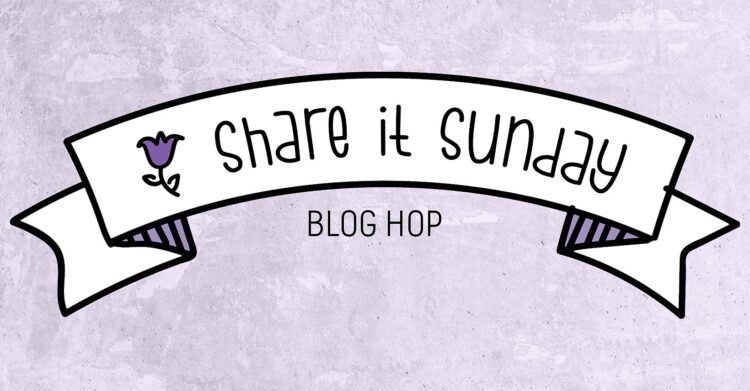 Share It Sunday Bloghop – De Meeste Feesten
Samen met een groot aantal internationale Stampin' Up! demonstrators doe ik mee aan de Share It Sunday Bloghop georganiseerd door Stefanie van de Crafty Medic uit Canada. Deze bloghop heeft geen speciaal thema, we delen gewoon waar we zin in hebben 🙂 Iedereen maakt bij zijn/haar project wel gebruik van de mooie producten van Stampin' Up! en ik gebruikte het De Meeste Feesten Designpapier om een kleurrijk project te maken.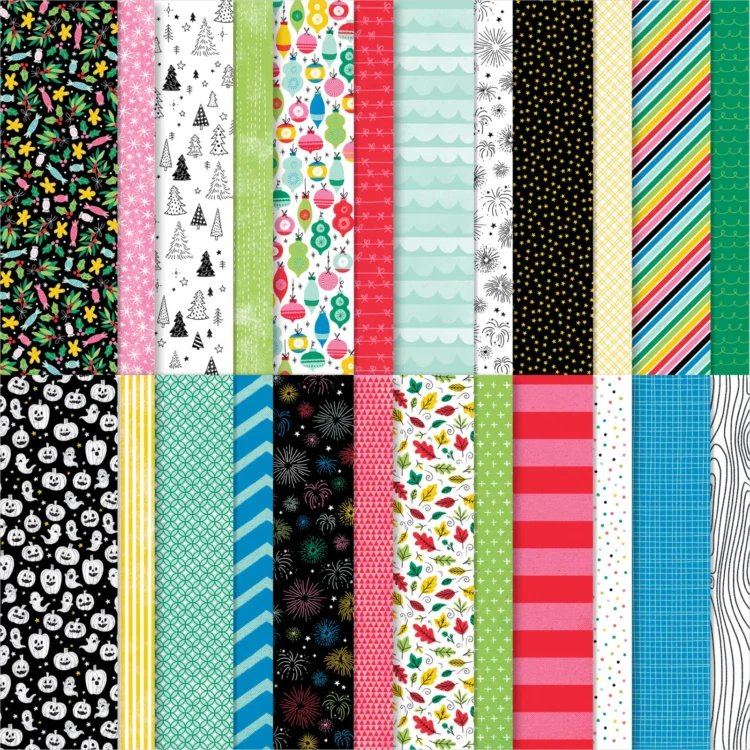 Het De Meeste Feesten-designpapier bestaat uit 48 vellen papier met een veelzijdig dessin, er zijn 12 dubbelzijdige ontwerpen (4 van elk ontwerp). Van herfstbladeren en pompoenen tot vuurwerk, kerstbomen en kerstballen. Een kleurrijk dessin voor elke gelegenheid.
Dit product voor gastvrouwen/-heren is alleen verkrijgbaar met Stampin' Rewards. Beloningen verdienen is gemakkelijk en leuk! Plaats een bestelling die in aanmerking komt voor Stampin' Rewards, dat is een bestelling van €200 of meer en je kunt iets bestellen voor jezelf of een ander (leuk!).
De kleuren in het papier zijn vol en rijk: Basic Black, Crushed Curry, Granny Apple Green, Pacific Point, Polished Pink, Pool Party, Poppy Parade, Shaded Spruce
Dit veelzijdige papier is geweldig voor bijvoorbeeld scrapbooks en kaarten! Daarom ging ik aan de slag met een leuk Mini-Album.
De Meeste Feesten Mini-Album
Het De Meeste Feesten Mini-Album maakte ik met een projectbeschrijving van Your Book Of Memories van Frances Long. Ze maakt echt fantastische mini-albums en geweldige betaalde (ter info: Het is iedere dollar waard!!) projectbeschrijvingen. Dit is een klein Mini-Album van ong. 5″ x 7″ met ruimte voor ongeveer 20 foto's.
Ik maakte hem in kerststijl om er straks de foto's van de feestdagen van kerst 2022 in te doen 🙂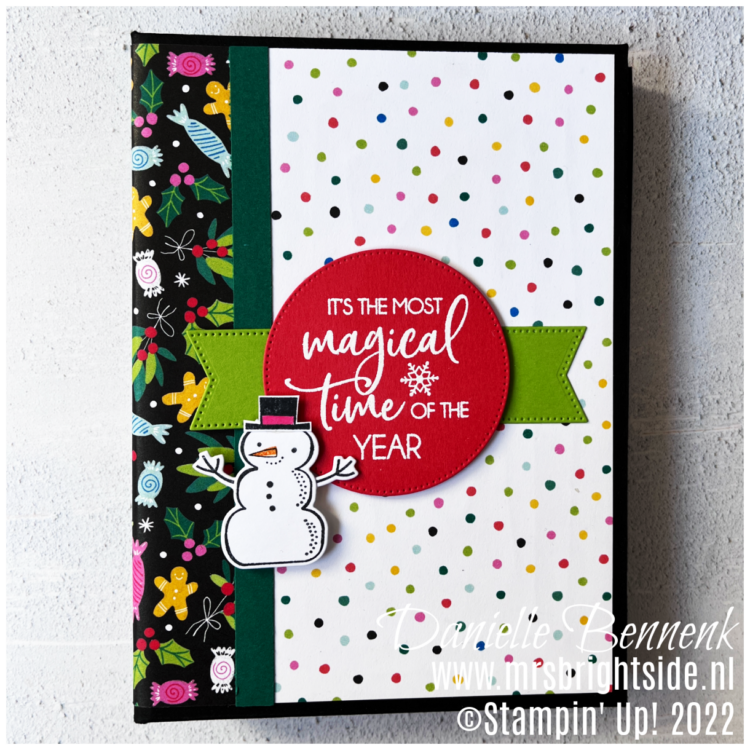 De voorzijde van het mini-album bevat niet alleen het De Meeste Feesten designpapier, maar ook een versiering met het gave Snowman Magic Productpakket. De tekst is heat-embossed op een Poppy Parade Cardstock cirkel met daaronder een banner van Granny Apple Green Cardstock. Beide vormen zijn gestanst met de Frisse Figuren Stansen.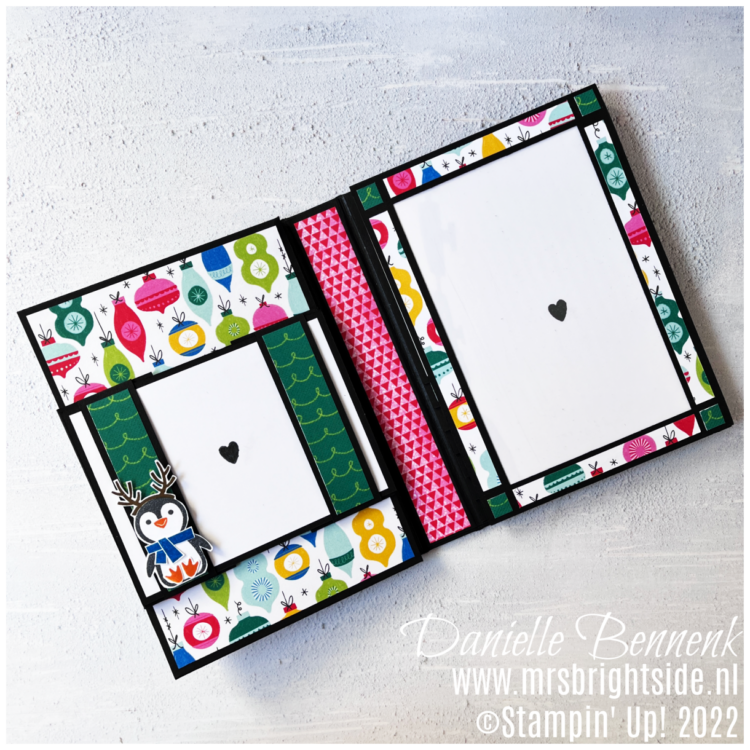 Wanneer je het album open doet, dan zie je aan de rechterzijde een groot vak voor een foto met een WindowSheet venster. Aan de linkerzijde wordt een fotomat gebruikt om flappen bij elkaar te houden. Een van de belly bands heb ik versierd met een schattig pinguïn gemaakt met de Pinguïn Pret Stempelset en de Pinguïn Vormen Pons.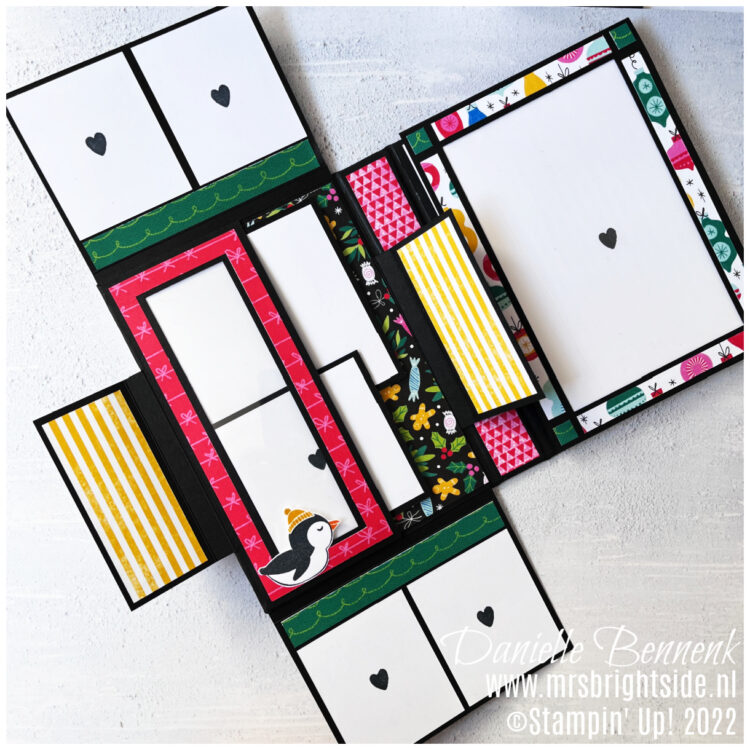 Wanneer de fotomat verwijderd is en de flappen open geslagen worden, dan zie je ruimte voor 4 kleine foto's op de flappen en een vak voor losse foto's met een Windowsheet venster en wederom een schattige pinguïn.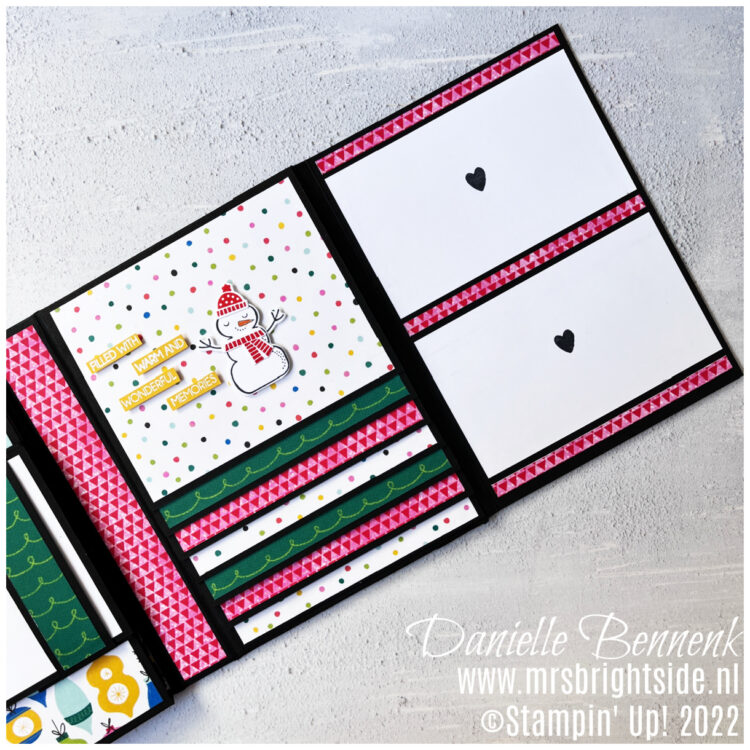 Als de rechterzijde is opgeslagen zie je ruimte voor twee foto's en ook nog een waterval gedeelte met ruimte voor 6 foto's. Ook hier heb ik het Snowman Magic Productpakket gebruikt voor een kleine versiering.
Meer Share It Sunday inspiratie
In de onderstaande lijst vind je nog meer Share It Sunday inspiratie met de mooie producten van Stampin' Up!. Als je op de naam onder die van mij (Danielle Bennenk) klikt ga je naar het volgende blog.

Gebruikte Materialen
Ik verzorg graag je bestelling. Klik op de 'Stampin' Up! bestelling'-knop of de 'Webshop Stampin' Up!'-knop (PayPal of credit card betaling) in de zijbalk om deze te plaatsen.