day 01 of the display stamper blog hop
Last week, I was asked by the wonderful Cathy Caines to participate in the Display Stamper Blog Hop. A blog hop consisting of Display Stampers from around the world, who made samples for the November On Stage events celebrating the launch of the 2018 Occasions Catalog (starts January 3rd, 2018).
I've already shown several of my samples on my blog (click here, here and here), but I've kept several behind. All of them are made with the Myths & Magic product suite. A wonderful, whimsical product suite featuring knights, dragons, wizzards, mermaids and unicorns! Who wouldn't love that 🙂 So, I hope to inspire you this coming week with my magical display samples!
Vorige week werd ik door de geweldige Cathy Caines gevraagd om mee te doen aan de Display Stamper Blog Hop. Een bloghop met Display Stampers vanuit de hele wereld, die voorbeelden hebben gemaakt voor de On Stage evenementen in november om de lancering van de 2018 Voorjaars/Zomercatalogus te vieren (gaat van start op 3 januari 2018).
Ik heb al diverse display voorbeelden laten zien op mijn blog (klik hier, hier en hier), maar ik heb een aantal voorbeelden achter de hand gehouden. Deze zijn gemaakt met de Myths & Magic product suite. Een fantastische en sprookjesachtige product suite met in de hoofdrol: Ridders, draken, tovenaars, zeemeerminnen én eenhoorns! Wie houdt daar nu niet van 🙂 Dus ik hoop je de aankomende week te inspireren met mijn magische display voorbeelden!
display o1: myths & magic quote cards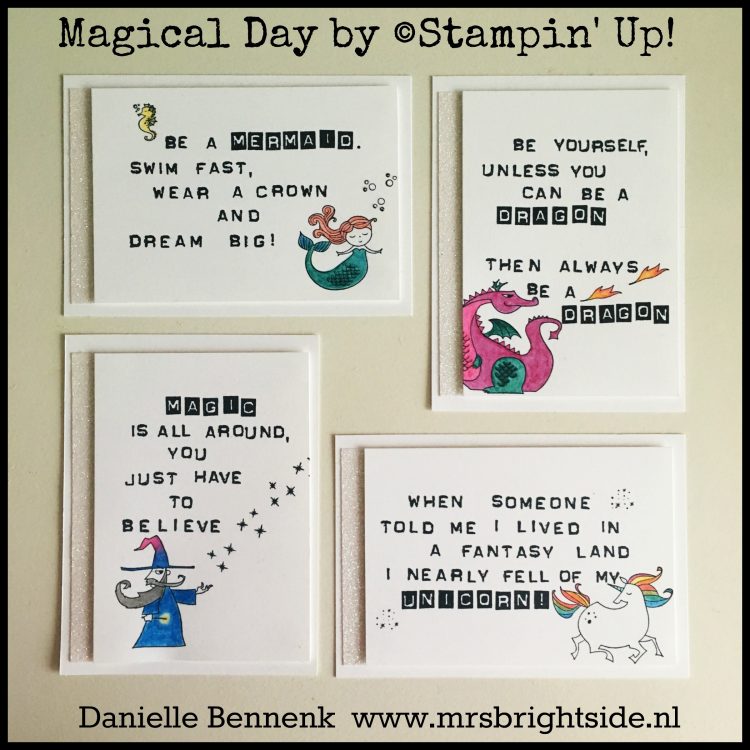 I'm very fond of inspirational quotes and l often use them in my bullet journal. When I saw the images of the Magical Day stamp set, I immediately thought of making these inspirational quote cards.
I chose a quote per image and stamped the quotes with Archival Basic Black and my all-time favorite Labeler Alphabet stamp set on Thick Whisper White cardstock. I used faint pencil lines to keep my words semi-straight, which I erased when the stamped images were completely dry. Lastly, I colored all the images with my watercolor pencils and a blender pen. The glimmer border of each card is the new 6 x 6″ Iridescent glimmer paper.
Ik ben gek van inspirerende quotes en ik gebruik hen vaak in mijn bullet journal. Toen ik de afbeeldingen van de Magical Day stempelset zag, dacht ik meteen: "Daar moet ik quote kaarten mee maken!".
Per afbeelding heb ik een quote gekozen en deze heb ik met Archival Basic Black inkt en mijn meest favoriete stempelset Alphabet Labeler gestempeld op Thick Whisper White cardstock. Om de teksten recht te stempelen heb ik lichte potloodlijnen gebruikt, die ik na het drogen van de inkt heb weg gegumd. Op het laatst heb ik de afbeeldingen ingekleurd met mijn watercolor pencils en een blender pen. Het glimmer papier randje op iedere kaart is het nieuwe 6 x 6″ Iridescent glimmer paper.
close-ups
Come back tomorrow!
Tomorrow, I'll be back at the same time with another display sample featuring the Myths & Magic product suite. Now, it's time to hop-a-long and visit the wonderful Chloe Evans in Australia. Just click on the 'Next' button below.
Morgen, ben ik weer terug op dezelfde tijd met een ander display voorbeeld met de Myths & Magic product suite. Nu is het tijd om door te 'hoppen' naar het blog van de fantastische Chloe Evans uit Australië. Klik gewoon op de 'Next' knop hieronder.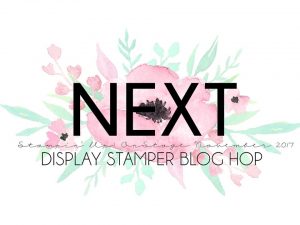 Blog List
Cathy Caines
Diane Browning
Katharina Baranski
Dani Dziama
Angela Meritz-Reid
Jenny Hall
Bronwyn Eastley
Tanya Boser
Lou Kitzelman
Mindy Backes
Charlet Mallett
Mercedes Weber
Denita Wright-Smee
Stesha Bloodhart
Carolynn Sander
Aurelie Fabre
Josie Dean
Danielle Bennenk – That's me / Dat ben ik!
Chloe Evans
Dawn Olchefske
Hieronder vind je alle door mij gebruikte materialen m.u.v. de nieuwe producten. Wil je hier iets van aanschaffen? Dan verzorg ik graag je bestelling (mail: danielle@mrsbrightside.nl)! Je kunt op de onderstaande afbeeldingen klikken om naar mijn webshop te gaan (Betaling alleen via credit card).
Product List