day 5 display stamper blog hop
This is the 5th day of our Display Stamper Blog Hop and I for one am amazed by all the creativity everyone has been showing throughout this week. Tip: If you have missed one or more days, you can just click on the category 'Display Stamper' at the bottom of this message. It will pull up all the messages concerning my display samples.
Het is de 5e dag van onze Display Stamper Bloghop en ik zelf ben echt onder de indruk van alle creativiteit die iedereen deze week heeft laten zien. Tip: Als je een dag of meer dagen gemist hebt, dan kun je gewoon op de categorie 'Display Stamper' klikken die helemaal onderaan dit bericht vindt. Het zorgt er voor dat alle berichten m.b.t. display voorbeelden tevoorschijn komen.
display 05
On day 2 I already showed you a lay-out with the beautiful Myths & Magic Specialty designer series paper and today I'm showing you one more. I chose to make a 6 x 8″ lay-out for my Kraft album and combined it with the Perfect Days Memories & More cardspack and of course my all-time favorite stamp set: Labeler Alphabet.
Op dag twee heb ik je al een lay-out laten zien met het mooie Myths & Magic Specialty designer series paper en vandaag laat ik je er nog een zien. Ik heb er voor gekozen om een 6 x 8″ lay-out voor mijn Kraft album te maken en dit te combineren met het Perfect Days Memories & More cardpack en natuurlijk mijn favoriet de Labeler Alphabet stempelset.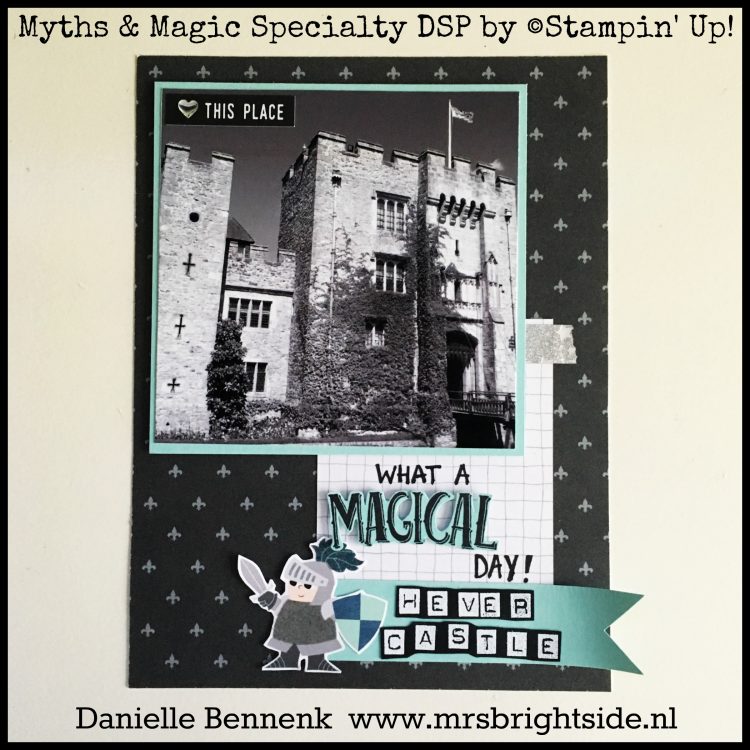 The beautiful Basic Gray Fleur-De-Lis design fits very well with the black & white picture of Hever Castle (if you've never been there: Go!) and I just had to add one of those cute little Knights.
Het prachtige Basic Gray Fleur-De-Lis design past goed bij de zwart-wit foto van Hever Castle (als je er nog nooit geweest bent: Ga!) en ik moest gewoon een van die lieve kleine riddertjes toevoegen.
more inspiration
To get some more inspiration with the beautiful products of the coming Occasions catalog you should keep hopping. Just click the 'Next' button to go the blog of the wonderful Chloe Evans.
Om meer inspiratie op te doen met de mooie producten van de aankomende voorjaars/zomercatalogus hop dan lekker door. Klik gewoon op de 'Next' knop om door te gaan naar het blog van de fantastische Chloe Evans.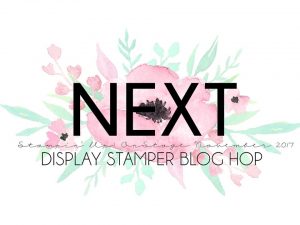 Always look and craft on the brightside of life!
Blog List
Cathy Caines
Diane Browning
Katharina Baranski
Dani Dziama
Angela Meritz-Reid
Jenny Hall
Bronwyn Eastley
Tanya Boser
Lou Kitzelman
Mindy Backes
Charlet Mallett
Mercedes Weber
Denita Wright-Smee
Stesha Bloodhart
Carolynn Sander
Aurelie Fabre
Josie Dean
Danielle Bennenk – That's me / Dat ben ik!
Chloe Evans
Dawn Olchefske

P.S. Hieronder vind je alle door mij gebruikte materialen. Wil je hier iets van aanschaffen? Dan verzorg ik graag je bestelling (mail: danielle@mrsbrightside.nl)! Je kunt op de onderstaande afbeeldingen klikken om naar mijn webshop (Credit Card only) te gaan.
Product List