day 6 of the display stamper blog hop
Time flies when you're having fun. It's already day 6 of our Display Stamper Blog Hop and I'm showing you another sample with the fun & whimsical Myths & Magic product suite. Don't forget to hop-a-long at the end of this message to see more amazing samples of the display stampers from all around the world.
De tijd vliegt wanneer je een goede tijd hebt. Het is alweer dag 6 van onze Display Stamper Bloghop en ik laat je wederom een voorbeeld zien met de leuke en grappige Myths & Magic product suite. Vergeet niet om door de hoppen aan het eind van dit bericht om meer fantastische voorbeelden te zien van display stampers van over de hele wereld.
display 06
Display 06 is one of my favorite cards, especially because of the galaxy technique I used to create the background. You can do this by sponging, but you can also create it with your aqua painter (click here for a tutorial video).
Display 06 is een van mijn favoriete kaartjes, met name vanwege de galaxy techniek die ik uitgevoerd heb om de achtergrond te creëren. Je kunt deze techniek uitvoeren door te sponzen, maar ook met je aqua painter (klik hier voor een filmpje met uitleg).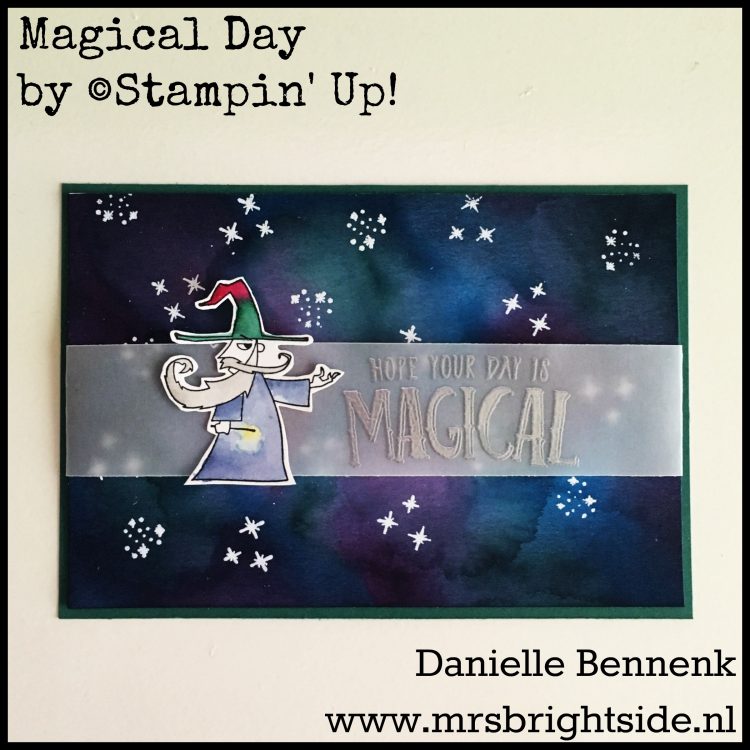 I used Night of Navy, Pacific Point, Berry Burst, Tranquil Tide and Emerald Envy for my background. After having it dried, I added a some extra Night of Navy with a sponge along the borders. In addition, I heat embossed some stars from the Magical Day stamp set with white. I'm loving the outcome and I know for sure that this isn't the last galaxy background I created 🙂
Ik heb Night of Navy, Pacific Point, Berry Burst, Tranquil Tide en Emerald Envy gebruikt voor mijn achtergrond. Nadat ik het heb laten drogen, heb ik nog wat extra Night of Navy langs de randen aangebracht met een sponsje. Ook heb ik wat sterretjes uit de Magical Day stempelset met wit heat embossed. Ben echt heel erg blij met de uitkomst en weet zeker dat dit niet de laatste galaxy achtergrond is die ik gecreëerd heb 🙂
Keep calm & keep on hopping
Please, click the 'Next' button to go the next blog, Chloe Evans, of our line-up and continue to be amazed by all the talent of our Display Stampers. Have a great day and hope to see you again tomorrow!
Klik alsjeblieft op de 'Next' knop om naar het volgende blog, Chloe Evans, van onze bloglijst te gaan en blijf jezelf verbazen over het talent van onze Display Stampers. Heb een fantastische dag en hoop je morgen weer te zien!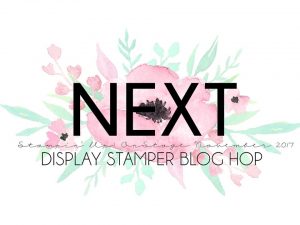 Blog List
Cathy Caines
Diane Browning
Katharina Baranski
Dani Dziama
Angela Meritz-Reid
Jenny Hall
Bronwyn Eastley
Tanya Boser
Lou Kitzelman
Mindy Backes
Charlet Mallett
Mercedes Weber
Denita Wright-Smee
Stesha Bloodhart
Carolynn Sander
Aurelie Fabre
Josie Dean
Danielle Bennenk – That's me / Dat ben ik!
Chloe Evans
Dawn Olchefske
P.S. Hieronder vind je alle door mij gebruikte materialen. Wil je hier iets van aanschaffen? Dan verzorg ik graag je bestelling (mail: danielle@mrsbrightside.nl)! Je kunt op de onderstaande afbeeldingen klikken om naar mijn webshop (Credit Card only) te gaan.
Product List