last day of display stamper blog hop
Wow, it's already day 7 of the Display Stamper Blog Hop! It was so cool to be able to participate in this blog hop with so many talented Stampin' Up! demonstrators from across the world. I hope you liked our projects, I'm so grateful that I was able to show you my Myths & Magic display samples. You want to see more and other samples? Click here for my Sweet Little Something and here for my Perennial Birthday display samples.
Wow, het is alweer dag 7 van de Display Stamper Bloghop! Het was zo cool om mee te doen aan deze bloghop met zoveel getalenteerde Stampin' Up! demonstratros van over de hele wereld. Ik hoop dat je mijn voorbeelden leuk vond. Ik ben dankbaar dat ik je mijn voorbeelden van de Myths & Magic product suite kon laten zien. Wil je meer voorbeelden zien? Klik hier voor mijn Sweet Little Something en hier voor mijn Perennial Birthday display voorbeelden.
last but not least: display 07
Last but not least, my display 07 sample. This is my favorite out of all of them, but maybe I'm biased as this card features a unicorn and I just LOVE unicorns 🙂
Lest best, mijn display 07 voorbeeld. Dit is mijn grootste favoriet, maar misschien ben ik wel vooringenomen aangezien dit een kaart met een eenhoorn is en ik HOU van eenhoorns 🙂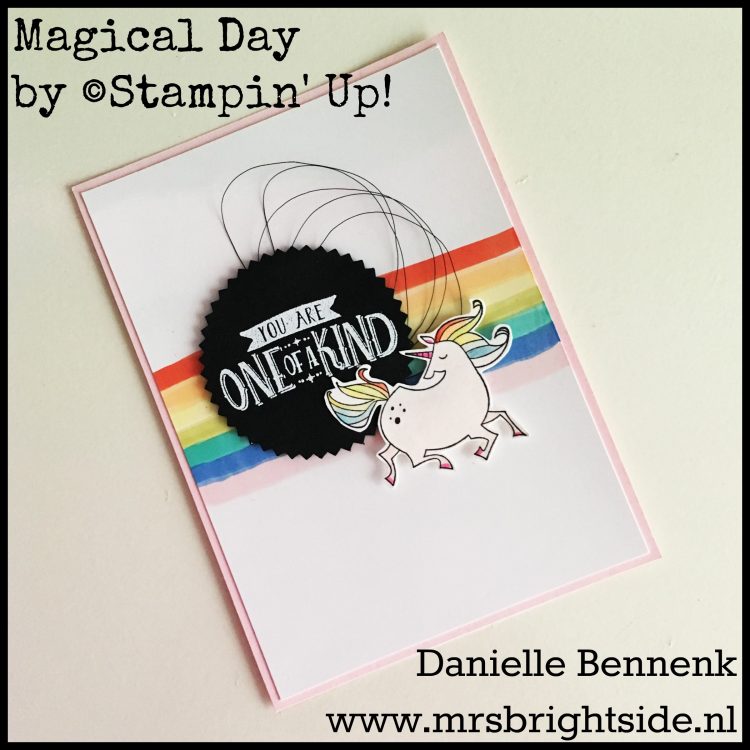 I created the Rainbow with my new Stampin' Blends on glossy cardstock. I used the following colors: Calypso Coral (dark), Pumpkin Pie (light), Daffodil Delight (light), Old Olive (light), Bermuda Bay (light), Night of Navy (light) and Pink Pirouette (dark).  The unicorn is stamped on shimmery white cardstock and colored with the same colors, but I did use my aqua painter this time. If you would like to see more projects made with the Stampin' Blends, check my blog this week as I'm featuring these beauties in my Spotlight projects of Wednesday and Friday.
Met mijn nieuwe Stampin' Blends heb ik een regenboog gemaakt op glossy cardstock. Ik heb de volgende kleuren gebruikt: Calypso Coral (dark), Pumpkin Pie (light), Daffodil Delight (light), Old Olive (light), Bermuda Bay (light), Night of Navy (light) en Pink Pirouette (dark).  De eenhoorn is op shimmery white cardstock gestempeld en ingekleurd in dezelfde kleuren, maar dan wel met mijn aqua painter. Als je meer projecten wilt zien die gemaakt zijn met de Stampin' Blends, check m'n blog deze week omdat ik deze mooie Blends in de Spotlight zet deze week op woensdag en vrijdag.
For the last time… keep on hopping!
For the last time this week: Keep on hopping! Just click the 'Next' button to go to Chloe Evans fabulous blog!
Voor de laatste keer deze week: Hop door! Klik gewoon op de 'Next' knop om naar het fabuleuze blog van Chloe Evans te gaan!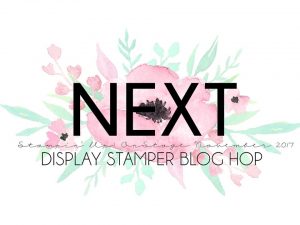 Have fun! / Veel plezier gewenst,
Blog List
Cathy Caines
Diane Browning
Katharina Baranski
Dani Dziama
Angela Meritz-Reid
Jenny Hall
Bronwyn Eastley
Tanya Boser
Lou Kitzelman
Mindy Backes
Charlet Mallett
Mercedes Weber
Denita Wright-Smee
Stesha Bloodhart
Carolynn Sander
Aurelie Fabre
Josie Dean
Danielle Bennenk – That's me / Dat ben ik!
Chloe Evans
Dawn Olchefske
P.S. Hieronder vind je alle door mij gebruikte materialen. Wil je hier iets van aanschaffen? Dan verzorg ik graag je bestelling (mail: danielle@mrsbrightside.nl)! Je kunt op de onderstaande afbeeldingen klikken om naar mijn webshop (Credit Card only) te gaan.
Product List