Focus thema: Flora en/of Fauna met Easter Friends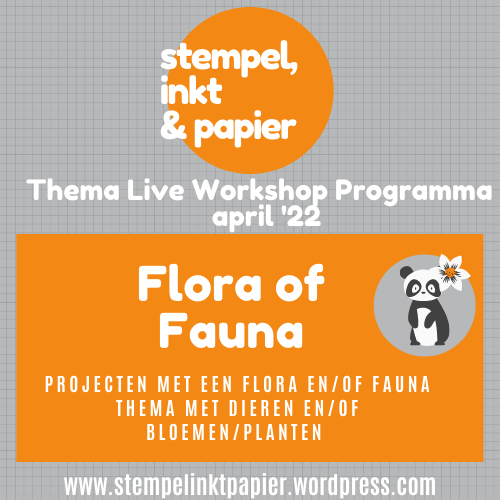 Hallo en welkom bij de Stempel, Inkt & Papier bloghop! Deze maand richt Stempel, Inkt & Papier zich op het thema: Flora en/of Fauna! Hierbij gebruiken we mooie producten uit de lopende Stampin' Up! catalogi.
Ik koos ervoor om aan de slag te gaan met de Easter Friends Stempelset. Een hartstikke leuke stempelset met schattige dier afbeeldingen: Een leuk konijn, een kuikentje en last but not least, een dottig eendje.
Ook gebruikte ik een beetje 'Flora' in deze kaart door de Bough Punch te gebruiken voor wat extra textuur op de kaart.
Easter Friends Kaart
Vanaf het eerste moment dat ik de Easter Friends Stempelset onder ogen kreeg wist ik dat ik 'm moest hebben 😀 Die diertjes zijn gewoon zo ontzettend schattig!
De basiskaart (14,5 x 21 cm, rillen lange kant op 10,5 cm) is van Basic White Thick Cardstock. Hierop zit een mat (10 x 14 cm) van Basic White Cardstock en daarop een mat (9,7 x 13,7 cm) van Basic White Cardstock die ik eerst embossed heb met de Timber 3D Embossing Folder.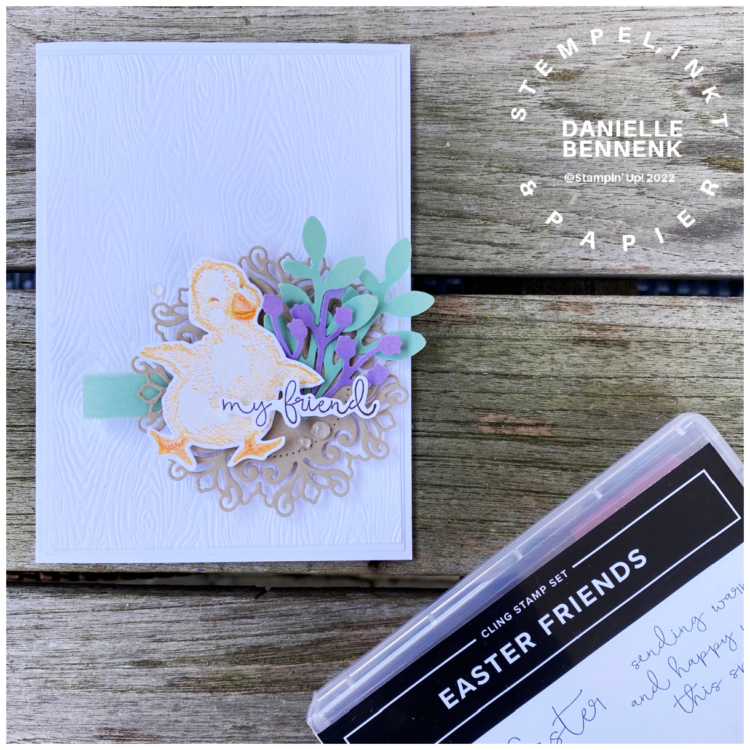 Vervolgens heb ik een cluster gecreëerd met als basis een doily van Crumb Cake Cardstock welke ik gestanst heb met de Encircled In Beauty Dies. Hieronder zit een lus van Mint Macaron Soft Velvet Ribbon.
Vervolgens heb ik een aantal takjes, geponst met de Bough Punch, van Highland Heather en Mint Macaron Cardstock op de doily geplakt.
Het eendje is gestempeld met So Saffron Classic Stampin' Ink en licht ingekleurd met de Watercolor Pencils. Gebruikte kleuren: Daffodil Delight, Pumpkin Pie en Early Espresso om de oogjes wat extra aan te zetten. Vervolgens heb ik de afbeelding uitgeknipt en met Stampin' Dimensionals op de kaart geplakt.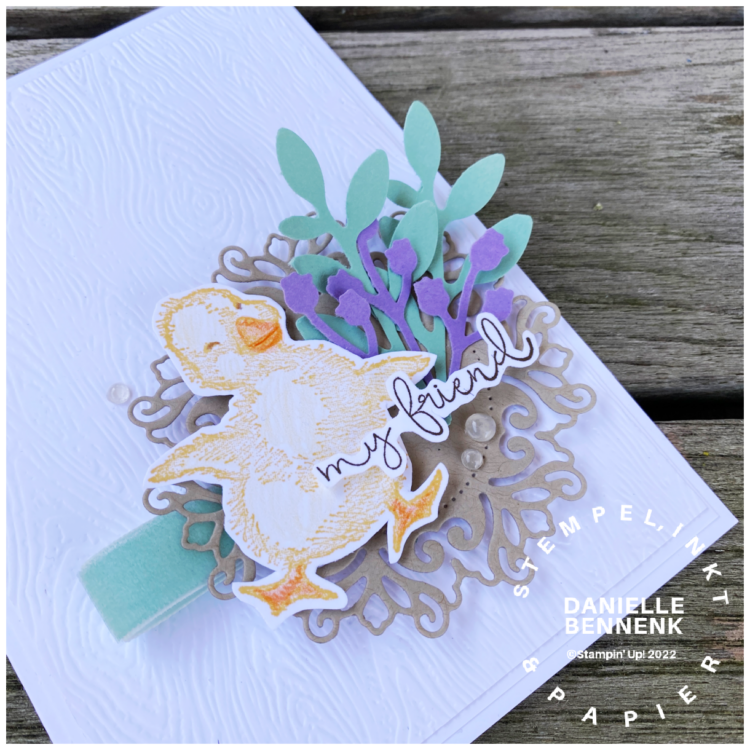 De tekst is gestempeld op een restje Basic White Cardstock en Early Espresso Classic Stampin' Inkt, deze heb ik vervolgens uitgeknipt en op de kaart geplakt met Stampin' Dimensionals. Als laatste heb ik een aantal doorzichtige Polished Dots toegevoegd aan de kaart. Het zijn net waterdruppels die van het eendje afkomen na een zwempartij 🙂
Wat is Stempel, Inkt & Papier?
Nog even ter informatie: Stempel, Inkt & Papier is een creatief initiatief van drie Nederlandse Stampin'Up! Demonstratrices – Sandra Korten, Lotte Noordzij-Walther en ikzelf – die elke maand een specifiek Stampin'Up! Product of specifiek thema centraal zetten in een "Live" workshop programma.
In dit programma bieden we tenminste 4 online workshops, rondom thema's als techniek, step-it-up, alles behalve een kaart, Case The Catty of Memory Keeping, aan via Facebook Live uitzendingen in een besloten Facebook groep. Dit zijn dus "Live" workshops waarbij jij als kijker meteen met ons mee kan doen of later aan de slag kan gaan. Wil je weten hoe je aan dit "Live" workshop programma kunt mee doen ga dan naar deze pagina voor meer informatie.
Meer Favoriete Pons inspiratie
Hieronder vind je de linkenlijst, klik gewoon op de naam onder die van mij (ik ben Danielle) om door te gaan naar het volgende blog.

Gebruikte materialen
Ik verzorg graag je bestelling. Klik op de 'Stampin' Up! bestelling'-knop of de 'Webshop Stampin' Up!'-knop (PayPal en credit card betaling) in de zijbalk om deze te plaatsen.
| | | | | |
| --- | --- | --- | --- | --- |
| | | | | |
| | | | | |
| | | | | |
| | | | | |