Focus thema: Beestenboel!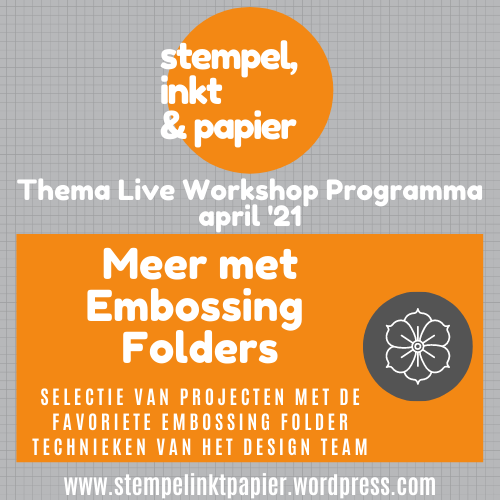 Hallo en welkom bij de Stempel, Inkt & Papier bloghop! Deze maand richt Stempel, Inkt & Papier zich op het thema: Meer met Embossing Folder Projecten waarbij we diverse technieken laten zien met een embossing folder of embossing folders. Gelukkig hebben ze bij Stampin' Up! heel veel keuzes om mee aan de slag te gaan. Voor dit bloghop project ging ik aan de slag met de Meadow Moments Embossing Folder
De Meadow Moments Embossing Folder komt in een setje van twee verschillende motieven. Een met blaadjes en de andere met blaadjes en vlindertjes. Het zijn smalle embossing folders die ook door de Mini Stampin' Cut & Emboss Machine passen. Je vindt deze embossing folders in de Stampin' Up! jaarcatalogus. In onze bloghop tonen we onze projecten en dan tonen we exclusieve projecten in de exclusieve Stempel, Inkt & Papier Facebookgroep van de maand april.
Meadow Moments Embossing Folder Kaarten
Ik maakte twee projecten met de Meadow Moments Embossing Folder, hierbij gebruikte ik dezelfde techniek: Insmeren van de embossing folder met Versamark inkt en vervolgens het heat embossen van het cardstock. De ene keer met Gold Stampin' Emboss Powder en de andere keer met het Heat & Stick Powder en de Gilded Leafing Embellishments.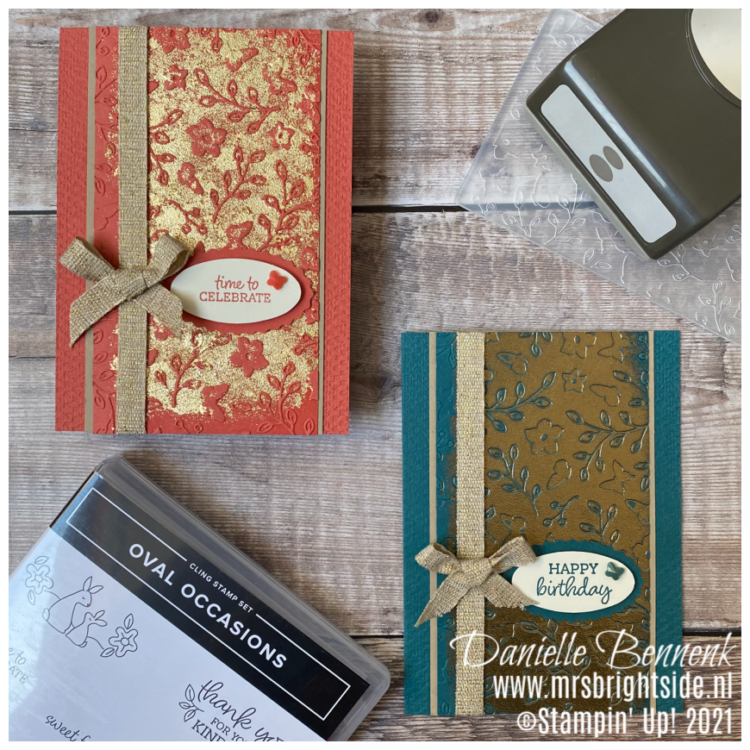 Met mijn projecten wilde ik ook meteen de verdwijnende 2019-2021 In Colors centraal zetten. Deze gaan in mei met pensioen, dus wil je hier nog inkt en papier van bestellen, dan zou ik er snel bij zijn! Van het setje Meadow Moments Embossing Folders koos ik degene met de blaadjes en de vlindertjes.
Terracotta Tile Kaart
De basiskaart (14,5 x 21 cm, rillen lange kant 10,5 cm) is van Terracotta Tile Cardstock. De voorzijde heb ik embossed met mijn favoriete Tasteful Textile 3D Embossing Folder.
Voor het embossen van een strook (8 x 14,5 cm) Terracotta Tile Cardstock heb ik de 'gladde kant' van de embossing folder ingesmeerd met Versamark Inkt. Hierdoor komt na het embossen de inkt op het gladde gedeelte van het cardstock en niet op de uit stekende takjes en vlindertjes. Daarna heb ik er Heat & Stick Powder op gestrooid, verwarmd en afgemaakt met de Gilded Leafing Embellishments. Wil je weten hoe dit werkt? Kijk dan hier voor een instructie video.
Er ontstaat een ietwat distressed effect met het goud op het cardstock. Persoonlijk vind ik het er erg tof uitzien.
Rondom de embosste strook cardstock heb ik het Fine Art Ribbon gestrikt en daarna heb ik de strook op een strook (8,5 x 14,5 cm) Crumb Cake Cardstock geplakt. Met de Oval Ocassions bundel heb ik een label gemaakt en geponst. Hierbij is de tekst op Very Vanilla Cardstock gestempeld met Terracotta Tile Classic Stampin' Inkt. Een Terracotta Tile Butterfly Gem maakt het af.
Pretty Peacock Kaart
Voor de Pretty Peacock kaart gebruikte ik dezelfde afmetingen en embellishments. Alleen is nu natuurlijk de basis Pretty Peacock. Dus het label, geponst met de Double Oval Punch, is van de kleur, evenals de tekst en de Butterfly Gem.
Buiten de kleur, wordt het grootste verschil met de Terracotta Tile kaart gecreëerd door het gebruik van Gold Stampin' Emboss Powder i.p.v. de Gilded Leafing. Ook heb ik deze keer de andere zijde van de embossing folder ingesmeerd met Versamark. Je krijgt nu een heel ander effect op de embosste strook. De gouden glans geeft deze kaart een enorm rijke uitstraling.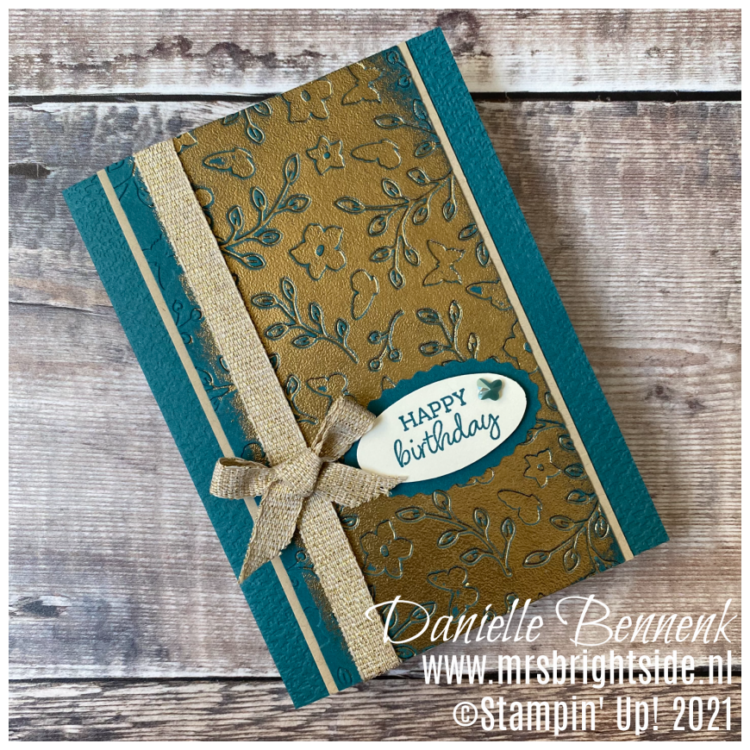 Wat is Stempel, Inkt & Papier?
Nog even ter informatie: Stempel, Inkt & Papier is een creatief initiatief van drie Nederlandse Stampin'Up! Demonstratrices – Sandra Korten, Lotte Noordzij-Walther en ikzelf – die elke maand een specifiek Stampin'Up! Product of specifiek thema centraal zetten in een "Live" workshop programma.
In dit programma bieden we tenminste 4 online workshops aan via Facebook Live uitzendingen in een besloten Facebook groep. Dit zijn dus "Live" workshops waarbij jij als kijker meteen met ons mee kan doen of later aan de slag kan gaan. Wil je weten hoe je aan dit "Live" workshop programma kunt mee doen ga dan naar deze pagina voor meer informatie.
Meer Embossing Folders als inspiratie
Hieronder vind je de linkenlijst, klik gewoon op de naam onder die van mij (ik ben Danielle) om door te gaan naar het volgende blog.

Gebruikte materialen
Ik verzorg graag je bestelling. Klik op de 'Stampin' Up! bestelling'-knop of de 'Webshop Stampin' Up!'-knop (PayPal en credit card betaling) in de zijbalk om deze te plaatsen.