*Dear international readers, please use the translate button on the right (see side bar) to translate this message to your preferred language.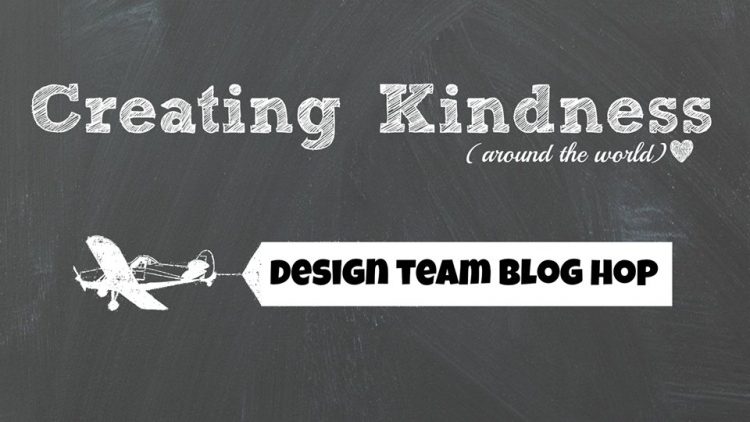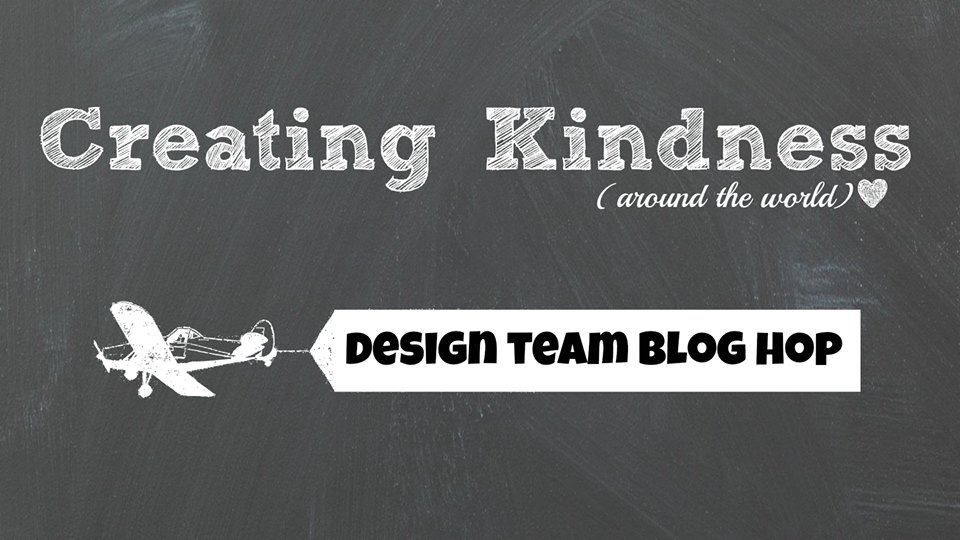 Thema: Embossing With A Twist
Bij mijn project voor de Creating Kindness Blog & Video Hop werk ik met de prachtige Fancy Phrases stempelset van Stampin' Up! . De prachtige bloemenstruik van deze stempelset past, wat mij betreft, perfect bij de achtergrond die ik gecreëerd heb ter ere van het thema van deze maand: Embossing With A Twist! Ons Design Team kennende zullen er veel mooie en veelzijdige projecten ontstaan zijn. Vandaag worden we vergezeld door de getalenteerde Monica Formosa uit Australië, ik ben zeer benieuwd wat zij gemaakt heeft.
Embossing With A Twist met keukenrolpapier!
Er zijn natuurlijk heel veel manieren om te embossen. Heat embossing met embossing poeder, droog embossen met de embossing folders en dan heb ik het nog niet gehad over alle technieken die weer voort komen uit deze 2 manieren. Ik heb gekozen voor een Embossing With A Twist techniek door geen regulier cardstock of designpapier te embossen met een embossing folder, maar… tromgeroffel alsjeblieft… keukenrolpapier! Je kunt deze techniek trouwens ook doen met toiletpapier 🙂
Wat heb ik precies gedaan voor deze Embossing With A Twist kaart:
Je neemt twee vellen keukenrol (ik heb het huismerk van de Jumbo gebruikt)
Je legt de twee vellen op elkaar en knipt een stuk van ong. 10,5 x 14,5 cm en een stuk van ong. 9 x 9 cm
Je legt beide stukken van 9 x 9 cm op elkaar in de Tasteful Textile 3D Embossing Folder en sproeit ze nat m.b.v. een Stampin' Spritzer gevuld met doodgewoon water
Je legt beide stukken van 10,5 x 14,5 cm op elkaar in de Scripty 3D Embossing Folder en sproeit ook deze nat
Vervolgens haal je beide embossing folders door de Stampin' Cut & Emboss Machine
Je verwijderd, voorzichtig, de embosste stukken keukenrol uit de embossing folders en legt deze te drogen
Het papier moet echt geheel droog zijn voordat je het verwerkt op de kaart
Na het drogen scheur je de randen van beide stukken voorzichtig af. Het stuk Scripty papier was uiteindelijk ong. 9,5 x 13,5 cm en het stuk Tasteful Textile papier was ong. 7 x 7 cm
Als uitgangspunt voor dit project heb ik een basiskaart (14,5 x 21 cm, rillen lange kant op 10,5 cm) van Smoky Slate Cardstock genomen. Hierop heb ik een Purple Posy Cardstock mat (10 x 14 cm) geplakt. Hierop heb ik vervolgens het embosste Scripty papier geplakt en daaroverheen een strip van Purple Posy Cardstock (1,5 x 14 cm).
Last but not least, heb ik daaroverheen het vierkante stuk Tasteful Textile papier geplakt.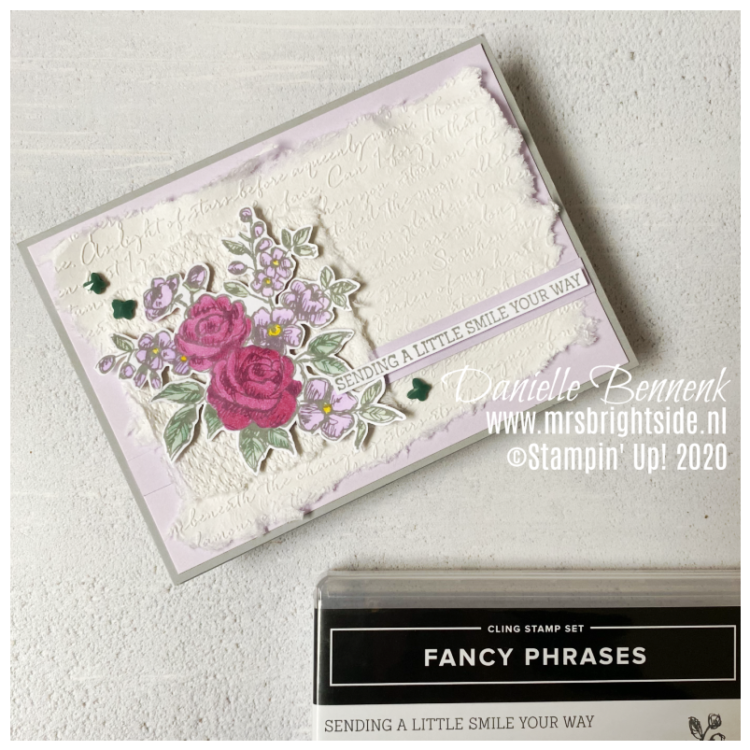 Het focuspunt van de kaart wordt gevormd door de bloemenstruik van de Fancy Phrases stempelset, gestempeld met Smoky Slate inkt op Whisper White Cardstock. Na het inkleuren met de Soft Sea Foam, Mint Macaron, Purple Posy, So Saffron en Rococo Rose Combo Pack Stampin' Blends heb ik de afbeelding uitgeknipt.
Daarna heb ik de afbeelding met Stampin' Dimensionals op de kaart geplakt. De tekst is ook met Dimensionals op de kaart geplakt en een drietal Pretty Peacock Butterfly Gems maken het geheel af.
Ik ben echt helemaal verliefd op deze kaart, die zachte uitstraling van het grijs en lila in combinatie met de dromerige embosste stukken papier… zwijmel…zwijmel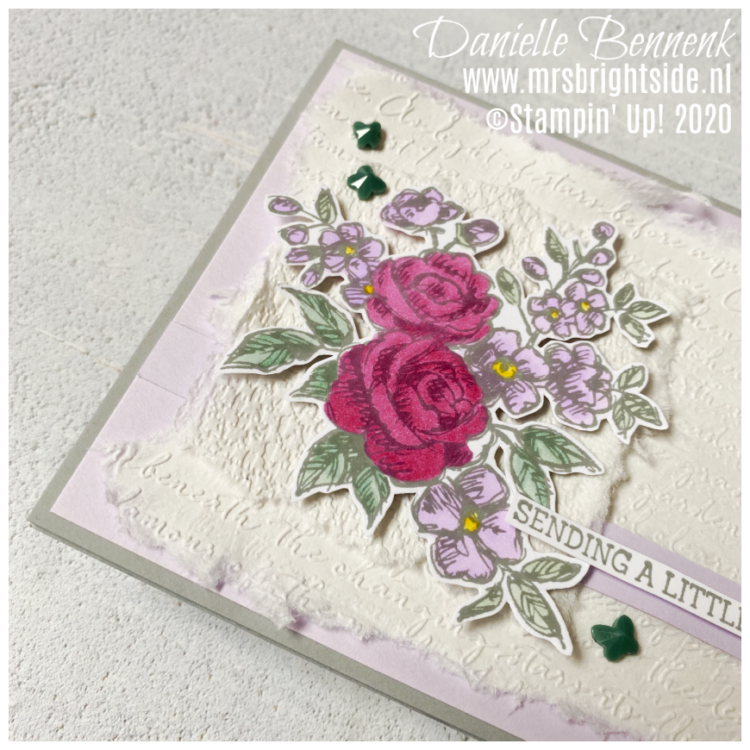 Meer Embossing With A Twist projecten…
Ook de overige Design Teamleden zijn aan de slag gegaan met het thema Embossing With A Twist en aan de sneak peeks te zien zijn het echt prachtige projecten! Dus hop snel door naar het blog van de geweldig getalenteerde Paula uit Nieuw-Zeeland door op de onderstaande knop te klikken!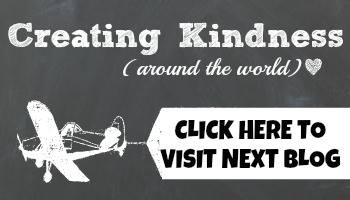 Heel erg bedankt voor je bezoek en ik zou het leuk vinden als je een reactie achter laat.

Bloghop Deelnemers
GEBRUIKTE MATERIALEN
Ik verzorg graag je bestelling. Klik op de 'Stampin' Up! bestelling'-knop of de 'Webshop Stampin' Up!'-knop (credit card only) in de zijbalk om deze te plaatsen.
| | | | | |
| --- | --- | --- | --- | --- |
| | | | | |
| | | | | |
| | | | | |
| | | | | |