Falling in love spotlight presentation
Vandaag een iets ander Spotlight bericht dan normaal… Want zoals je al bij Eveline hebt kunnen zien staan deze week 'Tags & Labels' in de Spotlight. Maar ik laat je vandaag niet alleen een label zien, gemaakt met de spiksplinternieuwe stansset 'So Detailed Thinlits' uit de voorjaars/zomercatalogus, maar ook allerlei andere projecten gemaakt met producten uit de Falling In Love product suite van de nieuwe voorjaars/zomercatalogus.
Ik mocht namelijk tijdens On Stage afgelopen zaterdag een Spotlight presentatie geven over die prachtige Falling In Love product suite. Ergens in april of mei werd ik gebeld door Damir, de business development manager voor Nederland van Stampin' Up!, met de vraag of ik een presentatie wilde geven tijdens On Stage en dat wilde ik natuurlijk wel. Wat een eer én wat een uitdaging.
Today, I'm writing you a different Spotlight message than usual… As you might have seen on Eveline's blog we're shining our spotlight on 'Tags & Labels' this week. But today, I'm not only showing you a tag that I've made, with the brand spanking new So Detailed Thinlits from the spring/summer catalog, but also several other projects made with products from the Falling in Love product suite from the new spring/summer catalog.
Why am I showing you so many different projects? Well, I was asked to present a Spotlight presentation about the Falling in Love product suite during On Stage Amsterdam last Saturday. Somewhere in April or May I received a phone call from Damir, Business Development manager for the Netherlands at Stampin' Up! and he asked me if I would like to present during On Stage and of course I said 'Yes'. What an honor! What a challenge!
falling in love projects
Eind augustus ontving ik een productenpakket en kon ik aan de slag. Het thema van de product suite is Liefde en dat uit zich in de lieflijke, romantische en zachte uitstraling. Tijdens mijn presentatie wilde ik laten zien wat je met de mooie producten uit de product suite zoal kunt maken en die projecten wil ik nu ook met jullie delen.  Alvast mijn excuses voor de gigantische hoeveelheid foto's… Oeps 🙂
At the end of August I received some beautiful products and started to play. The theme of the product suite is Love and this shows in the ethereal, romantic and soft feel of this suite. During my presentation I wanted to show what you can do with the beautiful products of this suite and these projects I want to share with you too. I apologize in advance for this picture heavy blog post… Oops 🙂
Na mijn presentatie mochten de deelnemers van On Stage de volgende Make & Take maken./ After my presentation the other demonstrators at On Stage made this Make & Take.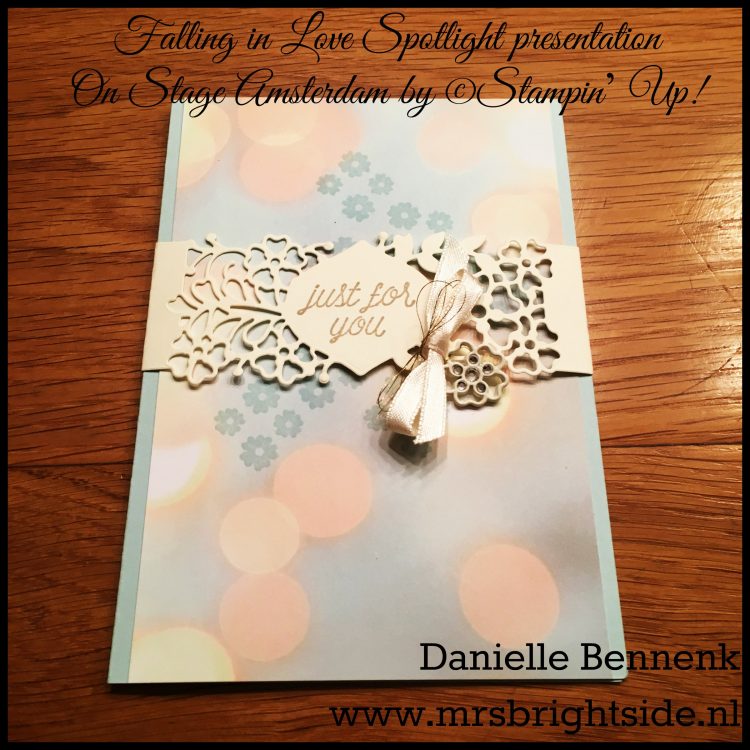 New catalog
Ik hoop dat je het leuk gevonden hebt om alvast wat projecten te zien van de Falling In Love product suite van de nieuwe voorjaars/zomercatalogus van Stampin' Up!. Ik ben er in ieder geval helemaal verliefd op geworden. En wat was het geweldig om zoveel positieve reacties te ontvangen van mijn collega-demonstratrices, ik ben zo dankbaar!
De nieuwe catalogus gaat trouwens 4 januari aanstaande van start, maar als je de catalogus al voor die tijd wilt hebben, Stuur dan een mail naar: danielle@mrsbrightside.nl. Ik zal je dan, tegen verzendkosten, een exemplaar opsturen. De verzendkosten worden bij een eerste bestelling mindering gebracht.
I hope you liked looking at some projects made with the Falling in Love product suite from the new Spring/Summer catalog by Stampin' Up! I definitely fell in love with this suite! And the respons of my fellow demonstrators was so amazing, I'm so grateful!