Gift boxes
Zoals jullie weten staan deze week doosjes & verpakking in de spotlight op onze blogs. Vandaag laat ik jullie de verpakkingen zien die op 14 december aanstaande gemaakt worden tijdens mijn Kaarten & Cocktails workshop 'Cadeaus'.  Er zijn nog twee plaatsen beschikbaar, dus wil je deze verpakkingen ook maken, stuur mij dan een mailtje voor 7 december aanstaande.
This week we're shining our spotlight on boxes & gift wraps. Today, I'm showing you the gift boxes the participants of my Kaarten & Cocktails (=Cards & Cocktails) workshop will be making on December 14th.
Fancy Frost dsp
De basis voor alle verpakkingen is het Fancy Frost Designer Series Paper. Een prachtig wat steviger papier met embosste motieven. Dit papier kun je ook heel goed bewerken met een kleurtje, zie het filmpje hieronder.
The base for all gift boxes is the Fancy Frost Designer Series Paper. A beautiful sturdy paper with embossed motives. This paper is also very fun to color, just take a look at the video below.
punch board extravaganza
Tijdens de workshop gaan we aan de slag met alle drie de punch boards die Stampin' Up! aanbiedt: De envelope, gift bag en gift box punch board.
During the workshop we're working with all three punch boards that Stampin' Up! offers: The envelope, gift bag en gift box punch board.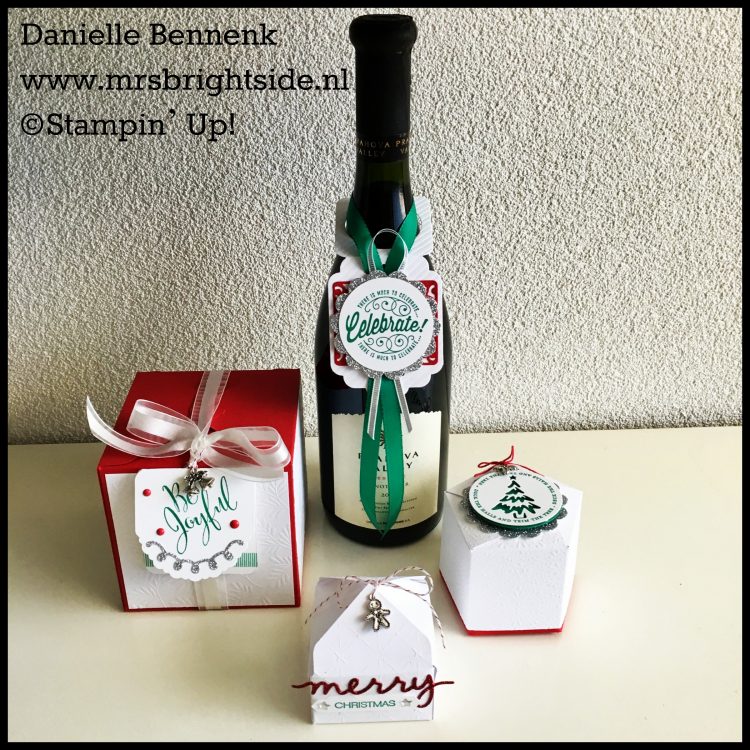 Het grote doosje aan de linkerkant is gemaakt met de Gift Box punch board. Het kleine doosje in het midden is gemaakt met de Envelope punch board en het vijfhoekige doosje is gemaakt met de Gift Bag punch board. Op het internet zijn veel verschillende video's en ideeën te vinden om leuke projecten te maken met de punch boards!
The big box on the left side has been made with the Gift Box punch board. The little box in the middels is made with the Envelope punch board and the 5-corner box is made with the Gift Bag punch board. On the internet you can find tons of video's and ideas to make fun projects with the punch boards.
Volgende week zijn we weer terug met onze Spotlight berichten. De superleuke Cookie Cutter Christmas bundel staat dan in de spotlight.
Next week, we'll be back with our Spotlight messages. The super fun Cookie Cutter Christmas bundle will be our focus!
 Product List