Punches in the spotlight
De hele week staan de punches van Stampin' Up! al in de Spotlight op mijn blog. Maandag liet ik je de Cat Punch zien en afgelopen woensdag de nieuwe Tailored Tag punch. Gelukkig heeft Stampin' Up! veel leuke punches beschikbaar en vandaag laat ik jullie een set kaart zien waarbij ik mijn top 3 favoriete punches gebruikt heb.
The entire week I'm showing the punches of Stampin' Up! in the spotlight on my blog. Monday, I showed you the Cat Punch and last Wednesday the new Tailored Tag Punch. Luckily, Stampin' Up! has many fun punches and today I'm showing you a set of cards made with my top 3 of favorite punches.
favorite punches
Het is natuurlijk altijd moeilijk kiezen tussen je lievelingen, maar ik grijp toch wel heel vaak naar de Classic Label, Best Badge en Starburst punch. Daarom heb ik deze top 3 van favoriete punches gebruikt bij het onderstaande kaartensetje.
It's always hard to choose between your favorites, but I tend to grab for the Classic Label, Best Badge and Starburst punch more often than not. That's why I used this top 3 of favorite punches for the card set below.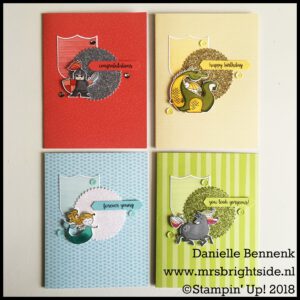 De basiskaartjes zijn afkomstig uit de Sale-A-Bration folder (zie de zijkolom). Deze Tutti-Frutti kaartjes komen in een set van 16 kaarten (4 x 4 dessins) met bijpassende enveloppen. Met deze kaarten heb ik een leuk 'Magical Day' kaartensetje samengesteld. De Magical Day stempelset is een van mijn favorieten sinds ik er mee mocht stempelen voor het On Stage Display in november '17. Het lijkt misschien een typische stempelset voor kinderen, maar ik vind dat de guitige afbeeldingen ook heel goed voor volwassenkaarten gebruikt kunnen worden.
The base cards are from the Sale-A-Bration folder (see sidebar). These Tutti-Frutti cards come in a set of 16 cards (4 x 4 designs) with envelopes. With these cards I made a fun 'Magical Day' card set. The Magical Day stamp set is one of my favorites since I was allowed to stamp with it for the On Stage Display in November '17. It might seem to be a typical children's stamp set, but I think the whimsical images are also perfect for adult cards.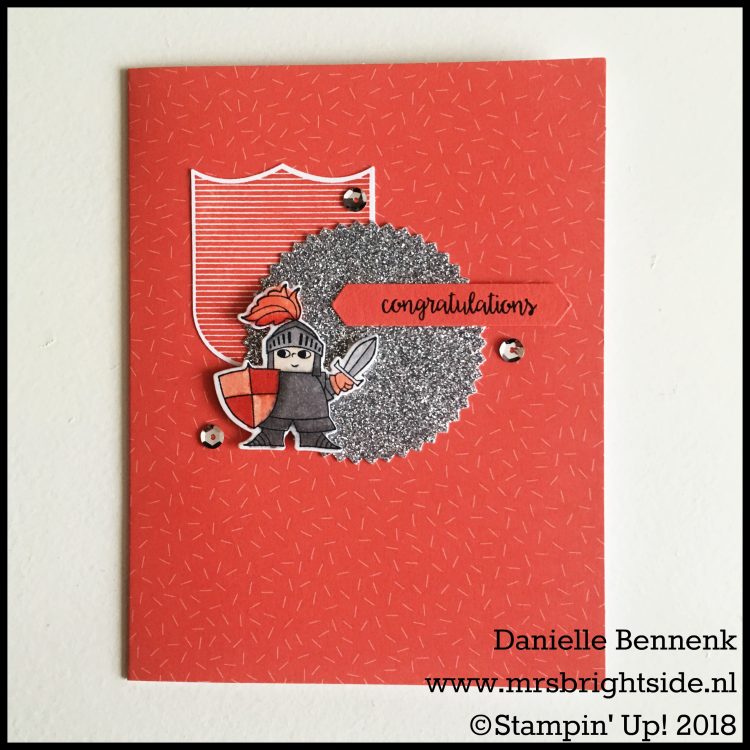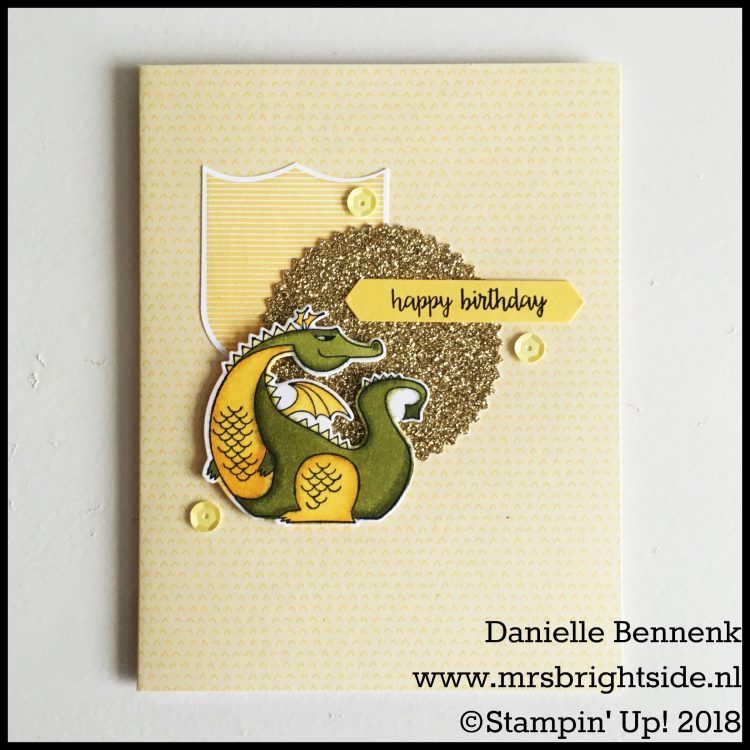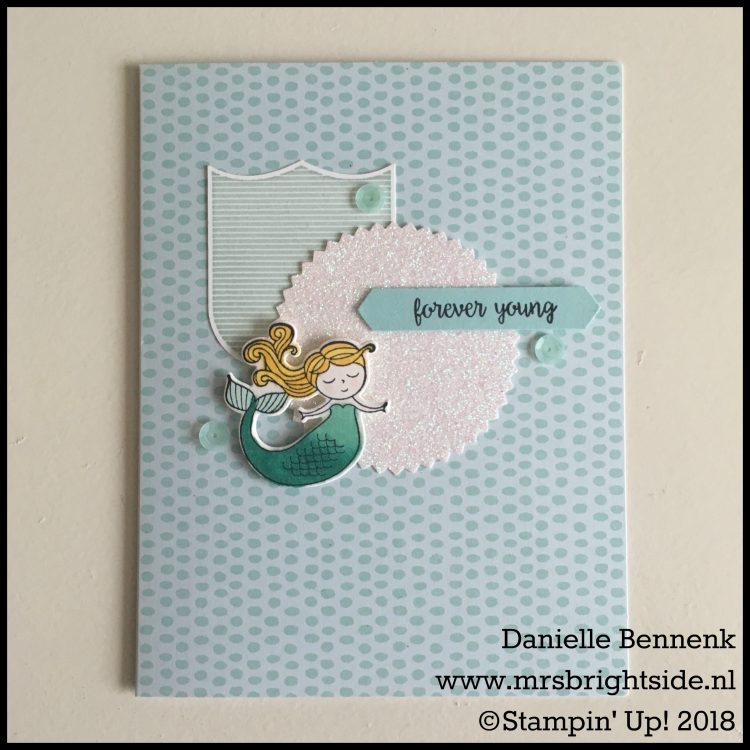 Elk kaartje heeft dezelfde sketch. De Best Badge is gestempeld in de hoofdkleur van het kaartje (van boven naar beneden: Calypso Coral, Daffodil Delight, Pool Party en Lemon Lime Twist). Daaroverheen zit een glimmer paper Starburst, de Classic Label (in dezelfde kleur als de hoofdkleur van de kaart) met de tekst, de Magical Day afbeeldingen ingekleurd met de Stampin' Blends en uitgestanst met de Magical Mates Framelits dies. Als laatst heb ik wat Tutti-Frutti adhesive backed sequins toegevoegd en voor het Calypso Coral kaartje Silver sequins.
Each card has the same sketch. The Best Badge is stamped in the main color of the card (from top to bottom: Calypso Coral, Daffodil Delight, Pool Party and Lemon Lime Twist). On top of it is a glimmer paper Starburst, the Classic Label (in the same color as the main color of the card) with the sentiment, the Magical Day images colored with the Stampin' Blends and die cut with the Magical Mates Framelits dies. Last but not least, I added some Tutti-Frutti adhesive backed sequins and for the Coral card some silver sequins.
Scrapbook Sunday blog hop
Aanstaande zondag, 12 uur, is het tijd voor de tweede Scrapbook Sunday Bloghop, de eerste vond plaats in december (klik hier). Vind je scrappen en/of memory keeping leuk kom dan zeker een kijkje nemen. We werken deze maand met een kleuren-challenge, dus dat levert vast veel prachtige én veelzijdige projecten op.
Coming Sunday, 12 pm, it's time for the second installment of Scrapbook Sunday Blog Hop. The first one took place in December (click here). If you like scrapping and/or memory keeping, you should definitely hop on by. We work with a color challenge this month, so that should offer a wide variety of beautiful projects.
gaLlery
If you missed some of the other projects I made with Magical Day, just click on the small pictures below to go to the original posts for those projects! / Als je een aantal van mijn andere projecten met Magical Day gemist hebt, klik dan op de fotootjes hieronder om naar de originele berichten te gaan!
P.S. Hieronder vind je alle door mij gebruikte materialen. Wil je hier iets van aanschaffen? Dan verzorg ik graag je bestelling (mail: danielle@mrsbrightside.nl)! Je kunt op de onderstaande afbeeldingen klikken om naar mijn webshop (Credit Card only) te gaan.
Product List