Welcome to our blog hop 'Feest!'(=party)
Een heel hartelijk welkom bij ons maandelijks bloghopfeestje! Dit keer is ons thema, je raadt het al: Feest! Het is altijd leuk om een feestje te vieren, of het nu gaat om de aankomende feestdagen in december of feest in het algemeen.
Gelukkig biedt Stampin' Up! voor iedere gelegenheid passende producten. We hopen je vandaag te inspireren met onze 'feestelijke' projecten.
A very warm welcome to our monthly blog hop party! This time, our theme is.. Yes, you guessed it… Party! It's always nice to have a party. It doesn't matter if it's a party for one of the November/December holidays or a party in general.
Thankfully, Stampin' Up! offers fitting products for every party occasion. We hope to inspire you today with our celebratory projects.
celebration time meets labels to love & december labels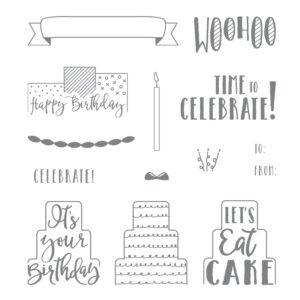 Bij een feestje horen kadootjes (tenminste meestal :)) en bij kadootjes horen geschenklabels! In de jaarcatalogus (blz. 81) staat een geweldige bundel om geschenklabels te maken: Celebration Time Bundel. Deze bundel bestaat uit een prachtige stempelset 'Celebration Time' en bijpassende stansset 'Celebration Thinlits Dies'. Het is een bundel die niet alleen goed te gebruiken is voor labels maar ook voor kaarten.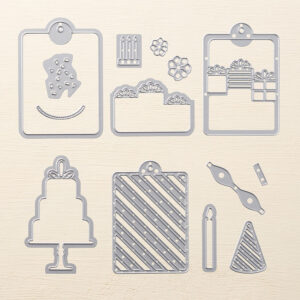 With a party come gifts (at least, most of the time :)) and with gifts come gift labels! There's an amazing bundle in the annual catalog (pg. 81) to make gift labels: Celebration Time bundle. This bundle consists of a wonderful stampset 'Celebration Time' and the corresponding 'Celebration Thinlits dies'. It's bundle that's not only usuable for tags and labels, but also for cards.
Ik heb een half dozijn leuke labels voor alle gelegenheden gemaakt. Hiervoor heb ik de Celebration Time bundel gebruikt in combinatie met de Labels to Love en Decembers Labels stempelsets uit de Herfst/Wintercatalogus. Natuurlijk, hoort bij zo'n setje een opbergdoosje.
I made half a dozen of cute labels for all occasions. For this I used the Celebration Time bundle in combination with the Labels to Love and December Labels stamp sets from the Fall/Winter catalog. By the way, December Labels is the Dutch version of the Merry Little Christmas Labels stamp set. Of course, you need a little storage box for a set of labels like that.
Wood crate framelits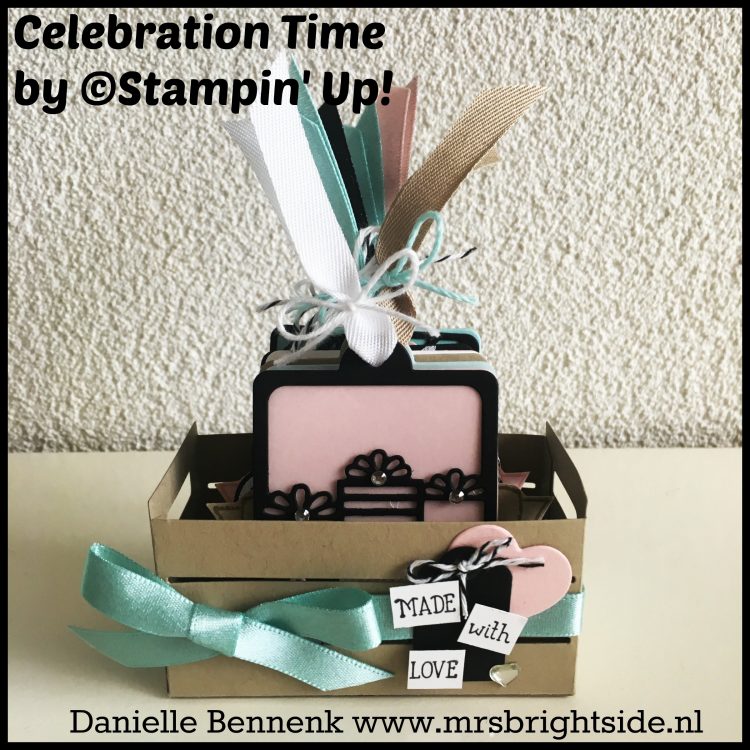 Voor het doosje heb ik de Wood Crate Framelits er maar weer eens bij gepakt. Met deze framelits kun je lieve kleine kratjes maken, die met een lintje en een labeltje feestelijk aangekleed kunnen worden. Een perfecte verpakking voor mijn Celebration Time labels.
For the box I used the Wood Crate Framelits once again. With these framelits you can make the cutest little crates, which can be festively embellished with some ribbon and a label. The perfect storage for my Celebration Time labels.
what's in it…
Het was echt een feest om aan de slag te gaan met de Celebration Time bundel en ik vond het moeilijk om op te houden en ben inmiddels al aan m'n derde setje begonnen 🙂 In het kratje zit een half dozijn labels. Hiervoor heb ik steeds 5 kleuren gebruikt: Whisper White, Crumb Cake, Powder Pink, Pool Party en Basic Black. Aangevuld met zilveren details en soms wat vellum.

It was a real party to work with the Celebration Time bundle and it was hard to stop, in the mean time I started on my third collection 🙂 In the crate you'll find half a dozen labels. For all of them I used a combination of 5 colors: Whisper White, Crumb Cake, Powder Pink, Pool Party and Basic Black. In addition, I added silver details and some vellum.
Onderaan dit bericht vind je alle producten die ik gebruikt heb. Heb je vragen of wil je een of meerdere van deze producten bestellen, dan verzorg ik graag de bestelling voor je (
danielle@mrsbrightside.nl
). Aanstaande dinsdag, 7 november '17, verzorg ik weer
een verzamelbestelling
🙂
hop-a-long
Ik hoop dat ik je heb kunnen inspireren met mijn feestelijke projectje en ik neem aan dat je niet kunt wachten om te zien wat de anderen hebben gemaakt! Klik dus op de onderstaande knop en hop naar het volgende blog waar de fantastische Caroline iets moois zal laten zien.
I hope that I have inspired you with my little party project and I assume you can't wait to see what the others have in store for you! Click on the button below to hop to the next blog, where the amazing Caroline will show you something wonderful.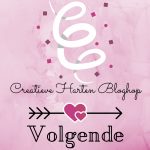 Bedankt voor je bezoek en ik zou het leuk vinden als je een berichtje achterlaat. Onderaan dit bericht vind je tevens de complete linkenlijst van deelnemers en alle gebruikte materialen 🙂
Thank you for your visit and I would really appreciate it if you would leave me a comment. Below you'll also find the complete link list of this blog hop and a listing of all used materials 🙂
complete blog hop list
Hieronder vind je alle door mij gebruikte materialen. Wil je hier iets van aanschaffen? Dan verzorg ik graag je bestelling (mail: danielle@mrsbrightside.nl)! Je kunt op de onderstaande afbeeldingen klikken om naar mijn webshop te gaan (Betaling alleen via credit card).
Product List