*Dear international readers, please use the translate button on the right (see side bar) to translate this message to your preferred language.
Thema: All About The Guys
Welkom bij Mrs. Brightside! Vandaag hop ik met het Stampin' Creative Design Team met het thema: All About The Guys. Dus alles draait om mannenprojecten.
Ik gebruikte de Geared Up Garage stempelset en Garage Gears dies voor mijn project. Ik had beide artikelen al een tijd niet aangeraakt, oeps, dus de bloghop van vandaag gaf mij een goede reden om er weer mee aan de slag te gaan. En… Goed nieuws! Beide komen terug in de aankomende '20-'21 Stampin' Up! jaarcatalogus.
Geared Up Garage Pop Up Mini Album Kaart
In plaats van een reguliere kaart of mini album heb ik een soort kruising gemaakt n.a.v. een project dat ik tegen kwam op Pinterest. Er zijn veel verschillende varianten van en ik vond het een geweldig project om te maken en sluit niet uit dat het terug gaat komen in een toekomstige workshop of project kit 🙂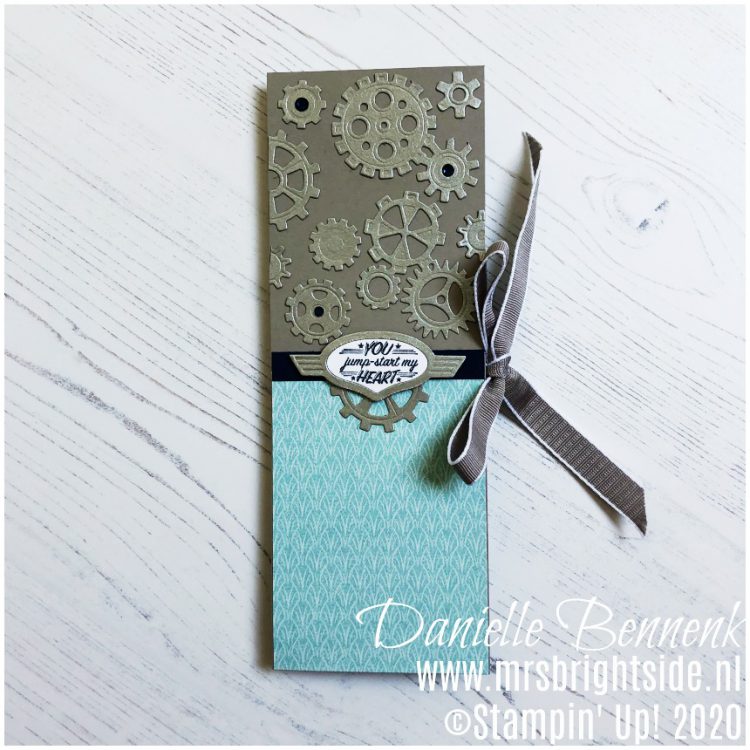 Het project heeft een niets vermoedende vrij rustige voorzijde waarbij ik het Tropical Oasis Designer Series Papier gecombineerd heb met Night of Navy en Gray Granite cardstock. Met de Garage Gears dies heb ik diverse tandwielen gestanst uit Galvanized Metallic Paper, dat helaas niet meer besteld kan worden. Ook heb ik een drietal Night of Navy Holiday Rhinestone Basic Jewels aan de tandwielen toegevoegd. De tekst is gestempeld met Night of Navy Classic Stampin' Inkt op Whisper White cardstock.
Binnenzijde Geared Up Garage Pop Up Mini Album Kaart
De binnenzijde van deze mini album/kaart combinatie toont dezelfde kleurencombinatie van Gray Granite, Whisper White, Pool Party en Night of Navy. Ook hier speelt het Tropical Oasis designer series papier een grote rol. Maar oh, wat zijn die afbeeldingen van de Geared Up Garage stempelset toch leuk! Heerlijk om in te kleuren met de Night of Navy, Pool Party en Gray Granite Combo Stampin' Blends en makkelijk te stansen met de Garage Gears dies.
Met Gray Granite Classic Stampin' inkt heb ik wat achtergrondjes gestempeld en de teksten zijn gestempeld met Night of Navy Classic Stampin' inkt.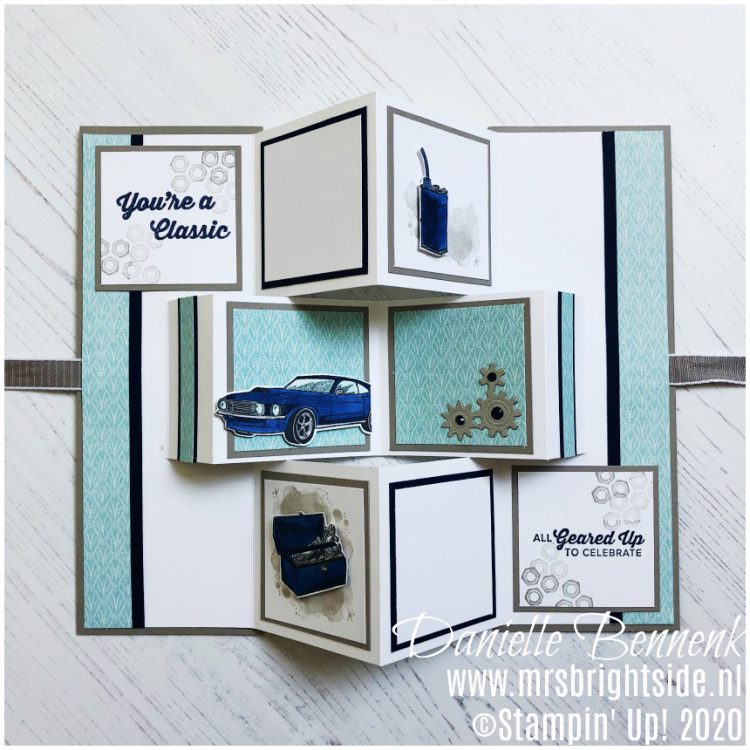 Doordat ik dik karton (achterkant van een designer series papier verpakking) heb gebruikt voor de kaft kun je deze mini album/kaart heel goed neerzetten als een soort van home deco. Het enige dat ik nu nog moet doen is enkele leuke foto's toevoegen aan de witte vierkantjes in het midden van de kaart en dit project is klaar om verstuurd te worden naar mijn zwager, die heel graag sleutelt aan zijn old-timer!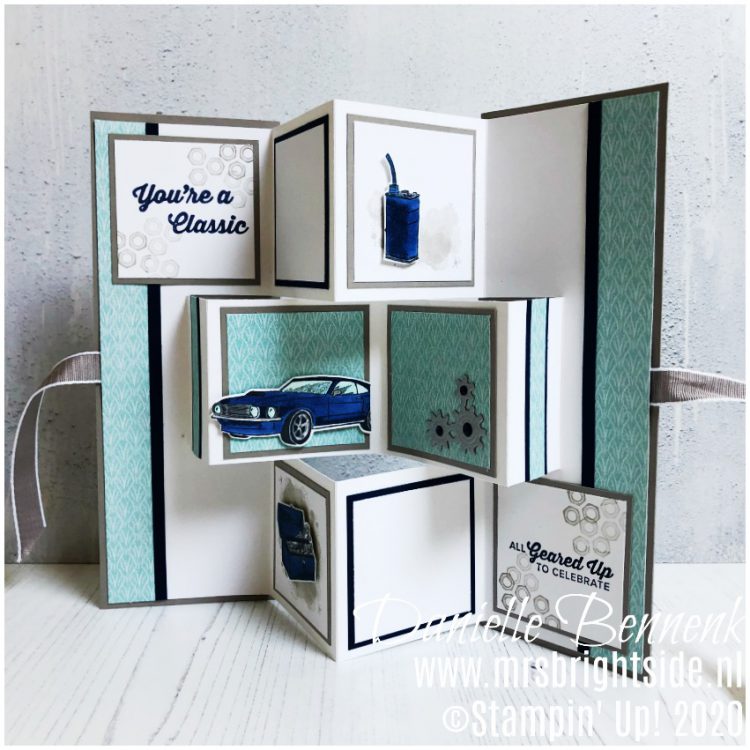 Meer inspiratie van het Stampin' Creative Design Team
Ik ben heel blij met het eindresultaat en ik hoop dat ik je met dit project geïnspireerd hebt. Ben je net als ik ook benieuwd naar de creaties van de andere Stampin' Creative Design Teamleden? Dan kun je eenvoudig door hoppen door op de naam onder die van mij (ik ben Danielle Bennenk) te klikken.
Ik wil je hartelijk danken voor je bezoek en wens je nog veel plezier bij het hoppen.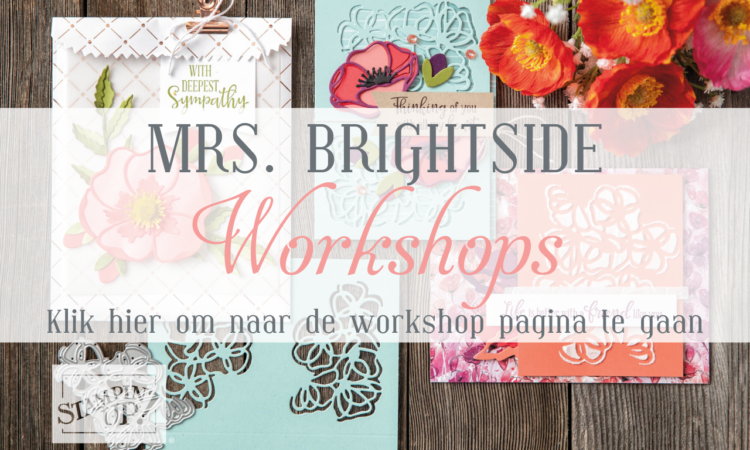 Gebruikte materialen
Ik verzorg graag je bestelling. Klik op de 'Stampin' Up! bestelling'-knop of de 'Webshop Stampin' Up!'-knop (credit card only) in de zijbalk om deze te plaatsen.