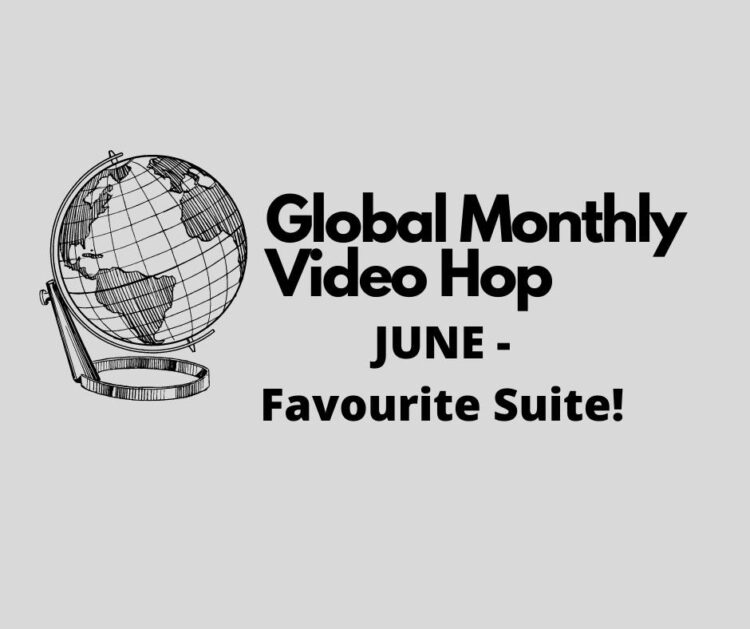 Global Monthly Video Hop 'Favourite Suite': Happy Forest Friends
Ook deze maand doe ik weer mee aan een internationale video hop met Stampin' Up! demonstratrices vanuit de hele wereld. Er is een specifiek thema per maand en rondom dit thema maken we een video tutorial van een project. Natuurlijk maken we gebruik van de mooie producten van Stampin' Up!
Deze keer is het thema Favourite Suite. Ik koos ervoor om met de Happy Forest Friends product selectie uit de nieuwe Stampin' Up! Jaarcatalogus aan de slag te gaan. Deze product selectie bevat het Happier Than Happy productpakket met de Happier Than Happy stempelset en de Happy Forest Dies, het Happy Forest Friends Designpapier en het Old Olive & Sahara Sand Twill Ribbon Combo Pack. Met uitzondering van het lint heb ik alle andere producten gebruikt.
Mini Album Kaart met Happy Forest Friends
Ik ben echt helemaal gek op het Happy Forest Friends Designpapier. Door de zachte neutrale tinten, watercolor stijl afbeeldingen en prints vind ik dit papier echt heel erg geschikt voor een Mini Album. Aangezien ik geen tijd heb om een video op te nemen voor een groot mini album, heb ik gekozen om een Mini Album Kaart te maken.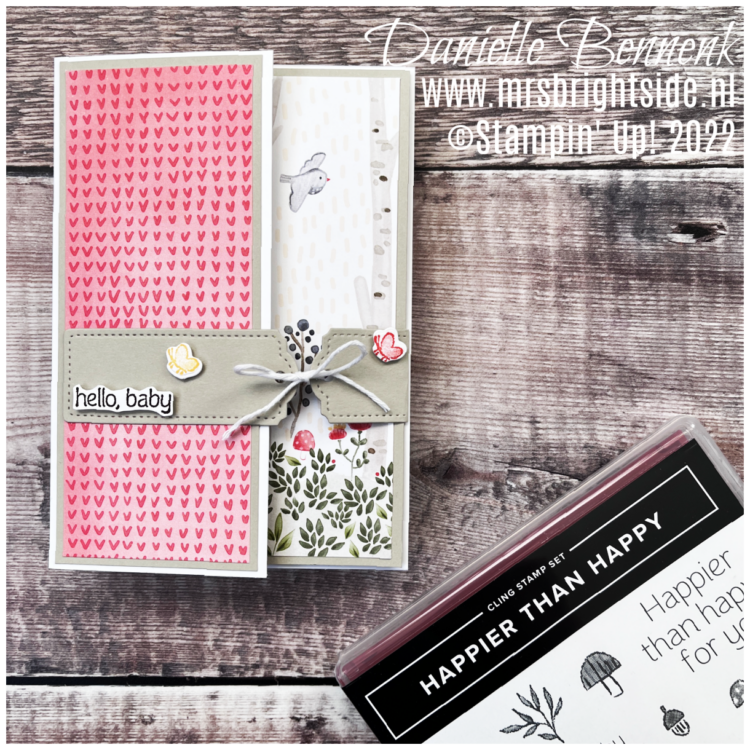 De basis van de kaart bestaat uit Basic White Thick Cardstock en Sahara Sand Cardstock. Verder speelt het Happy Forest Friends Designpapier natuurlijk de hoofdrol.
In de basiskaart zit een tweede kaart en de kaart wordt dicht gehouden door twee Tailor Made Tags van Sahara Sand Cardstock (zie de eerste foto) en Basic White Baker's Twine. De voorzijde heb ik verder versierd met een tekstje en twee gestempelde vlindertjes. Hiervoor heb ik de Happier Than Happy Stempelset, Early Espresso, So Saffron en Calypso Coral Classic Stampin' Inkt gebruikt.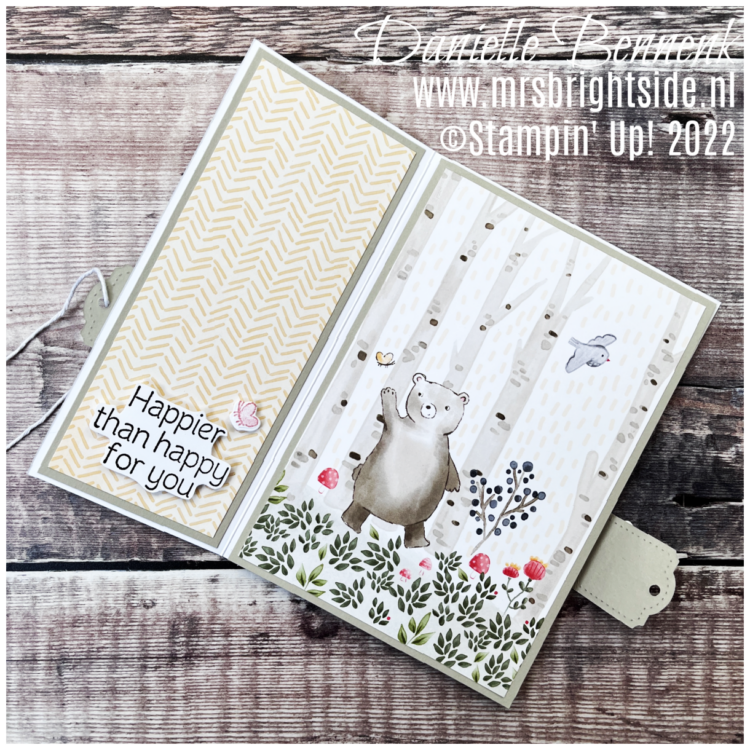 Wanneer je de kaart opent zie je de voorzijde van de binnenste kaart. De tekst komt eveneens uit de stempelset en deze heb ik uitgeknipt met mijn Paper Snips.
De binnenste kaart biedt plaats voor twee (Instax) foto's, maar er passen ook grotere foto's in. Je kunt deze meteen toevoegen of op een later moment door de ontvanger laten doen. Ook kun je natuurlijk een foto plakken en de andere Basic White Cardstock mat gebruiken voor je boodschap.
Hier zie je ook nog een aantal gestempelde afbeeldingen die ik gestanst heb met de Happy Forest Dies.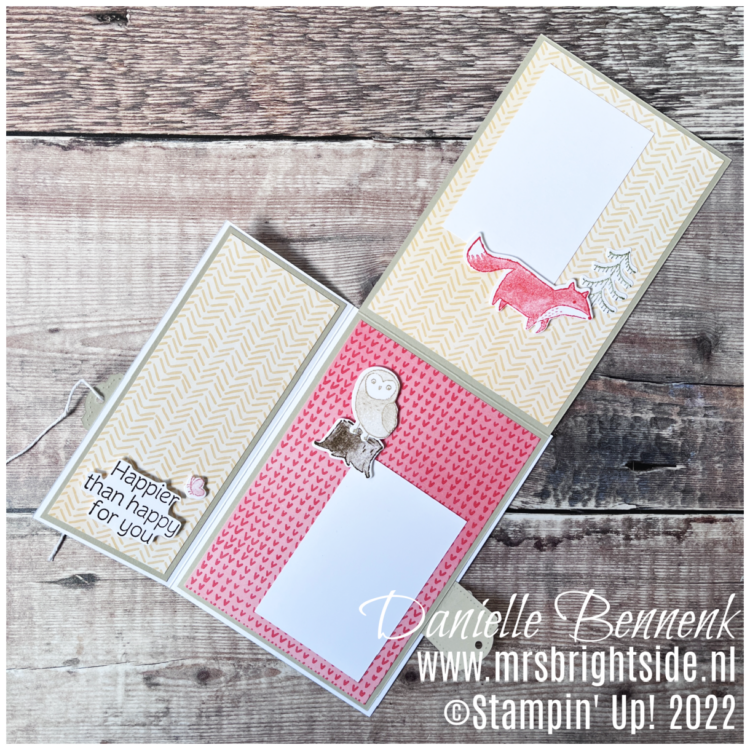 Gratis Video Tutorial
Zoals ik bij de inleiding al schreef, maakt ieder Design Teamlid een video tutorial. In deze video leg ik stap-voor-stap uit hoe ik dit project maak en vermeld ik ook alle afmetingen en gebruikte kleuren. In de description box van de video vind je tevens de linken naar de video's van de overige deelnemers.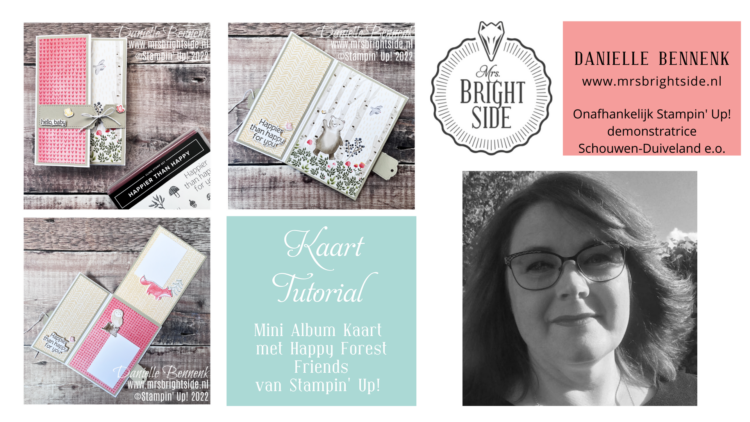 Klik op de bovenstaande afbeelding om naar mijn video tutorial te gaan. Ik wens je veel kijkplezier en inspiratie toe bij deze Global Video Hop!
Heel erg bedankt voor je bezoek.

GEBRUIKTE MATERIALEN
Ik verzorg graag je bestelling. Klik op de 'Stampin' Up! bestelling'-knop of de 'Webshop Stampin' Up!'-knop (PayPal en credit card betaling mogelijk) in de zijbalk om deze te plaatsen.