Thema: Simple Stamping
Het thema is deze maand Simple Stamping, ofwel projecten waarbij (bijna) alleen gestempeld wordt. Ik ben aan de slag gegaan met de Hello Beautiful Stempelset uit de huidige Mini Catalogus, maar die ook doorgaat in onze nieuwe Stampin' Up! Jaarcatalogus die 3 mei van start is gegaan!
*Dear international readers, please use the translate button on the right (see side bar) to translate this message to your preferred language.
Hello Beautiful Simple Stamping Kaart
Als basiskaart (10,5 x 21 cm, rillen aan de lange kant op 10,5 cm) gebruikte ik Basic White Thick Cardstock met hierop een mat (10 x 10 cm) van Basic White Cardstock. Eerlijkheid gebied te zeggen dat ik startte met een reguliere maat kaart, maar door een inktvlek – zie video…. oeps – heb ik 'm kleiner moeten maken, haha.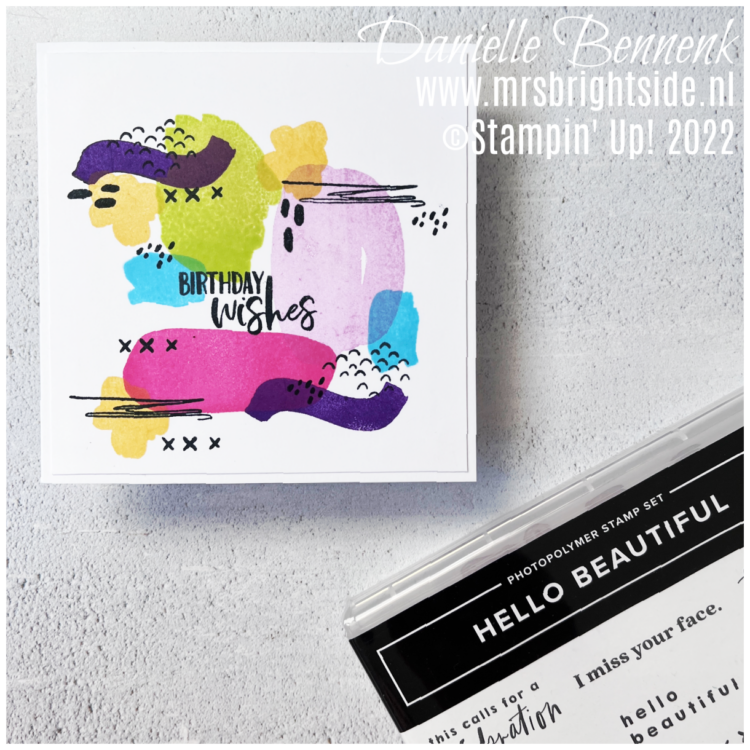 De mat heb ik uitgebreid bestempeld met de diverse grafische afbeeldingen uit de Hello Beautiful Stempelset en een groot aantal frisse en fleurige kleuren. Te weten: Polished Pink, So Saffron, Parakeet Party, Tahitian Tide, Fresh Freesia, Gorgeous Grape en Tuxedo Black Memento Inkt.
De tekst 'Birthday Wishes' is de enige vreemde eend in de bijt, want die is afkomstig uit de Garden Birdhouses Stempelset.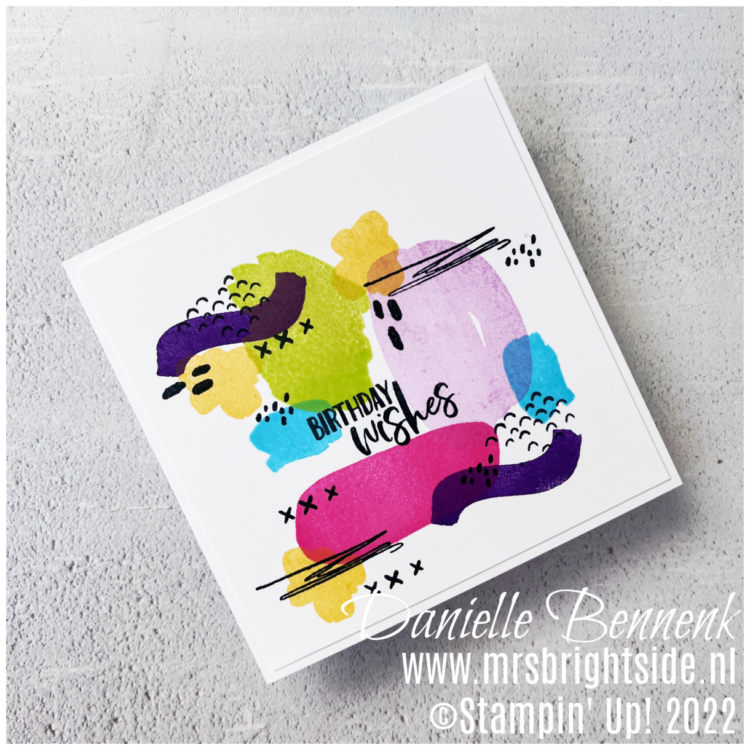 Gratis Video Tutorial
Wil je weten hoe ik deze kaart heb gemaakt, inclusief mijn vlekken-fout en de oplossing? Bekijk dan mijn gratis video tutorial. Klik gewoon op de onderstaande afbeelding en het wonder van het internet brengt je naar mijn video.
Meer inspiratie van het Stampin' Creative Design Team
Ik hoop dat je mijn interpretatie van het thema kan waarderen en ik hoop dat ik je met mijn project geïnspireerd heb. Ben je net als ik ook benieuwd naar de creaties van de andere Stampin' Creative Design Teamleden? Dan kun je eenvoudig door hoppen door op de naam onder die van mij (ik ben Danielle Bennenk) te klikken.
Ik wil je hartelijk danken voor je bezoek en wens je nog veel plezier bij het hoppen.

Gebruikte materialen
Ik verzorg graag je bestelling. Klik op de 'Stampin' Up! bestelling'-knop of de 'Webshop Stampin' Up!'-knop (PayPal, Ideal en credit card betaling) in de zijbalk om deze te plaatsen.