Thema: Masculine Makes
Het thema is deze maand Masculine Makes, ofwel projecten voor mannen. Ik ben aan de slag gegaan met een sneak peek uit de aankomende jaarcatalogus: De gave He's The Man productselectie. Deze productselectie vind je vanaf 3 mei in de nieuwe Stampin' Up! Jaarcatalogus!
*Dear international readers, please use the translate button on the right (see side bar) to translate this message to your preferred language.
De He's The Man productcollectie bestaat uit een productpakket met de de He's All That stempelset en de All That Dies, het stoere He's The Man Designpapier met gave prints én twee die-cut sheets. Perfect voor scrapbooking. En ook nog Rustic Metallic Dots om je projecten mee op te sieren.
He's The Man makkelijke Fun Fold
Als basiskaart (14,5 x 10,5 cm) gebruikte ik Early Espresso Cardstock met hierop een mat (10 x 14 cm) van het He's The Man Designpapier.
Op deze enkele basiskaart heb ik een kaart geplakt van Early Espresso Cardstock van 10 x 20 cm, gerild aan de lange kant op 10 cm. Op de voorzijde van de basiskaart zit eveneens een mat (9,5 x 9,5 cm) van het He's The Man Designpapier.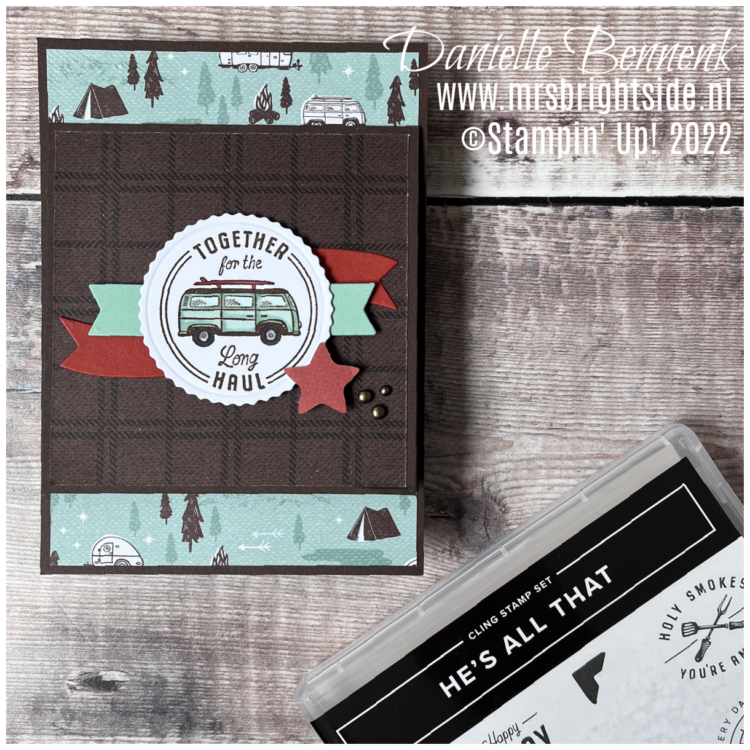 Daarna heb ik de voorzijde van de kaart versierd met enkele die-cuts gestanst met de All That Dies uit Cajun Craze en Mint Macaron Cardstock. Even ter info: Het He's The Man Designpapier heeft een prachtig, stoer kleurenpallet met o.a. Early Espresso, Cajun Craze, Sahara Sand, Basic Black en Soft Succulent. Aangezien mijn Soft Succulent Cardstock op was heb ik gebruik gemaakt van Mint Macaron, dat past ook heel goed 🙂
Het Cajun Craze sterretje komt uit een die-cut vel van het He's The Man Designpapier. De tekst en Volkswagenbus heb ik gestempeld met de He's All That Stempelset en Early Espresso Inkt op een stukje Basic White Cardstock.
Daarna heb ik de afbeelding gestanst met de All That Dies en ingekleurd met Stampin' Blends, zie de gebruikte kleuren helemaal onderaan dit bericht. Een drietal Rustic Metallic Dots maken de voorkant af.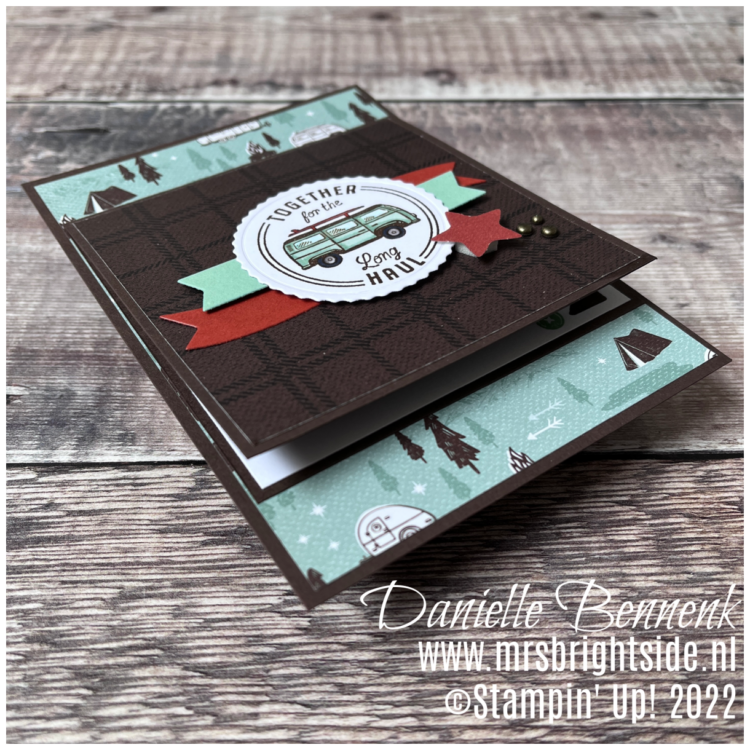 Binnen in de kaart zit een Basic White Cardstock mat (9,5 x 9,5 cm) en deze heb ik bestempeld met enkele van de mini stempeltjes uit de He's All That Stempelset. Hiervoor heb ik Early Espresso en Mint Macaron inkt gebruikt.
Meer inspiratie van het Stampin' Creative Design Team
Ik hoop dat je mijn interpretatie van het thema kan waarderen en ik hoop dat ik je met mijn project geïnspireerd heb. Ben je net als ik ook benieuwd naar de creaties van de andere Stampin' Creative Design Teamleden? Dan kun je eenvoudig door hoppen door op de naam onder die van mij (ik ben Danielle Bennenk) te klikken.
Ik wil je hartelijk danken voor je bezoek en wens je nog veel plezier bij het hoppen.

Gebruikte materialen
Ik verzorg graag je bestelling. Klik op de 'Stampin' Up! bestelling'-knop of de 'Webshop Stampin' Up!'-knop (PayPal en credit card betaling) in de zijbalk om deze te plaatsen.
| | | | | |
| --- | --- | --- | --- | --- |
| | | | | |
| | | | | |
| | | | | |