*Dear international readers, please use the translate button in the right side bar to translate this message to your preferred language.
Welkom bij de Home Decor SU Style juli bloghop!
Het is weer tijd voor de bloghop van de Home Decor SU Style Facebook groep. Voor deze bloghop konden leden van de Facebook groep zich inschrijven en er doen een groot aantal Internationale demonstrators mee, dus laat je inspireren!
Voor mijn home decor project van deze maand heb ik mij laten inspireren door de zomer!
Climbing Orchid DEUrhanger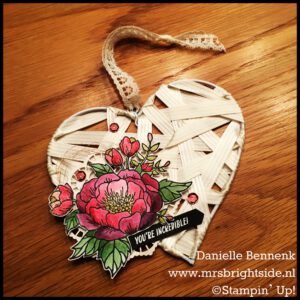 We zijn pas verhuist naar een oude boerderij en we hebben daar veel 'oude' kastdeuren die wel wat versiering kunnen gebruiken. Ik vind het leuk om een aantal van die deuren te versieren met een deurhanger. Een ervan is mee gekomen vanuit Bergen op Zoom, dat is het ribbon hart wat je hier links ziet.
Voor deze deurhanger heb ik geen hart gebruikt, maar een metalen ring met een diameter van 10 cm (4″ diameter).
Ik ben begonnen om de crème metalen ring een geel kleurtje te geven met de Daffodil Delight Dark Stampin' Blend. Daarna heb ik er Fresh Fig Sheer ribbon omheen gedraaid. De basis voor mijn project was nu klaar.
Om de deurhanger af te maken heb ik de prachtige Climbing Orchid stempelset met de bijpassende Orchid Builder framelits gebruikt. Het takje (4 x gestanst uit Early Espresso cardstock op elkaar geplakt) komt uit de Seasonal Layers Thinlits dies.
Daarna heb ik de bloemen met goud heat embossed en ingekleurd met mijn aqua painter en de kleuren Daffodil Delight, Berry Burst en Fresh Fig.
Klik door naar meer inspiratie
Een van mijn kastdeuren heeft dus nu een leuke versiering, ik ben er erg blij mee. Het is een snel home decor project wat je ook goed cadeau kunt geven of zelfs als een soort van label aan een groot cadeau kunt hangen. Je kunt natuurlijk altijd een tekst toevoegen.
Nu is het tijd om door te hoppen naar het volgende blog, dit doe je door op de naam onder die van mij (Ik ben Danielle Bennenk) te klikken.
Heel veel plezier nog en tot snel!
P.S. Kom gezellig bij mij team! Lees er hier meer over 🙂
Gebruikte materialen
Ik verzorg graag je bestelling. Klik op de 'Stampin' Up! bestelling'-knop of de 'Webshop Stampin' Up!'-knop (credit card only) in de zijbalk om deze te plaatsen.