International Blog Hop!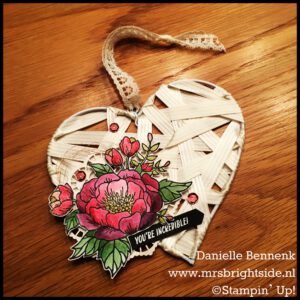 Wow! Today, I'm participating in Kylie Bertucci's International Highlights Top Ten Winners blog hop. It's a mouth full, but the best part is that I'm able to do this because I received a whole lot of votes when I participated in the December Project Highlights with this project!
It's such an honor to be able to do this hop with Kylie and the other winners of the Project Highlights December and January! And that's why I hope to inspire you with my project.
Wow! Vandaag doe ik mee aan Kylie Bertucci's International Highlights Top Ten Winners bloghop. Het is echt een mond vol, maar het leukste is dat ik hieraan mee kan doen omdat ik veel stemmen heb gekregen voor het bovenstaande project tijdens de Project Highlights van de maand December.
Het is een echte eer om mee te mogen doen aan deze hop met Kylie and de andere winnaars van de Project Highlights december en januari! En ik hoop dan ook dat ik je zal inspireren met mijn project.
hello lovely PROJECT LIFE CARD COLLECTION
One of my favourite Project Life Card Collections of the annual catalogue is the 'Hello Lovely' card collection with the corresponding Accessory Pack.
I love the color combinations and nature prints in this set so much that I haven't just used it for Project Life lay-outs, like the one below. I have also used it to make a cardset (Click here) and for my project of today I used it to make a Happy Mail booklet.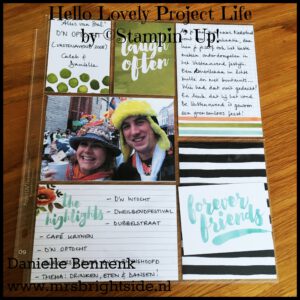 Een van mijn favoriete Project Life kaartcollecties uit de jaarcatalogus is de 'Hello Lovely' kaartcollectie met de bijpassende Accessory Pack.
Ik vind de kleurencombinatie geweldig, net als de prachtige 'natuur' prints. Daarom heb ik deze kaartcollectie niet alleen gebruikt om er Project Life lay-outs mee te maken, zoals degene hier boven. Maar ook om een kaartenset te maken (Klik hier) en voor mijn project van vandaag heb ik er een Happy Mail boekje mee gemaakt.
HELLO LOVELY HAPPY MAIL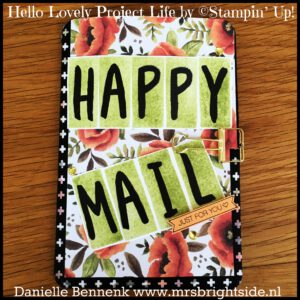 Before I started stamping cards a lot, I used to make these kind of Happy Mail booklets. Just using cards, scissors and washi-tape. I decided to revisit that idea again but now using all the beautiful Stampin' Up! materials and products that I have available. But… I still used only washi tape to create the pages of this booklet.
Voordat ik echt begon kaarten begon te stempelen, maakte ik al wel dit soort Happy Mail boekjes. Ik gebruikte alleen maar kaarten, een schaar en washi-tape. Ik besloot om voor dit project wederom zo'n boekje te maken, maar nu wel met de mooie Stampin' Up! producten die ik tot mijn beschikking heb. Maar… Ik heb nog steeds alleen maar washi tape gebruikt om de pagina's van dit boekje te maken.
When you open the mini-album you'll see several pockets, flaps and an envelope. I added some gifts and labels for the person that'll receive this Happy Mail booklet.
Wanneer je het mini-album opent zie je vakjes, flapjes en een envelopje. Ook heb ik wat geschenkjes en labels toegevoegd aan de persoon die deze Happy Mail ontvangt.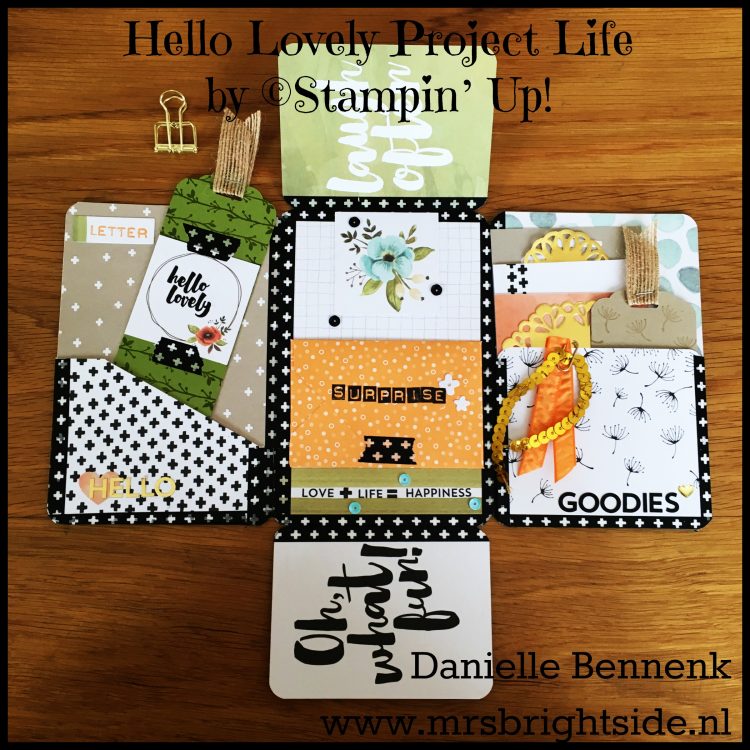 WANT TO MAKE YOUR MAILBOX HAPPY?
If you like this Happy Mail booklet and you would like to receive it in the mail, leave a comment and your email address (which is only visible to me). Next Monday I will randomly pick a person who will receive this Happy Mail booklet including a personal letter and some fun gifts (not just Stampin' Up!). So, what are you waiting for? Add a comment 🙂
Als je dit leuke Happy Mail boekje per post wil ontvangen, laat dan een reactie achter met je emailadres (alleen zichtbaar voor mij). Volgende week maandag zal ik willekeurig een persoon kiezen die dit boekje ontvangt, inclusief een persoonlijke brief en een aantal leuke geschenkjes (niet alleen Stampin' Up!). Dus…Waar wacht je op? Laat een reactie achter 🙂
HOP-A-LONG
You must be very curious now to see the projects of the other participants! Just click on the name below mine (I'm Danielle Bennenk) to hop-a-long and see the creations of the other top 10 winners of Kylie's Project Highlights of the months December and January.
Je bent nu vast heel nieuwsgierig naar de projecten van de andere deelnemers! Klik gewoon op de naam onder die van mij (ik ben Danielle Bennenk) om door te hoppen en de creaties van de andere top 10 winnaars van Kylie's Project Highlights december en januari te zien.
Warm regards / Hartelijke groeten,
  Product List