jar of love
De Jar of Love bundel is een favoriet uit de jaarcatalogus en een set die wij alle vier hebben! Je hebt wellicht de projecten van Eveline en Sandra al bewonderd. Zo niet, klik dan hier en hier!
Buiten de lieve potjes van deze set ben ik vooral fan van de bloemen die bij deze set horen en deze heb ik dan ook gebruikt voor mijn kaartje vandaag.
The Jar of Love bundle is a favorite from the annual ,and a bundle that all four of us have! You might have already admired Eveline's and Sandra's projects. If not, click here and here!
Besides the sweet jars in this set, I'm also a big fan of the flowers that belong to this bundle. That's why I used them for my card today.
flower greeting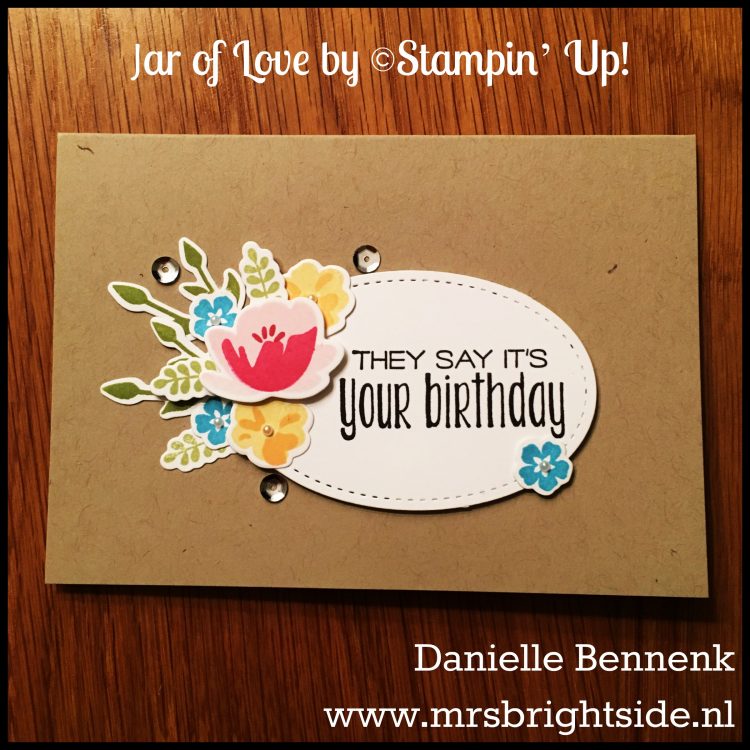 Ik wilde een fris verjaardagskaartje maken, daarom heb ik gekozen voor heldere kleuren en natuurlijk de lieve bloemetjes van de Jar of Love stempelset. De combinatie van de frisse bloemetjes, het tekstlabel en de warme kleur van de Crumb Cake notecard vind ik geweldig.
I wanted to make a birthday card with a 'fresh' feel, that's why I chose bright colors and of course the sweet flowers from the Jar of Love stamp set. I really love the combination of the fresh colored flowers, the sentiment label and the warm color of the Crumb Cake notecard.
creative stampin' weekend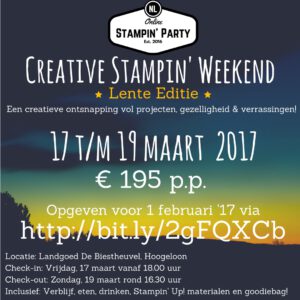 Door het zien van deze bloemetjes kan ik niet wachten tot het weer lente is. Met name omdat in maart het Creative Stampin' Weekend plaatsvindt! Een heerlijk ontspannen creatief weekend gevuld met gezelligheid en natuurlijk boordevol mooie producten van Stampin' Up! Er is al een groep enthousiaste dames die zich ingeschreven hebben, maar er is nog plaats! Dus ben je geïnteresseerd? Schrijf je dan nu in via deze link: http://bit.ly/2gFQXCb
Of lees meer in dit document!
more jar of love projects
Morgen laten Hilde en Eveline nog meer projecten zien met de Jar of Love bundel. Vrijdag laat Sandra weer een project zien en in het weekend zijn Hilde en ik weer van de partij. Kom je dan weer een kijkje nemen?
Tomorrow, Hilde and Eveline will show more projects with the Jar of Love bundle. Friday Sandra will show another project and Hilde and I are back in the weekend. Will you come by to take a look?
Product List