just add color meets stampin' blends
Zoals jullie maandag al hebben kunnen lezen, staat deze week het Just Add Color designer series papier in de Spotlight. Vandaag heb ik een deel van het papier ingekleurd met de nieuwe Stampin' Blends die vanaf 1 november ook voor jou verkrijgbaar zijn!
Like you've read on Monday, this week I'm focussing on Just Add Color designer series paper on my blog. Today, I colored part of the paper with the new Stampin' Blends, that are available to you as of November 1st!
krabbegat
Eén van de designs van het Just Add Color papier is een onderwater tafereel met o.a. vissen, zeeschildpad, koraal en een krab! Die krab heb ik als uitgangspunt genomen voor mijn kaartje van vandaag. Want Bergen op Zoom, de stad waar ik woon, wordt tijdens Vastenavend (= Carnaval in Bergen op Zoom) het Krabbegat genoemd.
Je kunt de onderstaande video bekijken om te zien hoe wij Vastenavend vieren in het Krabbegat 🙂
One of the designs of the Just Add Color paper is an under water scene with, among others fishes, sea turtle, Coral and a crab! That crab I took as a focal point for my card of today. Because Bergen op Zoom, the city I live in, is called 'Krabbegat' (=Crab hole, ehm… I maybe shouldn't have translated that 😉 ) during Mardi Gras, which is called 'Vastenavend' in Bergen op Zoom.
Just watch the video below to see how we 'crabs' celebrate Mardi Gras, the video is in Dutch, but you'll get the drift 🙂
oh, hello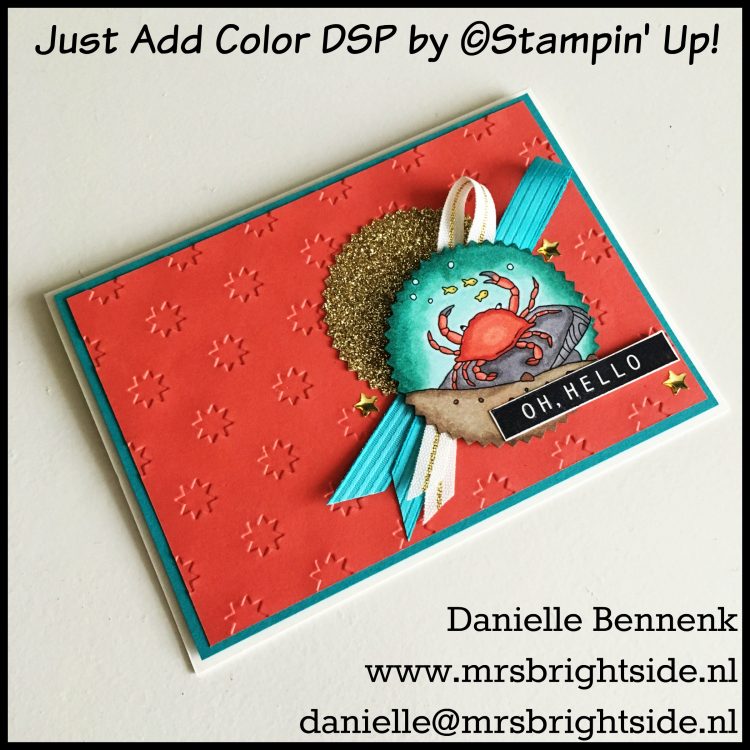 Stiekem ben ik een beetje verliefd geworden op deze kaart. Ik ben gek op het kleine kleurrijke krabbetje in combinatie met het kleurrijke papier en glimmende goud.
Met de Startburst punch heb ik het krabbetje uit het Just Add Color papier geponst en vervolgens ingekleurd met de Stampin' Blends. De kleuren Bermuda Bay en Calypso Coral die ik gebruikt heb bij het inkleuren heb ik ook weer terug laten komen in de matten van de kaart. Deze kleurcombinatie gecombineerd met goud en Very Vanilla vind ik echt prachtig. Het lieve 'Oh, Hello' tekstje is afkomstig uit de nieuwe Color Me Pretty stempelset (klik hier voor meer info).
Secretly, I'm totally smitten with this card. I adore the tiny colorful crab in combination with the colorful paper and glimmering gold. 
I punched the crab out off the Just Add Color paper with the Startburst punch and colored it with the Stampin' Blends. The colors Bermuda Bay and Calypso Coral, that I used for coloring, are also used for the mats of the card. This color combination with the gold and Very Vanilla is stunning, I think. The darling 'Oh, Hello' sentiment comes from the new Color Me Pretty stamp set (click here for more info).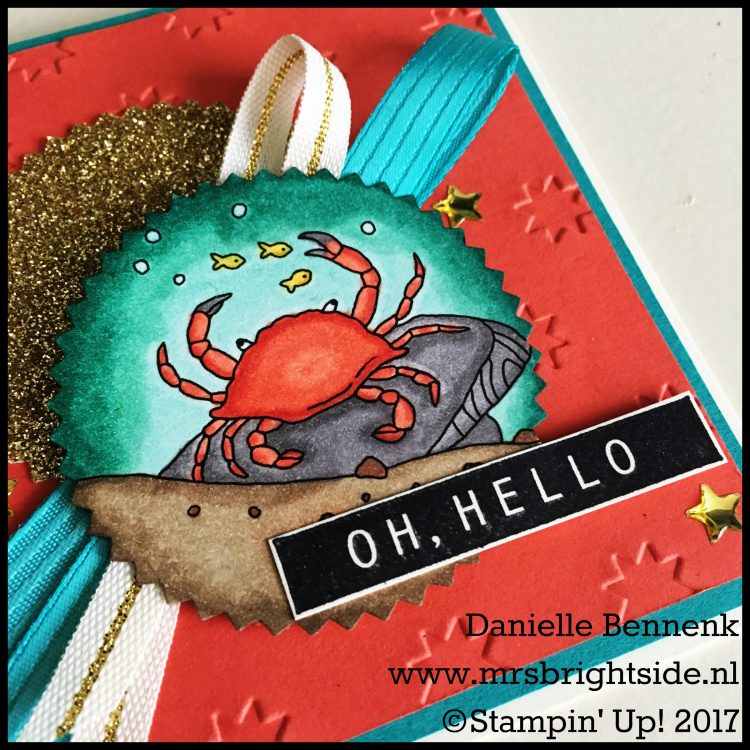 Ik realiseer me dat ik nog goed moet leren kleuren met de Blends, maar ik vind ze fantastisch in gebruik en vind het zeker geen straf om er veel mee te oefenen 🙂
I realise, I still need to learn how to color with the Blends better, but I love using them so it won't be a punishment to practice with them a lot more 🙂
P.S. Vergeet niet dat er op dit moment t/m 31 oktober een hele leuke DSP-actie is! Waaronder het Just Add Color DSP 🙂 Klik op de afbeelding voor meer informatie.
Hieronder vind je alle door mij gebruikte materialen. Wil je hier iets van aanschaffen? Dan verzorg ik graag je bestelling (mail: danielle@mrsbrightside.nl)! Je kunt op de onderstaande afbeeldingen klikken om naar mijn webshop (Credit Card only) te gaan.
Product List
| | | | | |
| --- | --- | --- | --- | --- |
| | | | | |
| | | | | |
| | | | | |