Focus thema: Mannen met Kite Delight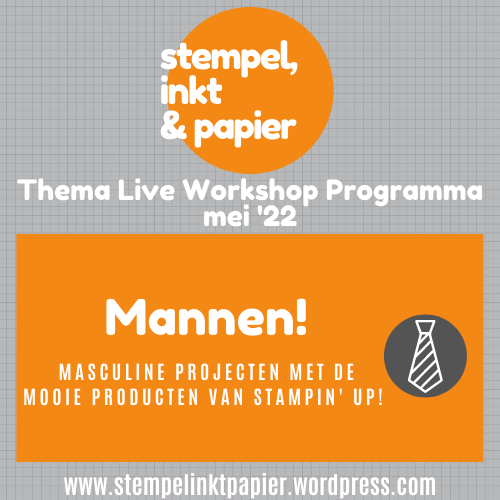 Hallo en welkom bij de Stempel, Inkt & Papier bloghop! In de maand Mei richt Stempel, Inkt & Papier zich op het thema: Mannen! Hierbij gebruiken we mooie producten uit de lopende Stampin' Up! catalogi.
Ik koos ervoor om aan de slag te gaan met de Kite Delight Stempelset. Een hartstikke leuke stempelset met vlieger afbeeldingen. De tekeningen zijn getekend met dikke stoere lijnen. En ook de lettertypes zijn bold.
Een leuke stempelset voor mannen en zeker ook jongens.
Ook gebruikte ik de Cloud Punch uit de Jan-Jun Mini Catalogus om de achtergrond te maken.
Kite Delight Kaart
De basiskaart (14,5 x 21 cm, rillen lange kant op 10,5 cm) is van Balmy Blue Cardstock. Hierop zit een mat (10 x 14 cm) van Basic Black Cardstock en daarop een mat (9,7 x 13,7 cm) van Basic White Cardstock waarop ik wolken gemaakt heb.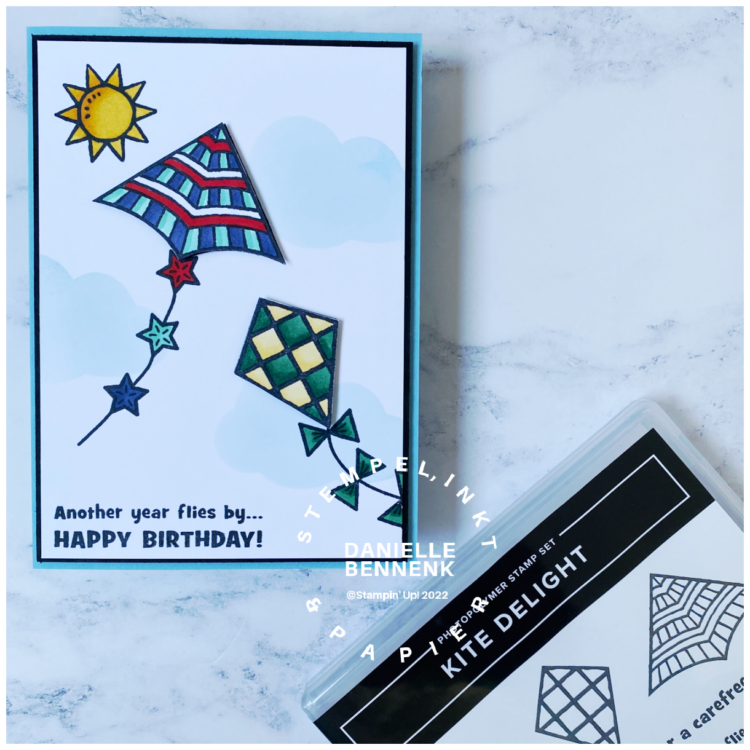 Dit heb ik gedaan m.b.v. de Cloud Punch en wat grid papier. Hieruit heb ik de wolkenvorm geponst en vervolgens heb ik met een Blending Brush wolken op het cardstock gemaakt met Balmy Blue Classic Stampin' Ink.
Vervolgens heb ik diverse vliegers, de tekst en een zonnetje gestempeld met Tuxedo Black Memento Inkt. De vliegers heb ik nogmaals gestempeld op een restje Basic White Cardstock.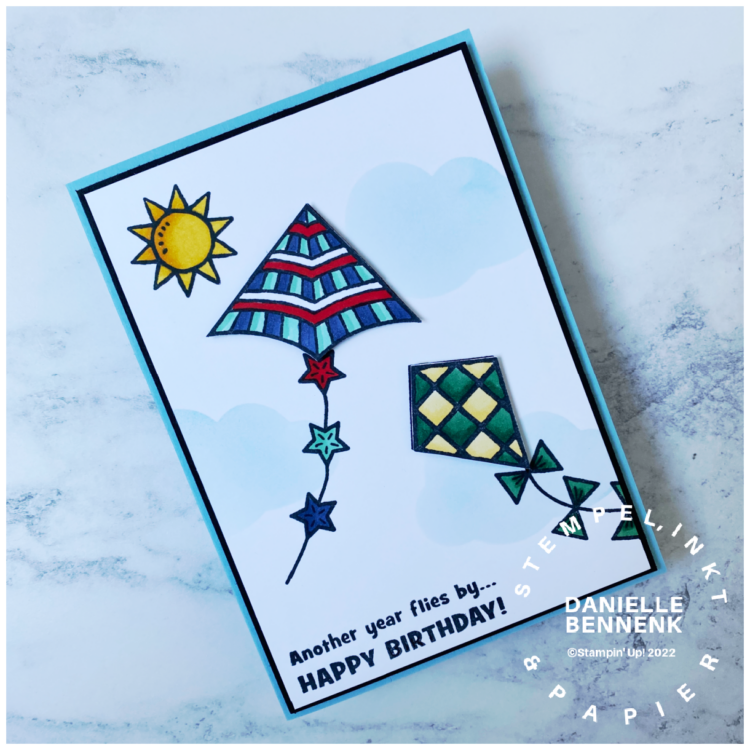 Daarna heb ik alle afbeeldingen ingekleurd met Stampin' Blends, zie de lijst met gebruikte materialen onderaan om alle gebruikte kleuren te zien.
De vliegers heb ik uitgeknipt en met Stampin' Dimensionals op de kaart geplakt. Daarna heb ik de Basic Black mat eveneens met Dimensionals op de basiskaart geplakt.
Ook de binnenzijde heb ik aangekleed met een geblend wolkje, een tekst en een vrolijk zonnetje.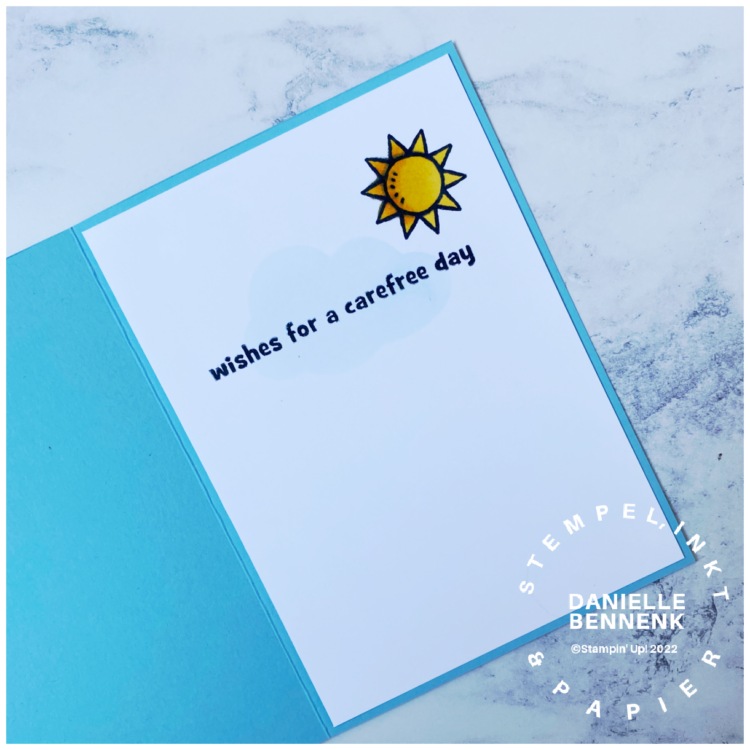 Wat is Stempel, Inkt & Papier?
Nog even ter informatie: Stempel, Inkt & Papier is een creatief initiatief van drie Nederlandse Stampin'Up! Demonstratrices – Sandra Korten, Lotte Noordzij-Walther en ikzelf – die elke maand een specifiek Stampin'Up! Product of specifiek thema centraal zetten in een "Live" workshop programma.
In dit programma bieden we tenminste 4 online workshops, rondom thema's als techniek, step-it-up, alles behalve een kaart, Case The Catty of Memory Keeping, aan via Facebook Live uitzendingen in een besloten Facebook groep. Dit zijn dus "Live" workshops waarbij jij als kijker meteen met ons mee kan doen of later aan de slag kan gaan. Wil je weten hoe je aan dit "Live" workshop programma kunt mee doen ga dan naar deze pagina voor meer informatie.
Meer Mannen inspiratie
Hieronder vind je de linkenlijst, klik gewoon op de naam van Lotte of Sandra om door te gaan naar het volgende blog.

Gebruikte materialen
Ik verzorg graag je bestelling. Klik op de 'Stampin' Up! bestelling'-knop of de 'Webshop Stampin' Up!'-knop (PayPal en credit card betaling) in de zijbalk om deze te plaatsen.