Hallo lentekriebels!
Welkom bij de maandelijkse bloghop van de Creatieve Harten en we zijn bevangen door lentekriebels… We kunnen namelijk niet wachten tot het lente wordt! Onze projecten, gemaakt met de mooie producten van Stampin' Up!, hebben dan ook een lente-thema in de breedste zin van het woord. Van bloemen en pastels tot begin van nieuw leven.
Het is een speciale bloghop vandaag, want er hoppen drie gast-designers mee: Michelle Last, Tracy May en Sam Hammond! We zijn ontzettend blij dat deze lieve Engelse dames met ons mee doen en jullie inspireren met hun prachtige projecten.
Hello Spring Jitters!
Welcome to the monthly blog hop of the Creatieve Harten and we can hardly contain ourselves due to our Spring Jitters… We can't wait for Spring to arrive! Therefor our projects, made with the wonderful products of Stampin' Up!, have a Spring-theme. From flowers and subtle colors to start of new life.
It's a special blog hop today, because we have 3 guest designers that hop with us: Michelle Last, Tracy May and Sam Hammond!  We're thrilled that these lovely English ladies are participating in this blog hop and inspire you with their beautiful projects.
moon baby
Voor mijn project ben ik aan de slag gegaan met pastel kleuren en de stempelset Moon Baby. Toen ik deze set voor het eerst zag, dacht ik meteen dat ik er een borduurproject mee zou kunnen maken en dat heb ik dan ook gedaan. Op de afbeelding hieronder zie je mijn kleurinspiratie.
I started working with subtle colors and the Moon Baby stamp set for this project. When I first saw this set, I immediately thought about doing an embroidery project and that's what I did. On the image above you'll see my color inspiration.
embroidery hoop
Eerst heb ik de afbeeldingen gestempeld en de binnenring steeds gebruikt om de lay-out te checken. Daarna heb ik de stof opgespannen en de lijnen geborduurd.
First, I stamped the images and I used the inner ring to check my lay-out throughout. Then I tightened the fabric and embroidered the stamped lines.

Daarna heb ik met knoopsteekjes gouden sterpailletten op het stuk geborduurd en het geheel afgewerkt. / Afterwards, I used a knot stitch to stitch on gold star sequins and finished off the project.
custom gift box & card in one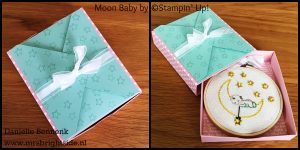 Vervolgens heb ik een op maat gemaakte geschenkdoos gemaakt in de stijl van een luciferdoosje. Hiervoor heb ik de envelope punchboard gebruikt. Bovenop het doosje zit een kaart-in-envelop. Het is dus een geschenkdoos en kaart ineen.
Then I made a custom sized gift box in the style of a match box. I used the envelope punch board to do that. On top of the box there's a card-in-envelope. So, it's a giftbox and card in one.
keep on hopping, please!
Ik hoop dat ik je heb kunnen inspireren met mijn lieve lente projectje en zou het erg leuk vinden als je een reactie achter laat. Je bent nu vast ook heel nieuwsgierig naar de mooie projecten van mijn lieve Stampin' Up! vriendinnen, dus wacht niet langer en klik op de 'Volgende' knop om naar het blog van de fantastische Sam Hammond te hoppen!
Onder aan het bericht vind je ook de complete lijst met deelnemers. Ik ben er vanavond weer met m'n tweede Spotlight project van deze week, dus vergeet niet even langs te komen 🙂
I hope, I have been able to inspire you with my cute Spring project and would love it, if you would leave a comment. You must be curious right about now about the wonderful projects of my dear Stampin' Up! friends. So, don't wait any longer and click on the 'Volgende' (=Next) button to hop to the blog of the fabulous Sam Hammond!
On the bottom of this message you'll find a complete list of participants. I'll be back tonight with my second Spotlight project of this week, so don't forget to drop by 🙂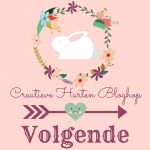 Caroline van der Straaten
Michelle Last
Nina Janssen
Carola Gillich
Angélique Nederpel
Linda Den Besten
Lotte Noordzij
Dominique Bergen
Tracy May
Sandra Korten
Jolan Meurs
Danielle Bennenk
Sam Hammond
Leoni Geertsema
Anne-Marie Breurkes
Henrike Heikoop
Helmy Goyer
Diana van Otterlo
Monique de Kok
Esther Passchier
Berdien Weideveld
Eveline van Heijst
Rian Middelkoop
Carolien Boone
Corliene van de Hoef
Product List