whoop-whoop, international highlights blog hop is here!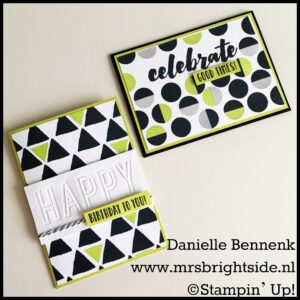 Whoop – Whoop! Today, I'm participating in Kylie Bertucci's International Highlights Top Ten Winners blog hop. In May I participated in the Project Highlights with these geometric cards and low and behold I received enough votes to participate in this blog hop. How cool is that? I'm incredibly grateful for everyone that voted for my projects.
It's such an honor to be able to do this hop with Kylie and the other winners of the Project Highlights of May! And that's why I hope to inspire you with my project.
Whoop – Whoop! Vandaag doe ik mee aan Kylie Bertucci's International Highlights Top Ten Winners bloghop. In mei deed ik met de Project Highlights met de bovenstaande geometrische kaarten en je gelooft het of niet, maar ik heb voldoende stemmen gekregen om mee te doen aan deze bloghop. Hoe cool is dat? Ik ben zeer dankbaar voor alle stemmen die ik van iedereen heb gekregen.
Het is een echte eer om mee te mogen doen aan deze hop met Kylie and de andere winnaars van de Project Highlights van mei! En ik hoop dan ook dat ik je zal inspireren met mijn project.
gift card holder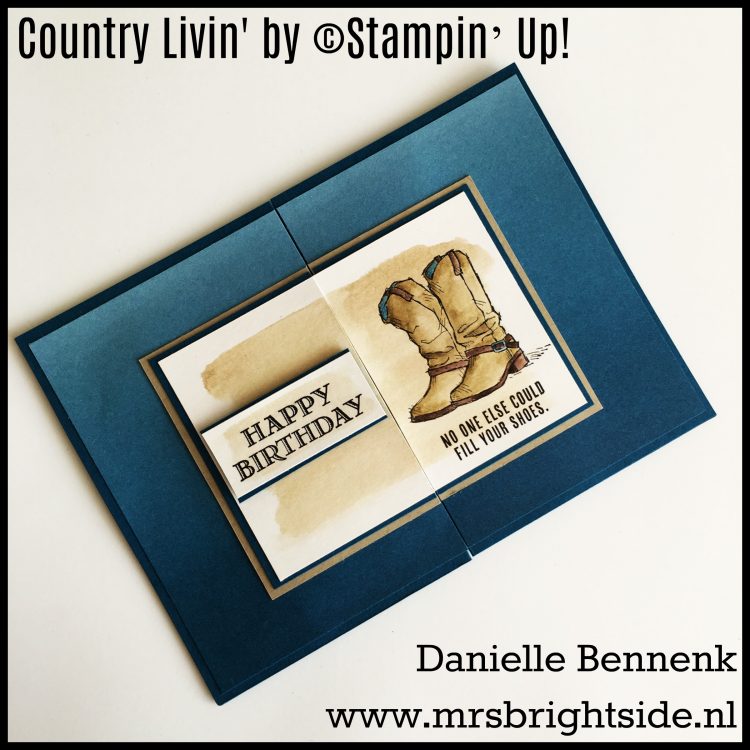 Just like the Project Highlights in May the theme of today's blog hop is 'Masculine'. I decided to work with the stamp sets Country Livin' and Guy Greetings. Two stamp sets I haven't used a lot, so I thought this would be the perfect opportunity to put them in the spotlight.
I made this gift card holder, which looks like a regular card, but when you slide it open the gift card appears. A fun project to make and to give. I CASE'd is from this video.
Net als de Project Highlights in mei is het thema van de bloghop vandaag: 'Masculine'. Ik besloot om de stempelsets Country Livin' en Guy Greetings te gebruiken. Twee stempelsets die ik niet veel gebruikt heb, dus ik dacht dat dit de perfecte kans zou zijn om deze stempelsets een keer in de spotlight te zetten.
Ik heb een geschenkkaart houder gemaakt. Deze ziet er uit als een reguliere kaart, maar wanneer je de kaart open schuift komt de geschenkkaart tevoorschijn. Een leuk project om te maken en te geven. Ik heb het geCASE'd van deze video.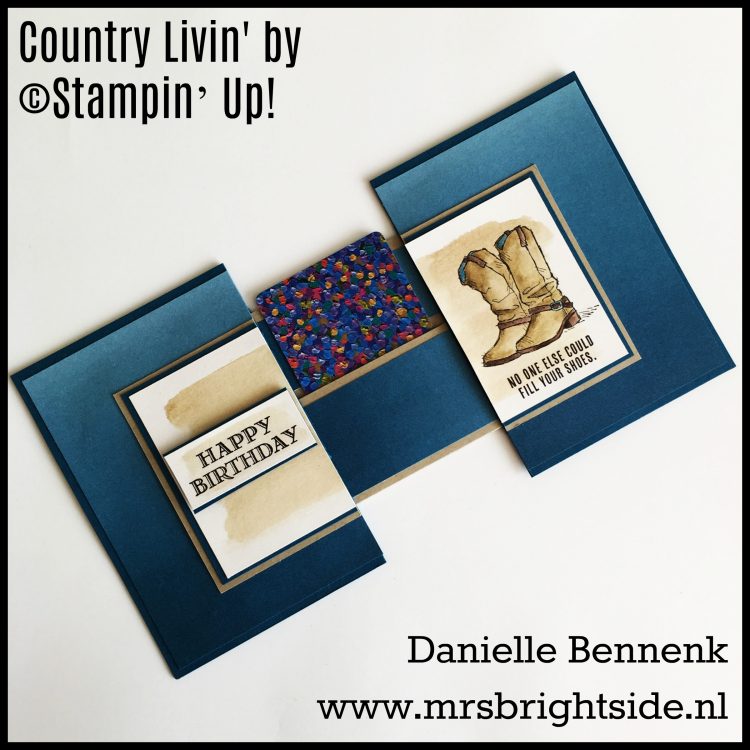 A little watercoloring goes a long way. Watercoloring is my favorite technique at the moment and the Country Livin' stamp set is a wonderful set to just do that.
Een beetje waterverf brengt je ver. Watercoloring is mijn favoriete techniek op het moment en de Country Livin' stempelset is een goede set om juist dat te doen.
Keep on hopping and be inspired!
You must be very curious now to see the projects of the other participants and be inspired! Just click on the name below mine (I'm Danielle Bennenk) to keep on hopping and see the creations of Kylie and the other top 10 winners of Kylie's Project Highlights of May.
Je wilt nu vast geïnspireerd worden door de projecten van de andere deelnemers! Klik gewoon op de naam onder die van mij (ik ben Danielle Bennenk) om door te hoppen en de creaties van Kylie en de andere top 10 winnaars van Kylie's Project Highlights mei te zien.
Product List