on stage live
Zoals ik gisteren al schreef mocht ik een presentatie geven tijdens On Stage Live over de stempelset Bike Ride. In mijn bericht van gisteren heb ik al een aantal kaarten laten zien, in mijn bericht van vanochtend mijn scrap lay-out. Dan nu mijn laatste twee projecten. Hoewel, het is er eigenlijk een, maar wel in twee versies.
Like I wrote yesterday I was asked to give a presentation during On Stage Live about the Bike Ride stamp set. In my blog post I already showed several cards I made and in my blog post of this morning I showed my scrap lay-out. Finally, I'm showing you my last two projects. Well, it's only one but in two different versions.
mini notecard set
Zoals je misschien wel weet, maak ik graag setjes. Kaartsetjes, notecard setjes en nu ook mini-notecard setjes. Want mijn laatste twee projecten die ik gemaakt heb met de Bike Ride stempelset zijn mini-notecard setjes waarbij de accessoires van de fiets de hoofdrol spelen.
Die accessoires zijn namelijk echt super om iedere kaart met deze set aan te passen aan de gelegenheid. Een bosje bloemen om iemand te feliciteren, een stapel boeken voor een 'Geslaagd' kaart en/of een mandje appels voor een beterschapskaart. Tijdens mijn voorbereiding voor mijn presentatie ben ik vooral verliefd geworden op deze accessoires, dus moest ik hen wel in het zonnetje zetten 🙂
Like you might know, I love to make sets. Card sets, notecard sets and now also mini notecard sets. Because my last two projects with the Bike Ride stamp set are mini notecard sets which show off the accessories of the bike.
Those accessories are awesome to adept your cards made with the Bike Ride to any occasion. A bunch of flowers to congratulate someone, a stack of books for a graduation card and/or a basket filled with apples for a get well card. During my preperation for this presentation I fell in love with these accessories, so I had to put them in the spotlight 🙂
Mijn mini notecard sets zijn gemaakt door twee notecards en enveloppen door de helft te snijden. Ik heb een Crumb Cake versie gemaakt, waarbij ik de accessoires gestempeld en gekleurd heb met de two-step stamping techniek.
My mini notecard sets are made by cutting two notecards and envelopes in half. I made a Crumb Cake version, where I stamped and colored the accessories with the two-step stamping technique.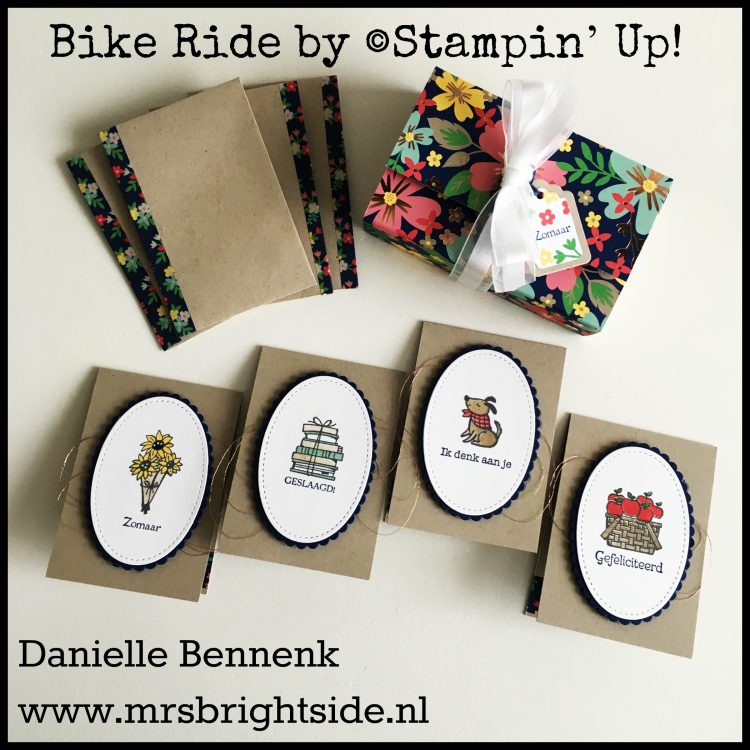 De tweede versie met de Whisper White notecards is mijn favoriet. Hier heb ik de accessoires embossed met koper en uitgeknipt. De Best Badge heb ik een watercolor achtergrondje gegeven met Flirty Flamingo.
The second version with the Whisper White notecards is my favorite. I embossed the accessories with copper and fuzzy cut them. I gave the Best Badge a watercolor background with Flirty Flamingo.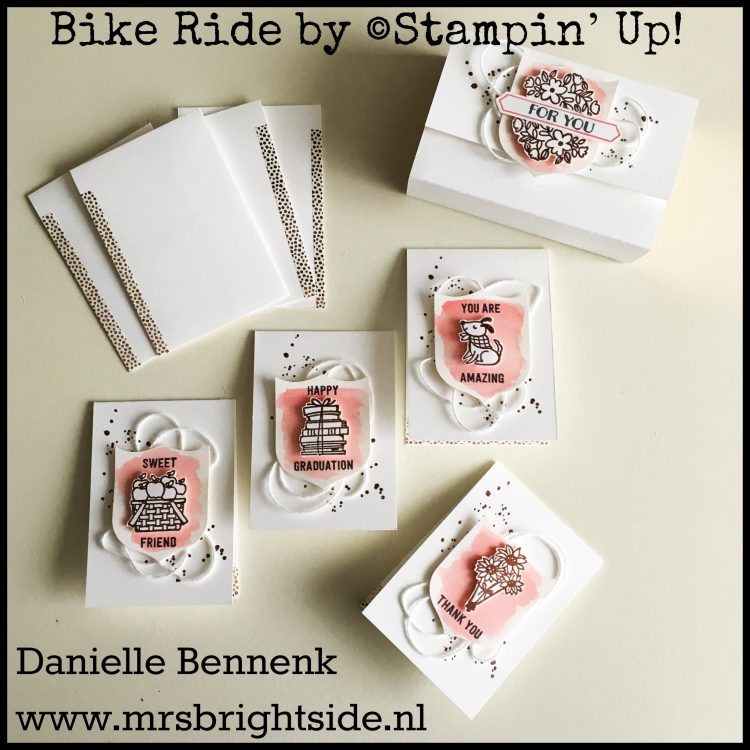 case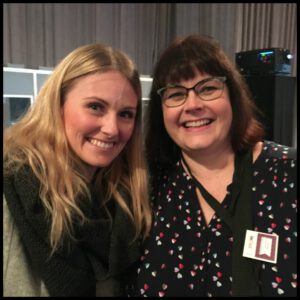 Het leuke doosje waar ik de mini notecards in gestopt heb, heb ik geCASE'd van een fantastische Franse demonstratrice Elodie (www.djudiscrap.com). Zij had namelijk een doosje gemaakt voor visitekaartjes. Dit doosje heb ik qua afmetingen aangepast zodat de mini notecards met enveloppen er in pasten. Natuurlijk, heb ik Elodie tijdens mijn presentatie bedankt voor haar idee en ze bleek gewoon in de zaal te zitten!! Na afloop hebben we kennis gemaakt en toen hebben we deze foto gemaakt. Haar website is een echte aanrader, dus neem er eens een kijkje zou ik zeggen 🙂
The fun little box for the mini notecards is CASE'd from a fantastic French demonstrator Elodie (www.djudiscrap.com). She made a box for business cards and I changed the measurements to fit the mini notecards and envelopes. Of course, I thanked Elodie for her idea during my presentation and she was in the room!! Afterwards we met and that's when we made this picture. Her website is awesome, so go and have a look 🙂
tutorial
En wil je nu ook zo'n schattig doosje met mini notecards maken? Zo ja, klik dan op de onderstaande link om naar de pdf met de projectbeschrijving te gaan. Ik hoor het graag als je vragen hebt.
Projectbeschrijving mini notecard box NL
And do you also want to make such a cute box with mini notecards? If yes, click on the link below to go to the pdf with the tutorial (English). I'd love to hear from you if you have any questions. FYI, the measurements are in centimeters.
a big thank you
Het geven van een presentatie op Main Stage tijdens On Stage Live was echt geweldig en met name door de lieve Stampin' Up! medewerkers die mij ondersteund hebben. Daarom wil ik graag de volgende mensen bedanken: Damir Basic omdat hij mij de kans gaf dit te doen. Charlotte Harding, Brandi Barnard en Donna Griffith voor hun feedback op mijn presentatie en projecten. Sara en Sean Douglass voor de geruststellende woorden achter de schermen toen ik toch wel erg zenuwachtig was. En natuurlijk ook Tom (cameraman) en Casey van het productieteam die alles tot in de puntjes geregeld hadden. Het was een prachtige ervaring die ik voor geen goud had willen missen.
Giving a presentation on the main stage during On Stage Live was amazing and especially because of the support of some sweet Stampin' Up! employees. That's why I would like to thank the following people: Damir Basic because he gave me this opportunity. Charlotte Harding, Brandi Barnard and Donna Griffith for their feedback on my presentation and projects. Sara and Sean Douglass for their encouraging words behind the scenes when I got really really nervous. And of course, Tom (camera man) and Casey from the production team who arranged everything to perfection. It was an amazing experience that I wouldn't have want to miss for the world.