*Dear international readers, please use the translate button on the right (see side bar) to translate this message to your preferred language.
Thema: Monochrome
Welkom bij Mrs. Brightside! Vandaag hop ik met het Stampin' Creative Design Team met het thema: Monochrome. Het monochrome thema houdt in dat we een project maken in een specifieke kleurschakering of in zwart/wit.
Ik kon het niet laten om aan de slag te gaan met de Ornate Style bundel, een spiksplinternieuwe bundel die vanaf 1 april aanstaande beschikbaar is. Deze prachtige bundel komt ook in de 20-21 Stampin' Up! Jaarcatalogus te staan, maar je mag er dus al 2 maanden eerder mee aan de slag. Hoe leuk is dat?
Monochrome in blauw
De basiskaart (10,5 x 29 cm, rillen lange zijde 14,5 cm) is van Seaside Spray Cardstock. Vervolgens heb ik de Ornate Layers Dies gebruikt om een mat te stansen.
Op de mat stempelde ik met "Bedanken in Stijl" – Nieuwe Nederlandse Stempelset, whoohoo! – en Night of Navy Classic Ink de tekst "Bedankt voor alles". Vervolgens stempelde ik het bloemencluster van de Ornate Style stempelset op de mat met Night of Navy Classic Ink.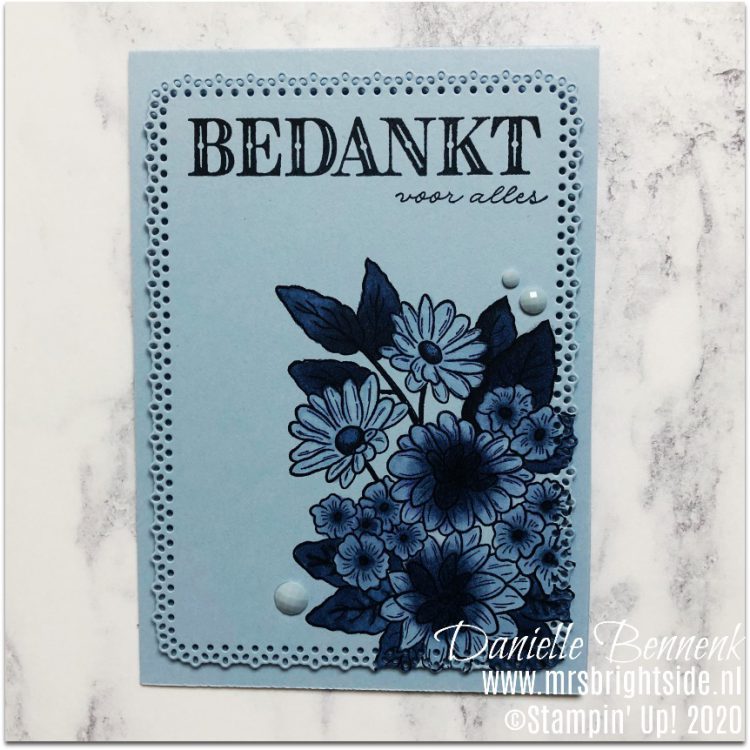 Om de monochrome look compleet te krijgen heb ik het bloemencluster ingekleurd met diverse schakeringen blauw met de Seaside Spray Stampin' Blends Combo Pack en de Night of Navy Stampin' Blends Combo Pack.
Na het creëren van de monochrome afbeelding heb ik de mat met Stampin' Dimensionals op de basiskaart geplakt en er nog wat Seaside Spray 2019-2021 In Color Faceted Dots aan toegevoegd.
Monochrome Kaart Video Tutorial
Ik kon het gewoon niet laten om het maar bij een kaart te houden, dus heb ik nog een monochrome kaart gemaakt, maar dan in paarstinten. Benieuwd hoe die eruit ziet? Hieronder zie je alvast een kleine Sneak Peek. Vanaf morgen staat deze kaart op mijn blog én YouTube kanaal. In mijn video tutorial laat ik stap-voor-stap zien hoe ik deze kaart heb gemaakt. Dus ik hoop dat ik je morgen terug zie 🙂
Meer inspiratie van het Stampin' Creative Design Team
Ik ben heel blij met het eindresultaat en ik hoop dat ik het monochrome thema eer aan heb gedaan. Ben je net als ik ook benieuwd naar de creaties van de andere Stampin' Creative Design Teamleden? Dan kun je eenvoudig door hoppen door op de naam onder die van mij (ik ben Danielle Bennenk) te klikken.
Ik wil je hartelijk danken voor je bezoek en wens je nog veel plezier bij het hoppen.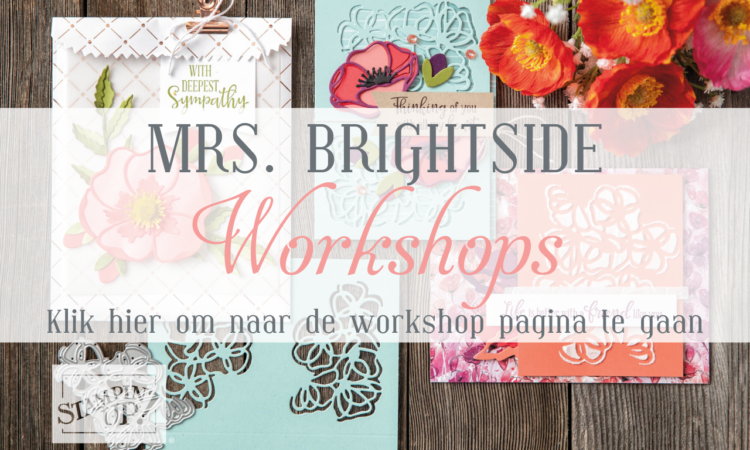 Gebruikte materialen
Ik verzorg graag je bestelling. Klik op de 'Stampin' Up! bestelling'-knop of de 'Webshop Stampin' Up!'-knop (credit card only) in de zijbalk om deze te plaatsen.