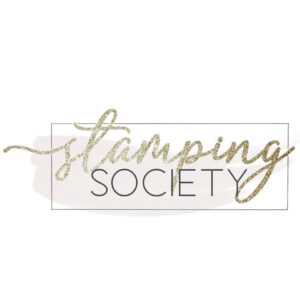 Thema: Out of Comfort
Hallo! Welkom bij de Stamping Society bloghop. Deze maand staat het thema 'Out of Comfort' centraal. Ieder design teamlid maakt een project waarbij zij uit haar comfort zone stapt. Bij mij zijn dat moeilijke interactieve kaarten en eentje die al een tijd op mijn lijstje stond, maar waar ik me maar niet aan durfde te wagen was de Never Ending Kaart. Hiervoor gebruikte ik het Abigail Rose Designpapier.
*Dear international readers, please use the translate button on the right (see side bar) to translate this message to your preferred language.
Never Ending Kaart met Abigail Rose Designpapier
De Never Ending Kaart heet zo omdat hij nooit eindig is, je kunt 'm keer op keer vouwen en ieder keer komt een ander beeld tevoorschijn.
Voor de basis heb ik Early Espresso Cardstock gebruikt en daarbij het prachtige neutrale Abigail Rose Designpapier en wat Very Vanilla Cardstock.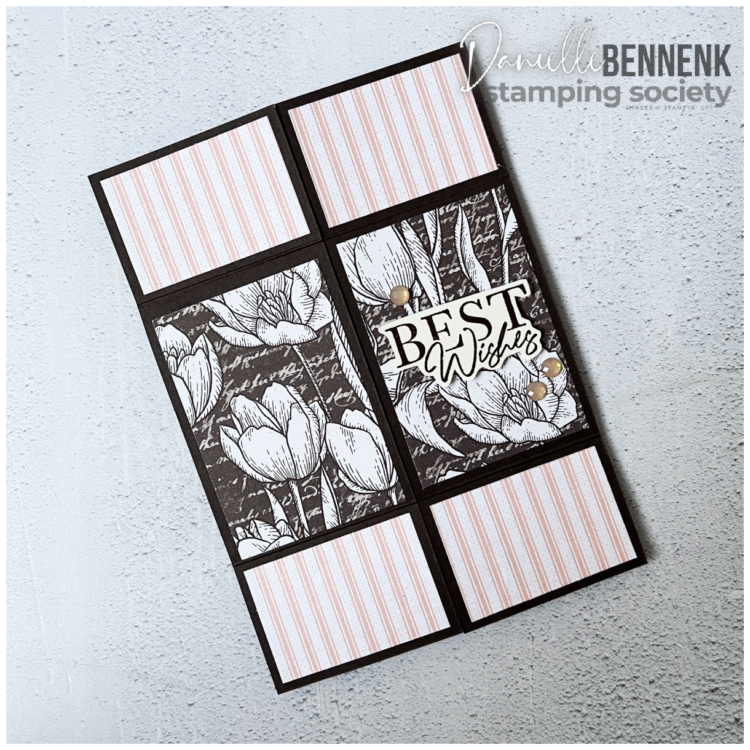 Bovenstaande foto toont de kaart zoals hij ontvangen wordt. De voorzijde van de Never Ending Kaart is beplakt met het Abigail Rose Designpapier, wat Elegant Faceted Gems en een tekst uit de Cottage Rose Stempelset. Deze heb ik gestempeld met Early Espresso Classic Stampin' Inkt op een restje Very Vanilla Cardstock.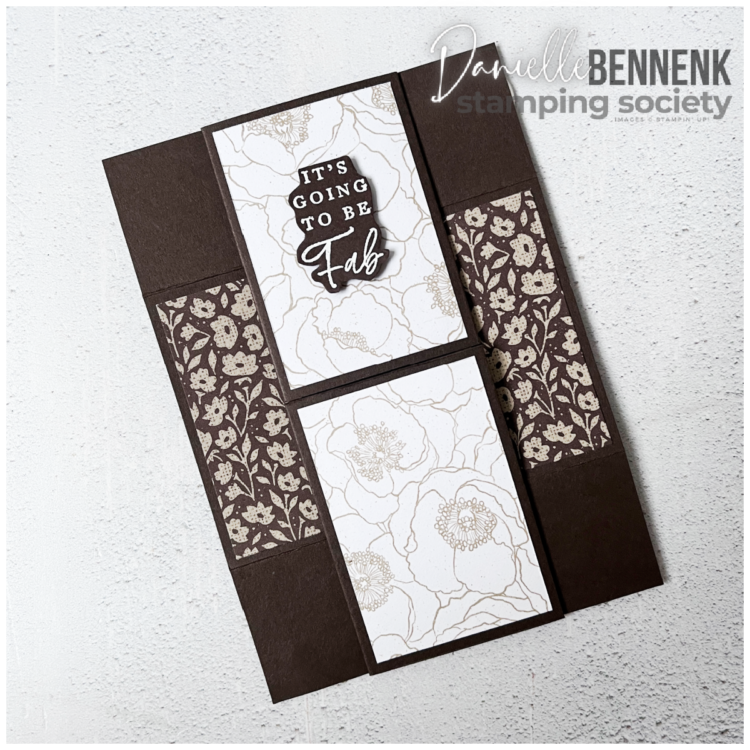 Wanneer je de kaart open vouwt zie je het volgende paneel. Wederom met een tekst uit de Cottage Rose Stempelset, maar nu heat embossed met wit op Early Espresso Cardstock.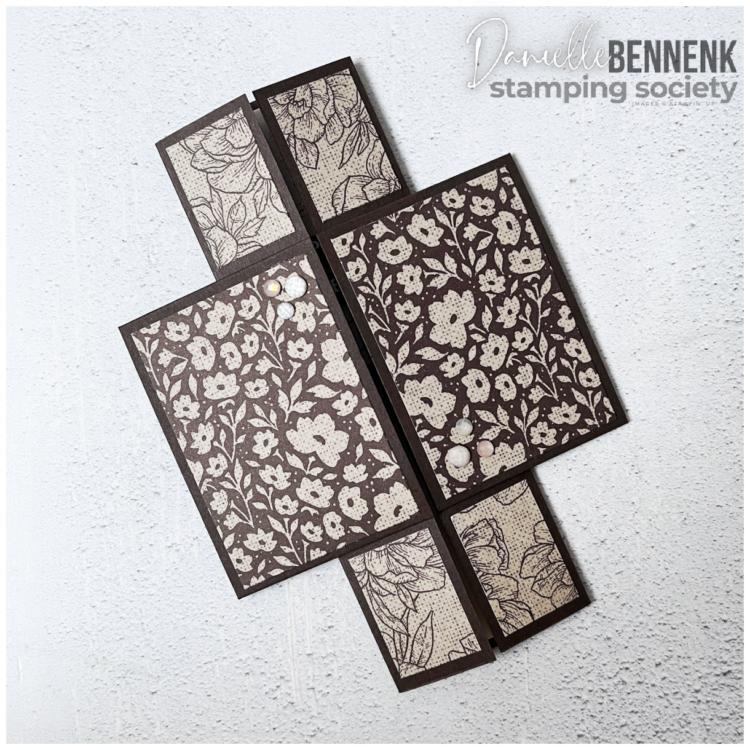 Bij de volgende vouw komt de bovenstaande vorm naar voren. Hier geen tekst, maar slechts enkele Elegant Faceted Gems.
Na een laatste vouw van de Never Ending kaart komt de onderstaande afbeelding naar voren. Ook hier weer het mooie Abigail Rose Designpapier en de heat embossed tekst op het Early Espresso Cardstock. De onderste rechthoek is om de boodschap op te schrijven.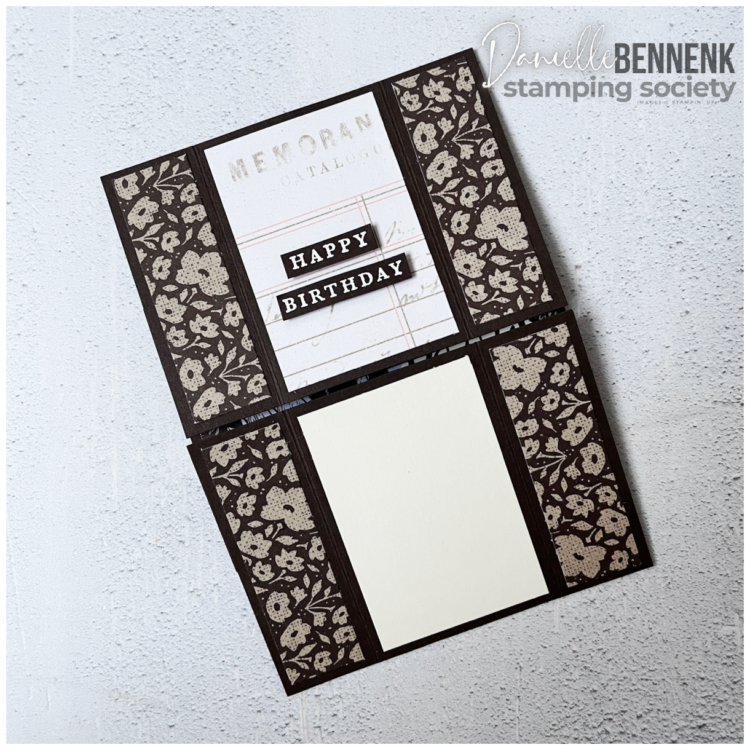 Gratis Video Tutorial
Wil je weten hoe ik deze kaart heb gemaakt? Bekijk dan mijn gratis video tutorial. Klik gewoon op de onderstaande afbeelding en het wonder van het internet brengt je naar mijn video.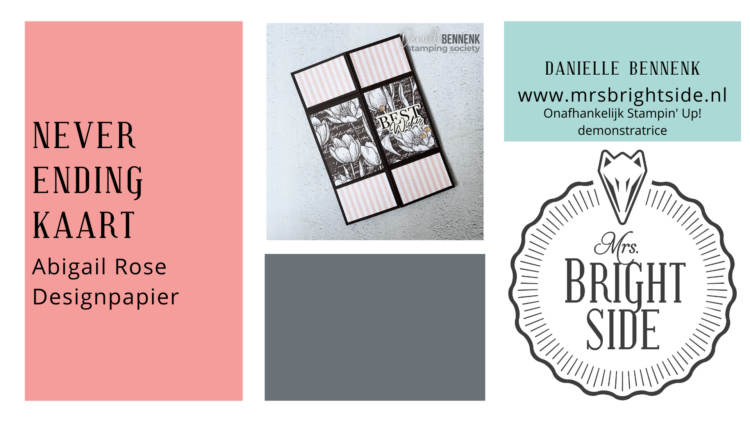 Meer inspirerende projecten
Wil je nog meer inspirerende projecten zien? Klik dan snel op de volgende naam van de lijst en het wonder van het internet brengt je waar je moet zijn!
Heel erg bedankt voor je bezoek en nog veel plezier gewenst.

Gebruikte materialen
Ik verzorg graag je bestelling. Klik op de 'Stampin' Up! bestelling'-knop of de 'Webshop Stampin' Up!'-knop (PayPal, Ideal en credit card betaling) in de zijbalk om deze te plaatsen.