On STAGE amsterdam
Het was gisteren geweldig bij het On Stage evenement in Amsterdam. Het was mijn tweede On Stage evenement dat ik bijwoonde (lees hier meer over het On Stage evenement van april '16) en het was er één met een gouden randje. Ik mocht namelijk een Product Suite presentatie houden! Dit betekent dat ik voor een zaal vol met Stampin' Up! demonstratrices wat mocht vertellen over een Product Suite uit de nieuwe voorjaar/zomer catalogus! Ik zal hier meer over schrijven in mijn blogbericht van woensdag, dus kom dan zeker een kijkje nemen want ik laat ook projecten zien gemaakt met nieuwe producten 🙂
It was awesome yesterday at the On Stage event in Amsterdam. It was the second On Stage event that I attended (read more here about my first On Stage in April '16) and it was an event with a silver lining as I was asked to do a Product Suite presentation! This means that I had to present one of the Product Suites of our new Spring/Summer catalog in a room full of Stampin' Up! demonstrators. I'll write more about that in my blogpost on Wednesday, so please come by because I'll also show you projects made with new products 🙂
swaps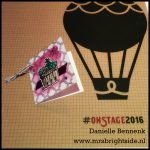 Ook dit keer heb ik weer een swap gemaakt. Ik vind het altijd heel leuk om te doen, omdat je in ruil voor jouw eigen swap natuurlijk ook heel veel leuke en inspirerende projecten terug krijgt van andere Stampin' Up! demonstratrices. Ik ga proberen om aankomende week ook nog een bericht te plaatsen met mijn ontvangen swaps.
I also made a swap this time. I always love swapping because you'll receive a lot of cute and inspiring projects from other Stampin' Up! demonstrators. I'm going to try to post another message this week about the swaps I received.
basket of wishes
Voor mijn swap heb ik gebruikt gemaakt van één van mijn favoriete stempelsets uit de herfst/winter catalogus: Basket of Wishes, Ik ben met name gek op de kleine vetplantjes, dus dat was mijn uitgangspunt voor dit label. By the way, aankomende week staan 'tags & labels'  in de Spotlight op de blogs van Hilde, Sandra, Eveline en mijzelf. Dus kom een kijkje nemen 🙂
For my swap I used one of my favorite stamp sets from the Autumn/Winter catalog: Basket of Wishes. I really love those cute succulents, so that's the focal point of this label. By the way, next week we're shining our Spotlight on 'tags & labels' on the blogs of Hilde, Sandra, Eveline and myself. So, come and have a look 🙂
project description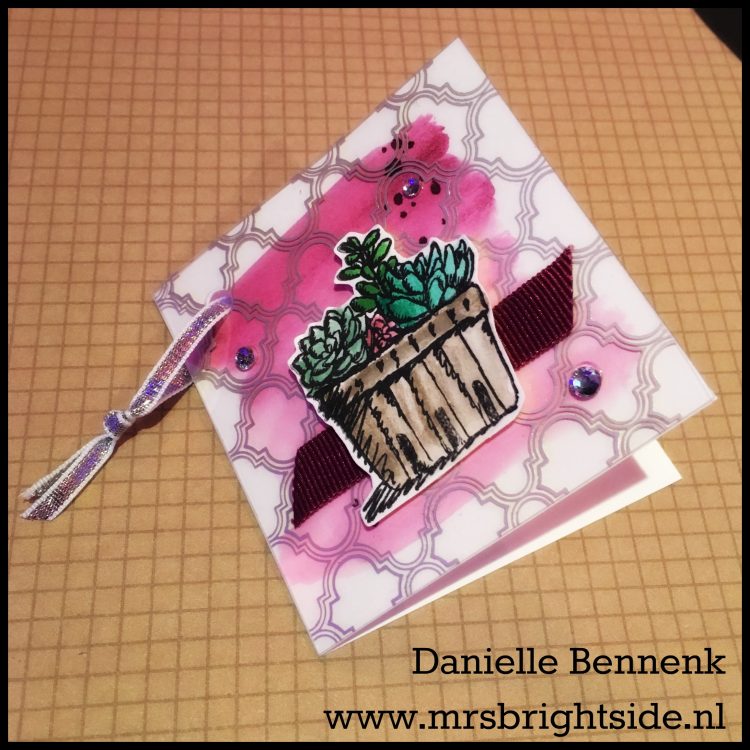 Als uitgangspunt heb ik een stuk Shimmery White cardstock gebruikt van 5 1/2 x 2 3/4 inches. Aan de lange kant heb ik het gerild op 2 3/4 inch. Met de aqua painter en Rich Razzleberry inkt heb ik een watercolor wash achtergrond gecreëerd. Hier heb ik vervolgens wat 'spatten' opgestempeld met een stempel uit de Timeless Textures stempelset. Aan de binnenkant van het label heb ik met Basic Black de tekst : "Happy Day, Happy Year, Happy Life" gestempeld.
Ook het mandje met de vetplantjes is op Shimmery White cardstock gestempeld en daarna ingekleurd met de blenderpen. Hiervoor heb ik Tip Top Taupe, Mint Macaron, Cucumber Crush, Emerald Envy en Sweet Sugarplum gebruikt. Daarna heb ik de afbeelding uitgeknipt.
Om het label af te maken heb ik een stukje Fabulous Foil Designer Acetate van 2 3/4 x 2 3/4 inch gesneden en met de zilveren kant naar boven op het kaartje bevestigd. Daarop een stukje Rich Razzleberry lint, het mandje met de vetplantjes en wat rhinestones. Het lintje van het label is het 1/8″ silver ribbon.
As a base I used a piece of Shimmery White cardstock of 5 1/2 x 2 3/4 inches. I scored it on the long side at 2 3/4 inches. I created a watercolor wash background with the aqua painter and Rich Razzleberry ink. I added some 'spots' with one of the stamps of the Timeless Textures stamp set. On the inside of the label I stamped the text: "Happy Day, Happy Year, Happy Life" with Basic Black.
The basket with succelents is also stamped on Shimmery White cardstock and I colored it with the blenderpen. I used the following colors: Tip Top Taupe, Mint Macaron, Cucumber Crush, Emerald Envy and Sweet Sugarplum. Afterwards, I fuzzy cut the image.
To finish the label I cut a piece of 2 3/4 x 2 3/4 inch Fabulous Foil Designer Acetate and I adhered it to the front of the card with the silver side facing up. On that I layerd a piece of Rich Razzleberry ribbon, the basket of succulents and some rhinestones. The ribbon of the label is the 1/8″ silver ribbon.
Wil je er de volgende keer ook bij zijn?
Wil je er bij het volgende Stampin' Up! event ook bij zijn? En wil je net als ik swappen met collega's en als eerste neuzen in & bestellen uit de nieuwe catalogus van Stampin' Up!? Word dan ook Stampin' Up! demonstrator! Hier kun je alles lezen over wat het demonstratorschap inhoudt, wil je nog meer weten of heb je vragen? Neem dan gerust contact met mij op (danielle@mrsbrightside.nl).
Een hele fijne zondag nog! / Have a wonderful Sunday!
  Product List