Focus thema: Kleine bedankjes met Peekaboo Treat Bag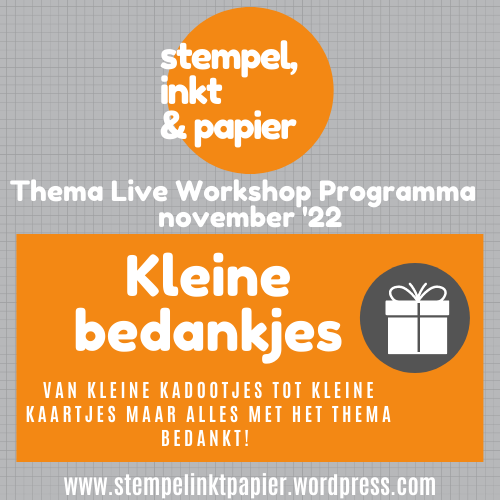 Hallo en welkom bij de Stempel, Inkt & Papier bloghop! In de maand November richt Stempel, Inkt & Papier zich op het thema: Kleine Bedankjes. Een thema waarbij je een project maakt waarmee je iemand bedankt. Of het nu een kaart is of een klein geschenkje.
We hebben allen gebruik gemaakt van producten uit de lopende Stampin' Up! catalogi.
Ik koos ervoor om aan de slag te gaan met de schattige Peekaboo Treat Bag uit de jaarcatalogus in combinatie met een hele coole creatieve set. De Cozy & Bright Kaartenmaakset. Met deze set maak je maar liefst 12 gave kerstkaarten met 1 design. Klik hier voor een korte video met deze kit.
Cozy & Bright Peekaboo Treat Bag
Toen ik een van de kerstkaarten uit de Cozy & Bright Creatieve Kit had gemaakt, dacht ik dat het heel leuk zou zijn om een aantal van de kaartelementen te gebruiken op een Peekaboo Treat Bag. Dan kan ik het setje kado geven aan mijn lieve assistente, die er altijd voor zorgt dat mijn agenda op orde is. Hoe leuk is het als ik haar straks rond de kerst deze kaart met dankwoorden en dit kleine zakje met lekkernijen kan geven!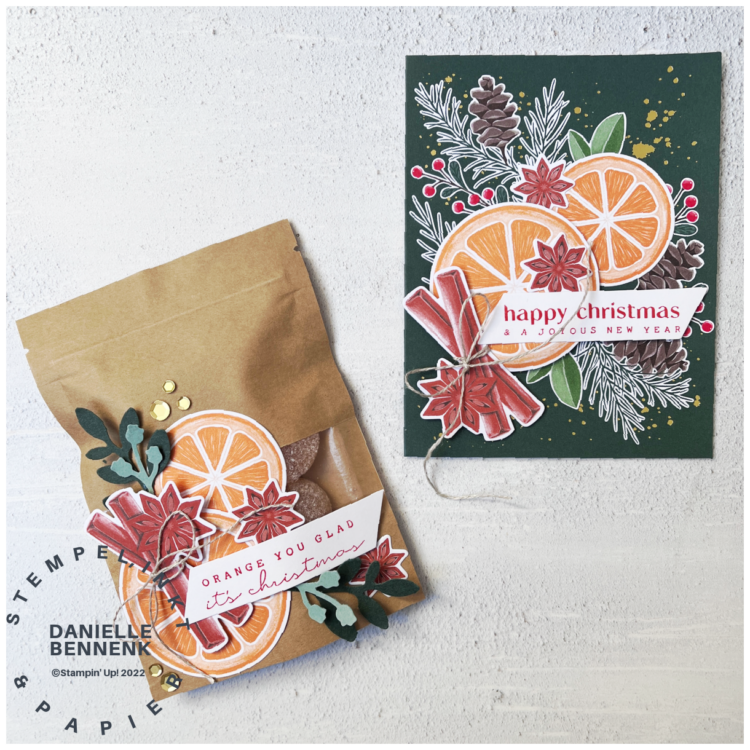 De Peekaboo Treat Bag is 'food safe' dat betekent dat je er gewoon etenswaren in kunt doen. Ik koos voor sinaasappel gumballen omdat ik die zo goed vond passen bij de tekst 'Orange you glad it's Christmas'.
Ik gebruikte de elementen uit de Cozy & Bright Kit om een cluster op de Peekaboo Treat Bag te plakken. De tekst is gestempeld met Poppy Parade Classic Stampin' Inkt. Om het groen van de kaart ook terug te laten komen op de verpakking heb ik enkele takjes geponst met de Takjespons uit Evening Evergreen en Soft Succulent Cardstock.
Ook het goud uit de kaart heb ik terug laten komen, hiervoor gebruikte ik een aantal zelfklevende Kerstpailletten.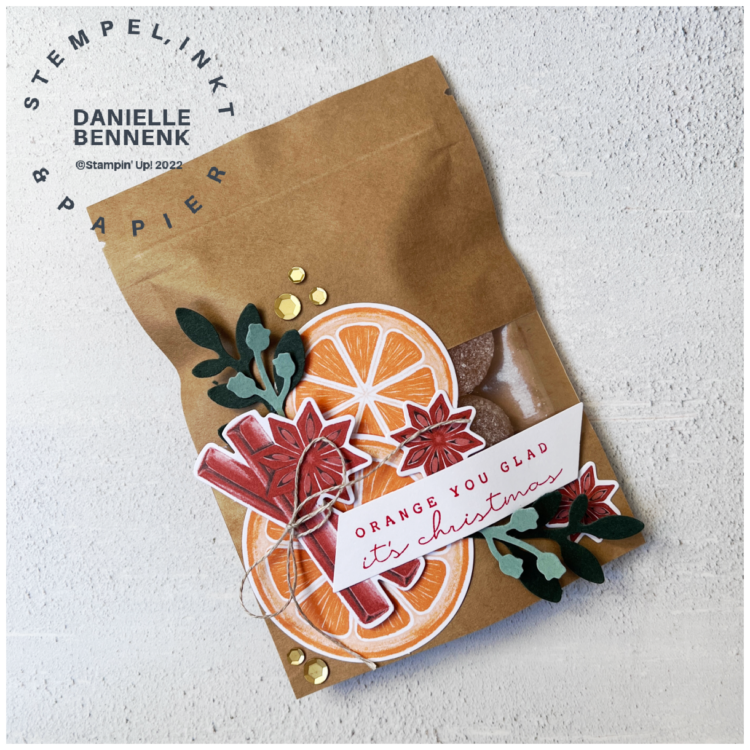 Wat is Stempel, Inkt & Papier?
Nog even ter informatie: Stempel, Inkt & Papier is een creatief initiatief van drie Nederlandse Stampin'Up! Demonstratrices – Sandra Korten, Lotte Noordzij-Walther en ikzelf – die elke maand een specifiek Stampin'Up! Product of specifiek thema centraal zetten in een exclusief workshop programma.
In dit programma bieden we exclusieve online workshops aan rondom thema's als techniek, step-it-up, alles behalve een kaart, Case The Catty of Memory Keeping, in een besloten Facebook groep. We doen ook altijd iedere maand een creatieve uitdaging met onze deelnemers.
Meer Kleine Bedankjes inspiratie
Hieronder vind je de linkenlijst, klik gewoon op de naam van Lotte of Sandra om door te gaan naar het volgende blog.

Gebruikte materialen
Ik verzorg graag je bestelling. Klik op de 'Stampin' Up! bestelling'-knop of de 'Webshop Stampin' Up!'-knop (PayPal, Ideal en credit card betaling) in de zijbalk om deze te plaatsen.