more display samples
Zoals ik maandag al schreef (klik hier) mocht ik voor On Stage voorbeelden maken met producten uit de nieuwe voorjaars/zomercatalogus die begin januari van start gaat. Na het maken van de voorbeelden met de Sweet Little Something stempelset ging ik aan de slag met de stempelset Perennial Birthday.
Een leuke stempelset met diverse verjaardagsteksten in verschillende lettertypes én veel bloemen en blaadjes. De bloemen zijn vrij robuust getekend met dikke lijnen, dus daar moest ik even aan wennen. Maar uiteindelijk is het juist die robuuste look die ervoor zorgde dat ik verliefd werd op deze set.
Like I wrote on Monday (click here), I was asked to make samples for On Stage with products from the new spring/summer catalog that will launch in the beginning of January. After making the samples with the Sweet Little Something stamp set I started working with the stamp set Perennial Birthday.
It's a fun stamp set with several birthday sentiments in a variety of fonts and loads of flowers and leafs. The flowers are drawn with pretty robust lines, so I did need to get used to that. But in the end, it's funny how that works, that specific robust look made me fall in love with this stamp set.
Perennial birtday in black, white & bermuda bay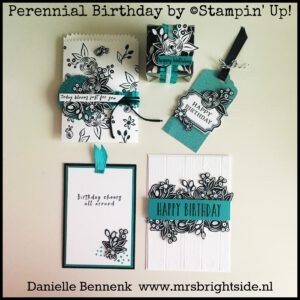 De eerste projectset die ik maakte met Perennial Birthday heeft als basis zwart, wit en Bermuda Bay. De robuuste lijnen van de tekeningen passen perfect bij deze kleurcombinatie met sterke contrasten.
The first project set that I made with Perennial Birthday has a base of black, white and Bermuda Bay. The robust lines of the images fit perfectly with this big contrasting color combination.
Different techniques
De afbeeldingen uit de stempelset krijgen een hele andere uitstraling als je verschillende technieken gebruikt om ze te stempelen.
The images from the stamp set get a very different look when you use different techniques to stamp them.
ghosting technique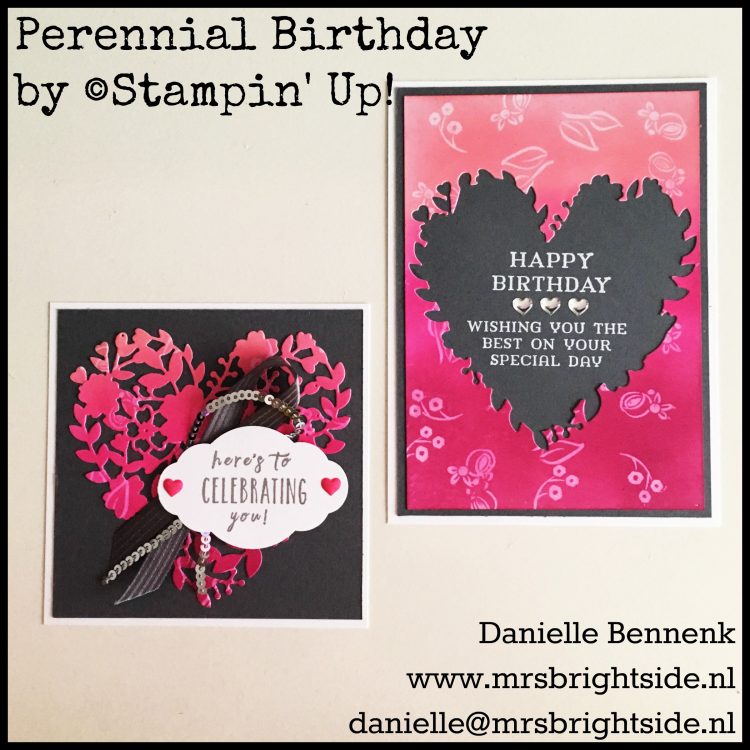 Kleine afbeeldingen gestempeld op glossy cardstock met Versamark (zie hier meer info over deze techniek) en daarna gesponst met Flirty Flamingo, Melon Mambo en Berry Burst. De combinatie van het felroze met het Basic Gray vind ik fantastisch.
Small images stamped on glossy cardstock with Versamark (see more about this technique here) and then sponged with Flirty Flamingo, Melon Mambo and Berry Burst. The combination of the bright pink with the Basic Gray is fantastic, I think.
stamping with markers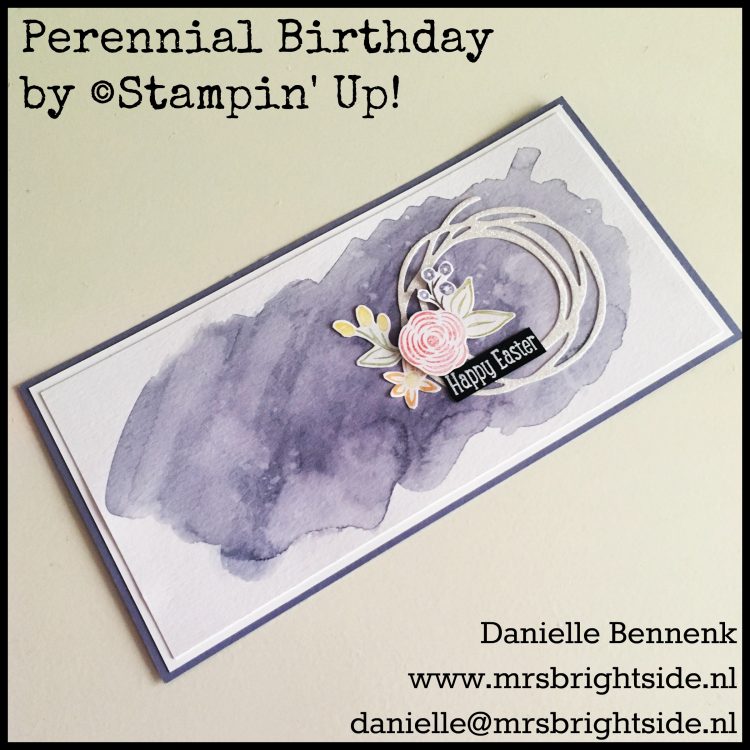 De stempels zijn ingekleurd en gestempeld met de Many Marvelous markers en dit geeft ze meteen een hele zachte uitstraling. In combinatie met de Iridescent Glimmer Paper swirl en de Wisteria Wonder watercolor achtergrond krijg je een heel lief Paaskaartje.
The stamps are colored and stamped with the Many Marvelous markers and this creates a very soft feel. In combination with the Iridescent Glimmer Paper swirl and the Wisteria Wonder watercolor background you get a very sweet Easter card.
Watercolor & embroidery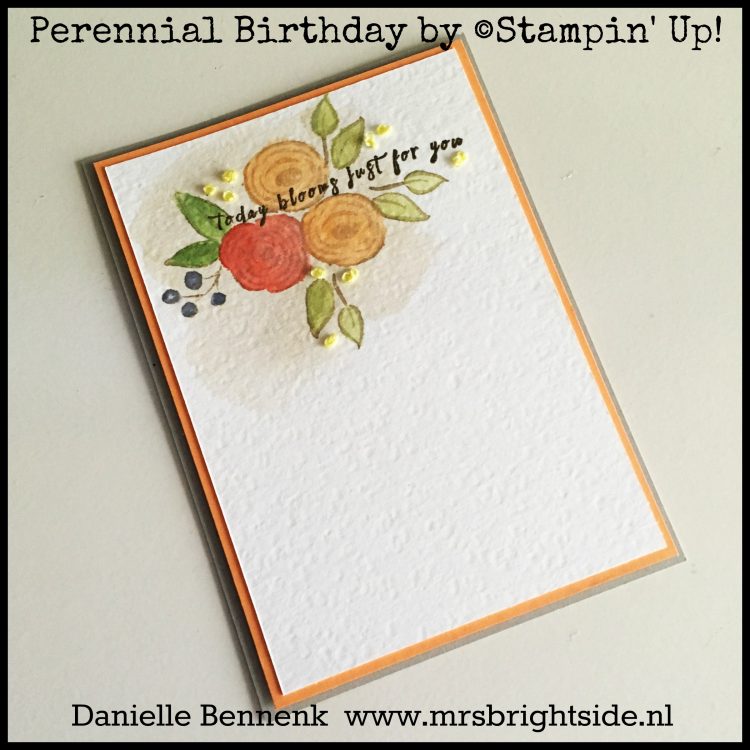 De bloemen zijn hier met Sahara Sand gestempeld en daarna ingekleurd met de aqua painter. Het lijkt nu net of je de bloemen zelf geschilderd hebt. De kaart is afgemaakt met wat geborduurde Franse Knoopjes, die het geheel een romantisch uiterlijk geven.
The flowers are stamped with Sahara Sand and then colored with the aqua painter. It seems like you painted the flowers yourself. The card is finished off with some embroidered French Knots, that really offer a romantic feel.
perennial gift label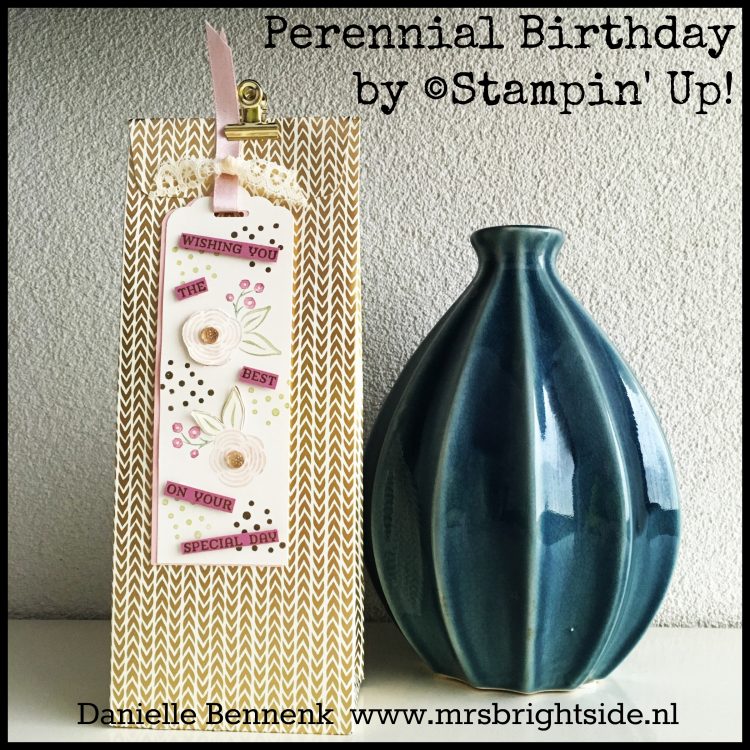 Hier heb ik een geschenklabel gemaakt voor een gift bag, gemaakt met de gift bag punchboard met de het Bundle of Love specialty designer series papier. De bloemen zijn gestempeld met Stampin' Write Markers en deels uitgesneden. Onder de uitgesneden delen heb ik wat mini dimensionals (kun jij nog zonder?? :)) geplakt om een 3D-effect te creëren.
I made a gift label for a gift bag made with the Gift Bag Punchboard and the Bundle of Love specialty designer series paper. The flowers are stamped with Stampin' Write Markers and partly cut out. Underneath the cut out pieces I put some mini dimensionals (can you still live with these little rascals?? 🙂 ) to create a 3D-effect.
Display stamper blog hop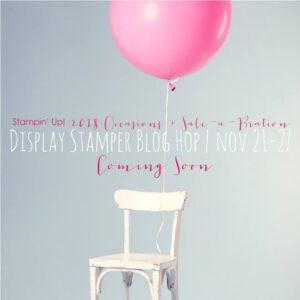 Volgende week laat ik nog meer display voorbeelden zien tijdens de internationale Display Stamper Blog Hop. Aan deze bloghop doen zoveel mogelijk display stampers mee van over de hele wereld, waaronder diverse Artisan Design Team members, dus het zal een paradijs aan inspiratie zijn!
De bloghop vindt plaats van dinsdag, 21 november t/m maandag, 27 november en start 's nachts vanwege het tijdverschil over de gehele wereld, maar ik zal je via Instagram, Facebook, etc. op de hoogte stellen. Ik zal die week diverse voorbeelden laten zien met de Myths & Magic product suite en nog wat kleine dingen die ik deze week nog niet heb laten zien 🙂
Next week, I'll show you more display samples during the International Display Stamper blog hop. A lot of display stampers, among them several Artisan Design Team members, from all over the world are participating in the blog hop, it will be a Paradise of Inspiration!
The blog hop takes place from Tuesday, November 21st up until Monday, November 27th (depending on the time difference) and will start in the middle of the night (CET) due to the time zones. But I'll keep you posted via Instagram, Facebook, etc. During that week I'll show you several samples with the Myths & Magic product suite and some other small stuff that I haven't shown you yet 🙂
Hieronder vind je alle door mij gebruikte materialen m.u.v. de nieuwe producten. Wil je hier iets van aanschaffen? Dan verzorg ik graag je bestelling (mail: danielle@mrsbrightside.nl)! Je kunt op de onderstaande afbeeldingen klikken om naar mijn webshop te gaan (Betaling alleen via credit card).
 Product List