Food & beverage
Eten & Drinken is het Spotlight thema van deze week. Ik heb dan ook meteen een van mijn favoriete sets uit de voorjaars/zomercatalogus er bij gepakt: Perfect Mix.
Food & Beverage is the Spotlight theme of this week. Immediately I grabbed one of my favorite sets from the Spring/Summer catalog: Perfect Mix.
recipe notebook
Buiten stempelen, haken en borduren zijn ook koken en bakken grote hobbies van mij. Ik gebruik het internet of kookboeken om recepten op te zoeken. Wanneer ik tevreden ben over een recept dan schrijf ik het in een schrift. Mijn oude schrift is bijna vol, dus het is tijd voor een nieuwe 🙂
Besides stamping, crocheting and embroidery, I also love to cook and bake. I use the internet or cook books to search for recipes. When I love one of them, I'll write it in a notebook. My old notebook is almost full, so it's time for a new one 🙂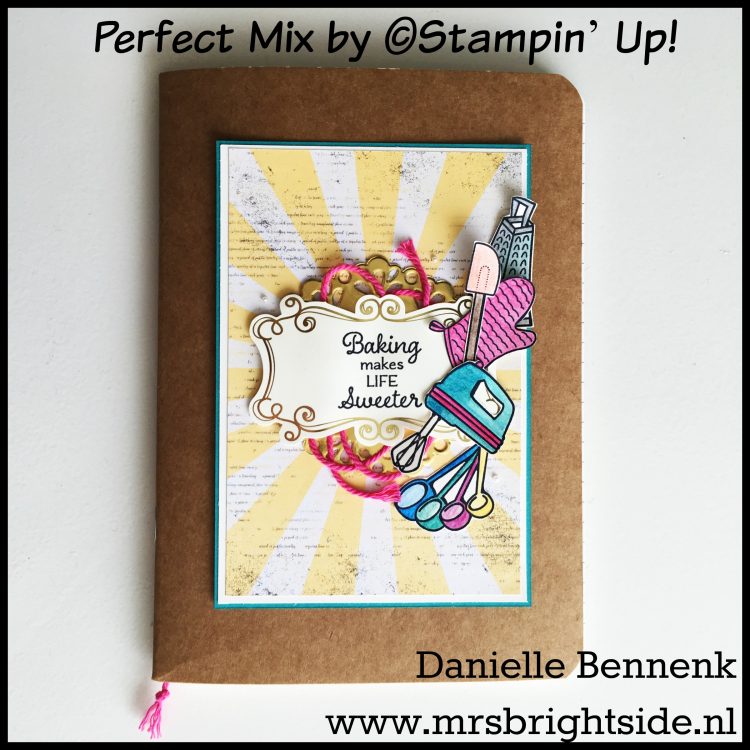 De achtergrond is gemaakt met het Cupcakes & Carrousel DSP. Nadat ik alle afbeeldingen gestempeld had heb ik deze ingekleurd met de watercolor pencils en uitgeknipt.
The back ground is made with Cupcakes & Carrousel DSP. After I stamped all the images, I colored them with the watercolor pencils and fuzzy cut them.
blog hop alert!
Allereerst, bedankt dat je mijn blog weer hebt bezocht. Ten tweede, aanstaande zaterdag is er weer een bloghop van de Creatieve Harten, dus ik zou dan zeker weer langs komen. Het belooft namelijk een geweldige bloghop te worden met het thema 'Stempel & Scrap'!
First of all, thank you for visiting my blog again. Secondly, next Saturday there'll be another blog hop of the Creatieve Harten, so I would definitely drop by if I were you. It promises to become a wonderful hop with a 'Stamp & Scrap' theme!
Geniet van de rest van je dag! / Enjoy the rest of your day!
Product List