Designer Series Paper
Het designer series papier van Stampin' Up! is echt fantastisch. Een ruim assortiment in veel verschillende stijlen, dus voor iedereen wat wils. In de nieuwe jaarcatalogus die een kleine twee weken geleden gestart is staan weer geweldige series van het Wood Textures papier tot In Color Fresh Florals papier en het Pick A Pattern papier met z'n leuke prints en sprekende kleurcombinaties. Hieronder worden alle designer series in drie korte filmpjes getoond.
The Stampin' Up! designer series papers are really fantastic. A broad assortment in a lot of different styles, so there's something for everyone. In the new annual catalog, which went live a little over two weeks ago, there are some amazing series like the Wood Textures paper, the In Color Fresh Florals paper stack and the Pick A Pattern paper with its fun prints and striking color combinations. Below you'll see all designer series in three short videos.
Om te kwijlen al die prachtige designs niet waar? Welke is jouw favoriet? Ik hoor het graag in een reactie op dit bericht 🙂
These designs are mouth watering, right? Which one is your favorite? I'd love to hear it in a comment on this message 🙂
pick a pattern designer series paper
Vandaag heb ik maar weer eens het Pick A Pattern designer series papier gepakt, dit is op het moment toch wel een van mijn favorieten. Ik houd van de grappige tekeningen en de kleuren.
Today, I grabbed the Pick A Pattern designer series paper, this is one of my favorites at the moment. I love the whimsical designs and colors.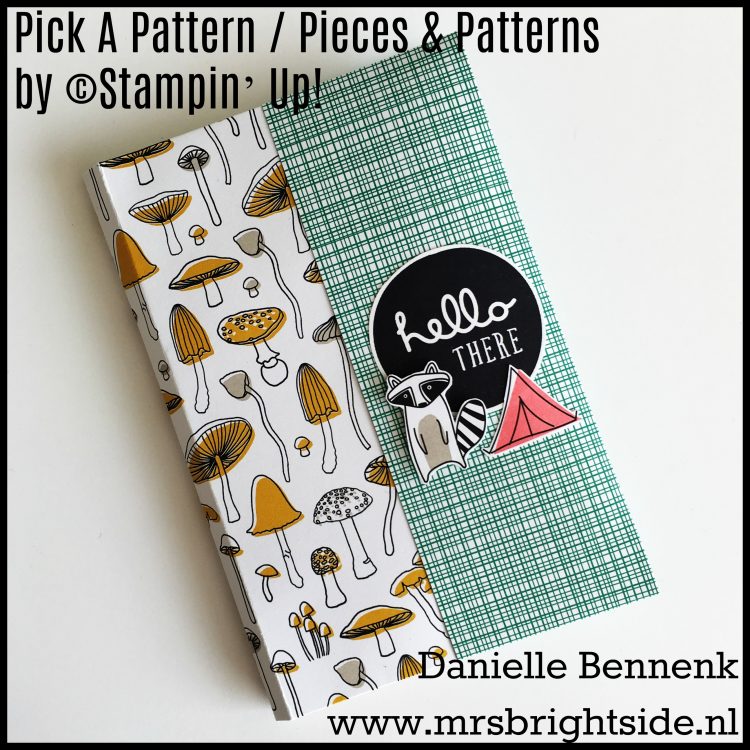 Op het internet kwam ik een leuke notecard houder tegen, ontworpen door Di Barnes uit Australië. Klik hier om naar de projectbeschrijving te gaan. Het is echt een super leuk project om je designer papier voor te gebruiken.
On the internet I came across this fun notecard holder, designed by Di Barnes from Australia. Click here to go to the tutorial. It's a real fun project to use your designer series paper for.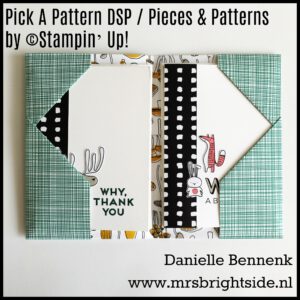 De kaartenhouder heeft ruimte voor 4 notecards en enveloppen. Je kunt de kaarten alleen niet te veel dimensie geven, anders past het niet. Echt heel leuk om zo'n setje te maken en zelfs kado te geven.
The card holder has space for 4 notecards and envelopes. You just can't add too much dimension to the cards, otherwise they don't fit. A real fun set to make and even gift to someone.
De kaartjes heb ik gemaakt met de bijpassende Pieces & Patterns stempelset. Een stempelset met leuke afbeeldingen en teksten. Voor iedere kaart heb ik een andere tekst gebruikt aangevuld met uitgeknipte afbeeldingen uit het designer papier.
The cards are made with the corresponding Pieces & Patterns stamp set. A stamp set with fun images and sentiments. For every card I used a different sentiment in addition to some fuzzy cut images from the designer series paper.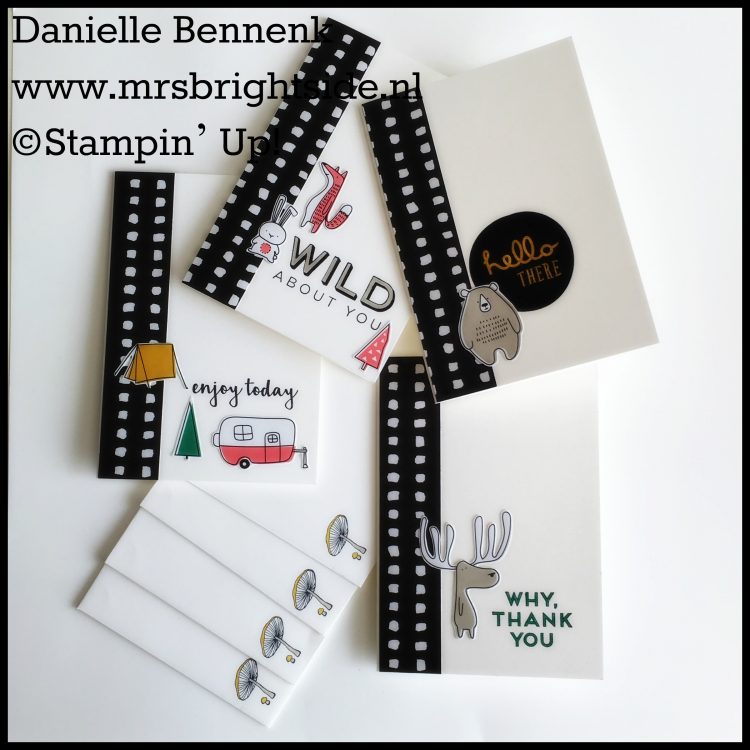 Je kunt nog meer projecten met designer papier zien op de blogs van Sandra, Eveline en Hilde. Dus neem zeker een kijkje.
You can see more projects with designer paper on the blogs of Sandra, Eveline and Hilde. So, please take look.
Bedankt voor je bezoek en een fijne dag nog! / Thank you for visiting and enjoy the rest of your day!
Product List