Thema: Party Time
Het thema is deze maand Party Time, ofwel projecten met een feest thema in de breedste zin des woords. Ik ben aan de slag gegaan met de toffe Pirates & Mermaids stempelset uit de Stampin' Up! Jaarcatalogus! En verder zie je ook een aantal sneak peekjes van nieuwe producten die vanaf 4 januari verkrijgbaar zijn uit de Mini Catalogus en de Sale-A-Bration folder.
*Dear international readers, please use the translate button on the right (see side bar) to translate this message to your preferred language.
Pirates & Mermaids verjaardagskaart
De Pirates & Mermaids stempelset is zo'n leuk set, met grappige afbeeldingen om in te kleuren en daar had ik zin in!!
Als basiskaart (10,5 x 29 cm, rillen lange kant op 14,5 cm) gebruikte ik Bermuda Bay Cardstock met hierop een mat (10 x 14 cm) van Pool Party Cardstock en daarop heb ik een mat (9,7 x 13,7 cm) van Basic White Cardstock geplakt.
Daarna volgde een strook (3,5 x 13,5 cm) van het Sunshine & Rainbows Designpapier, dat je vanaf 4/1 terugvindt in de Sale-A-Bration folder. Erom heen strikte ik twee stukken van het Pool Party Sheer Ribbon. En in de rechter onderhoek stempelde ik een tekst uit de Pirates & Mermaids stempelset met Tuxedo Black Memento Inkt.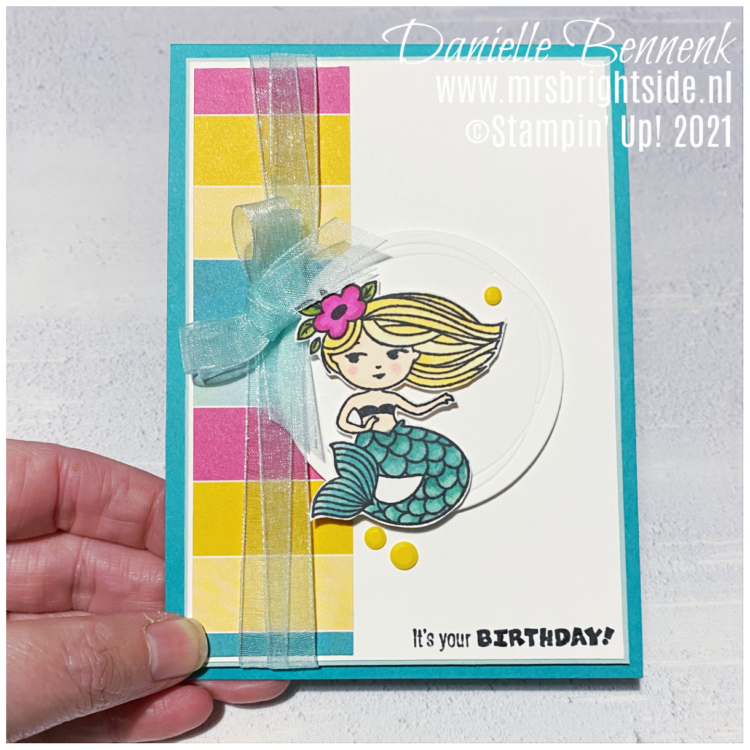 De leuke Mermaid van de Pirates & Mermaids stempelset stempelde ik eveneens met Tuxedo Black Memento en ik kleurde de afbeelding in met mijn Stampin' Blends. Zie de lijst onderaan dit bericht met de gebruikte kleuren.
Vervolgens heb ik de afbeelding uitgeknipt en op een gestanste cirkel – van de Beautiful Shapes Dies, verkrijgbaar vanaf 4/1 – geplakt met Stampin' Dimensionals. Hoe gaaf zijn trouwens die embosste randjes in die cirkel?? Tof hè! De cirkel heb ik vervolgens ook weer met Stampin' Dimensionals op de kaart geplakt. Last but not least, nog een paar Playing With Patterns Resin Dots om de kaart af te maken.
Meer inspiratie van het Stampin' Creative Design Team
Ik hoop dat je mijn interpretatie van het thema kan waarderen en ik hoop dat ik je met mijn project geïnspireerd heb. Ben je net als ik ook benieuwd naar de creaties van de andere Stampin' Creative Design Teamleden? Dan kun je eenvoudig door hoppen door op de naam onder die van mij (ik ben Danielle Bennenk) te klikken.
Ik wil je hartelijk danken voor je bezoek en wens je nog veel plezier bij het hoppen.

Gebruikte materialen
Ik verzorg graag je bestelling. Klik op de 'Stampin' Up! bestelling'-knop of de 'Webshop Stampin' Up!'-knop (PayPal en credit card betaling) in de zijbalk om deze te plaatsen.