Thema: Clean & Simple met Pretty Birds
Het thema is deze maand Clean & Simple, ofwel projecten met een simpele en clean uitstraling die snel te maken zijn. Ik ben aan de slag gegaan met de Pretty Birds Stempelset uit de Stampin' Up! Jaarcatalogus!
*Dear international readers, please use the translate button on the right (see side bar) to translate this message to your preferred language.
Pretty Birds Kaart
Ik houd van Clean & Simple kaarten. Kaarten met veel wit, waardoor alle aandacht naar de afbeelding en/of tekst gaan. Voor mijn Clean & Simple kaartje voor deze bloghop heb ik het heel erg simpel gehouden, maar dat is niet moeilijk met de prachtige Pretty Birds Stempelset.
Het is een Polymeer stempelset waardoor je heel makkelijk de gelijnde afbeeldingen kunt 'inkleuren' met de bijpassende solide stempels. Dit wordt ook wel Two-Step Stamping genoemd, ofwel stempelen in twee stappen.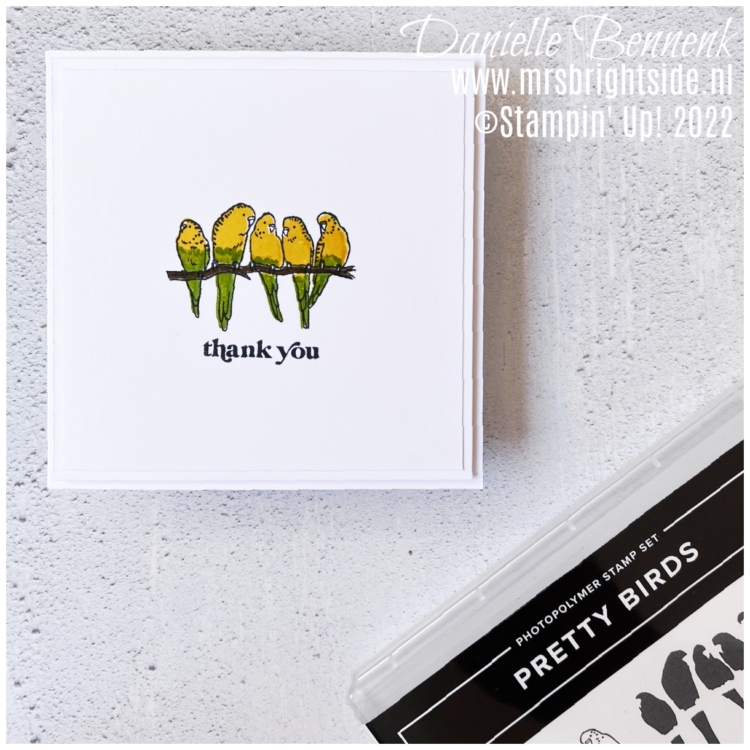 Als basiskaart (10,5 x 21 cm, rillen aan de lange kant op 10,5 cm) gebruikte ik Basic White Thick Cardstock met hierop een mat (10 x 10 cm) van Basic White Cardstock en daarop zit een Basic White Cardstock mat (9,5 x 9,5 cm)
Daarop heb ik de parkietjes afbeelding gestempeld met Tuxedo Black Memento Inkt en de solide stempel van de vogels heb ik eerst beïnkt met Daffodil Delight Classic Stampin' Inkt en toen deels – de staartjes – met Granny Apple Green Classic Stampin' Inkt.
Het steeltje heb ik gestempeld met Soft Suede Classic Stampin' Inkt.
De tekst, gestempeld met Tuxedo Black Memento Inkt, heb ik gestempeld met de Simply Fabulous Stempelset.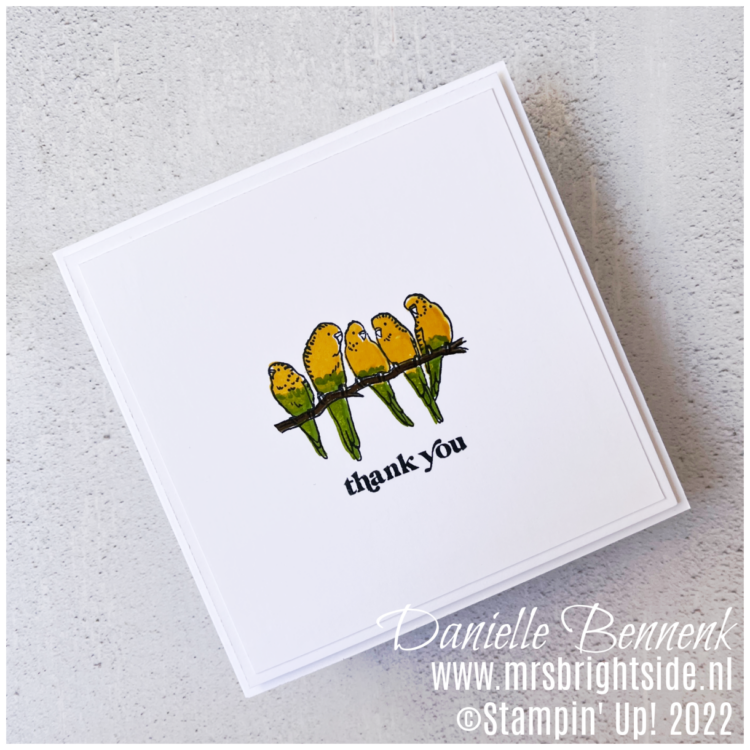 Meer inspiratie van het Stampin' Creative Design Team
Ik hoop dat je mijn interpretatie van het thema kan waarderen en ik hoop dat ik je met mijn project geïnspireerd heb. Ben je net als ik ook benieuwd naar de creaties van de andere Stampin' Creative Design Teamleden? Dan kun je eenvoudig door hoppen door op de naam onder die van mij (ik ben Danielle Bennenk) te klikken.
Ik wil je hartelijk danken voor je bezoek en wens je nog veel plezier bij het hoppen.

Gebruikte materialen
Ik verzorg graag je bestelling. Klik op de 'Stampin' Up! bestelling'-knop of de 'Webshop Stampin' Up!'-knop (PayPal en credit card betaling) in de zijbalk om deze te plaatsen.