project no. 3: pun intended
Deze week hebben jullie al twee projecten met deze leuke stempelset kunnen zien op het blog van Eveline en nu laat ik je project numero 3 zien. Om bij het cijfer drie te blijven heb ik dus maar meteen drie kaartjes gemaakt.
This week, you've seen two projects with this fun stamp set already on Eveline's blog and now I'm showing you project numero 3. To stay with the number 3, I decided to make three cards.
notecards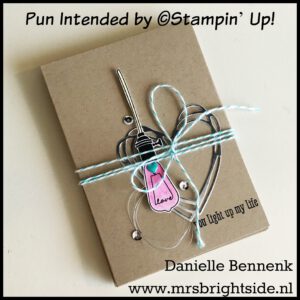 Zoals jullie weten ben ik een groot fan van de notecards die Stampin' Up! aanbiedt. Een heerlijk maatje en beschikbaar in Whisper White en Crumb Cake cardstock. De prijs is ook fijn: 7,50 Euro voor 20 kaarten én enveloppen. Dus vandaag wederom 🙂 een setje van 3 Crumb Cake note cards.
Like you know, I'm a huge fan of the note cards that Stampin' Up! offers. A fantastic size and available in Whisper White and Crumb Cake cardstock. I also like the price: 7,50 Euro for 20 cards ánd envelopes. So, today once again  🙂 a set of 3 Crumb Cake note cards.
watercolor pencils
Ik heb eerst alle afbeeldingen (camera, gloeilamp en bij) op Whisper White papier gestempeld en ingekleurd met watercolor pencils in de kleuren: Daffodil Delight, Melon Mambo en Bermuda Bay. Om het watercolor effect te krijgen heb ik de blenderpen gebruikt.
De basisopzet van iedere kaart is hetzelfde qua kleuren, lay-out en embellishments. Alleen de afbeeldingen, gestanste delen en teksten zijn verschillend.
I first stamped the images (camera, light bulb and bee) on Whisper White cardstock and colored them with the Daffodil Delight, Melon Mambo and Bermuda Bay watercolor pencils . To create the watercolor effect I used the blenderpen.
The base of each card is the same in regards to colors, lay-out and embellishments. Just the images, die cuts and sentiments vary from each other.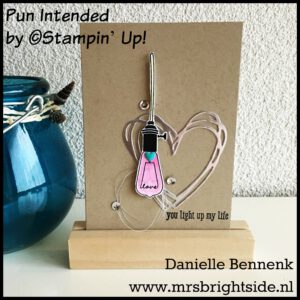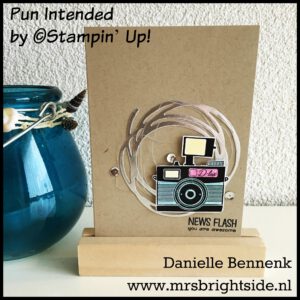 get well soon!
Volgende week ligt de focus op beterschapskaarten. Want het is toch hartstikke leuk om een beterschapskaartje te versturen wanneer iemand ziek is?
Next week we focus on Get Well cards. Because it's a very nice feeling to send a Get Well card to someone who is under the weather.
P.S. Vergeet niet om de informatie over de Creative Stampin' Day (creative-stampin-day) en de informatie over het Creative Stampin' Weekend (creative-stampin-weekend-definitief) want je kunt je nog inschrijven! Plaatsen zijn wel beperkt, dus wacht niet te lang 🙂
Product List