Feel Good Stampin' thema: Whatever The Weather
Deze maand staat het thema Whatever The Weather…. centraal bij de Feel Good Stampin' Bloghop. De design teamleden maken allen een project over het weer. Van regen of zonneschijn tot sneeuw en storm. Zoveel verschillende mogelijkheden. Bij mijn project heb ik natuurlijk gebruik gemaakt van Stampin' Up! producten. Ik ging aan de slag met de gave Rays Of Light Stempelset uit de Stampin' Up! Jaarcatalogus.
Over de Feel Good Stampin' Bloghop…
Ter informatie: Het Feel Good Stampin' Design Team bestaat uit een groep Nederlandse Stampin' Up! Demonstrators die samenwerken om de lezers/bezoekers van onze blogs te inspireren en hen met onze Stampin' Up! projecten een goed (Feel Good) gevoel te geven. Dat Feel Good gevoel is met name nu, in tijden van onzekerheid, zeer welkom.
Iedere 2e donderdag van de maand hoppen we met thema's die een 'Feel Good vibe' hebben.
Tevens geven we onze lezers/bezoekers uitleg (via beschrijving, foto tutorial of instructie video) over het door ons gemaakte project. Zo willen we proberen om het Feel Good gevoel dat wij hebben bij het maken van projecten en het werken met Stampin' Up! producten zoveel mogelijk door te geven.
Frisse Rays Of Light kaart
De prachtige Rays Of Light Stempelset nodigt natuurlijk uit om te gebruiken voor dit thema. Het is dan ook de basis van mijn project deze maand.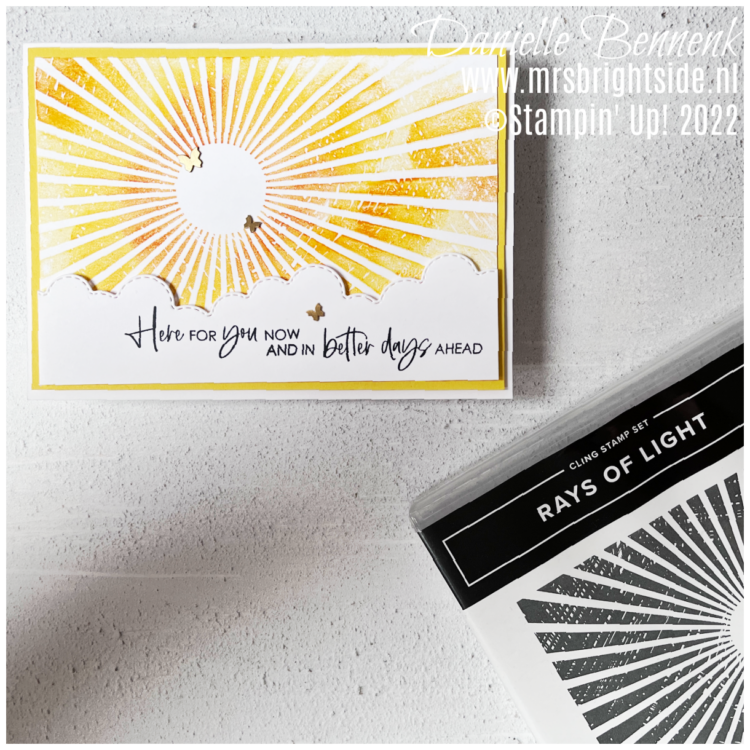 De basiskaart is van Basic White Thick Cardstock. Hierop zit een mat (10 x 14 cm) van Daffodil Delight cardstock. Daarop een mat (9,5 x 13,5 cm) van Basic White Cardstock waarop gestempeld heb met de Rays Of Light Stempelset. Deze heb ik beïnkt met een Blending Brush met Daffodil Delight, Mango Melody én Pumpkin Pie Classic Stampin' Inkt.
De wolken strook heb ik gestanst met de Basic Borders Dies en de tekst is afkomstig van de Colour & Contour Stempelset. Een aantal Brass Brushed Butterflies maken de kaart af.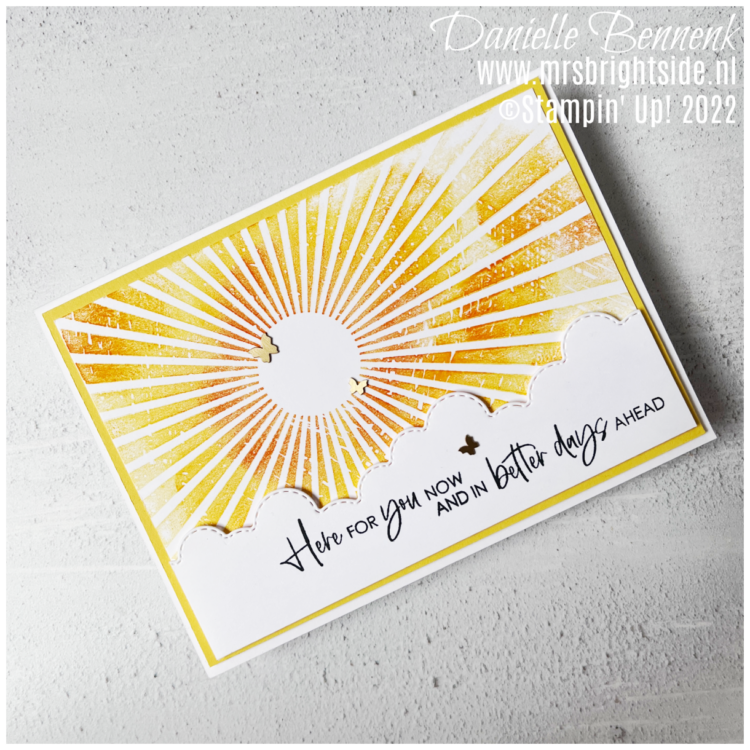 Met het andere deel van de gestanste wolken strook heb ik nog onderstaand kaartje gemaakt. Het is een kleine Slimline kaart waarbij de wolken strook geblend is met Tahitian Tide en Pacific Point Classic Stampin' Inkt. De tekst en de gestanste vlinder zijn afkomstig van de Vlinderliefde Bundel. Een aantal Iridescent Pearls voegen nog wat bling toe.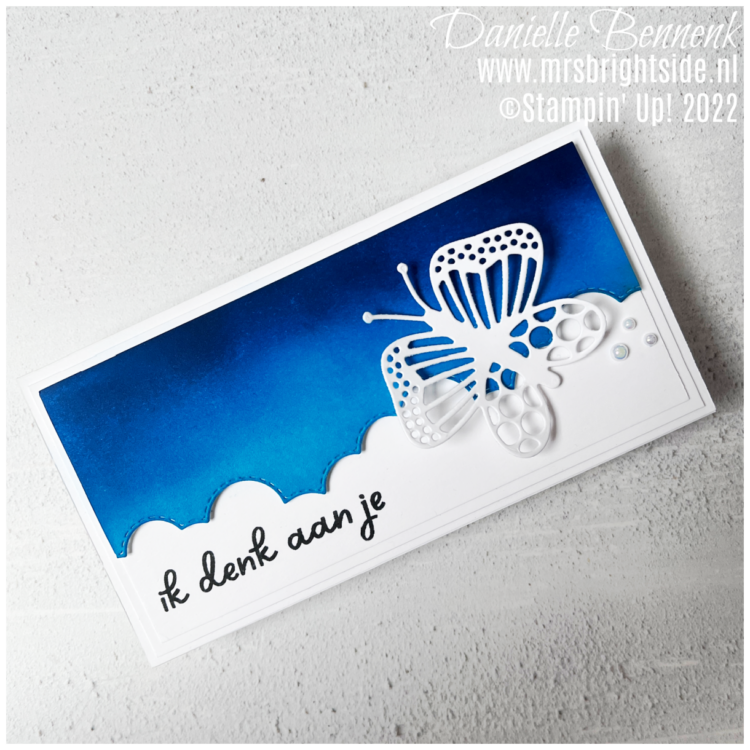 Feel Good Projectbeschrijving
Zoals ik bij de inleiding al schreef, geeft ieder Feel Good Stampin' Design Teamlid een projectbeschrijving. Dit doen we via een PDF-bestand dat je kunt downloaden. In deze PDF vind je de beschrijving, de gebruikte materialen, de afmetingen en een link naar de instructie video. Je kunt vervolgens de PDF opslaan zodat je het project later kunt maken.
Hieronder vind je mijn gratis tutorial (klik op de afbeelding hieronder) met daarin de link van de video.

Meer inspirerende projecten
Wil je zien wat de andere Design Teamleden deze maand gemaakt hebben? Klik dan snel op de naam onder die van mij op de lijst en het wonder van het internet brengt je waar je moet zijn!
Heel erg bedankt voor je bezoek en nog veel plezier gewenst.

GEBRUIKTE MATERIALEN
Ik verzorg graag je bestelling. Klik op de 'Stampin' Up! bestelling'-knop of de 'Webshop Stampin' Up!'-knop (PayPal, IDeal en credit card betaling mogelijk) in de zijbalk om deze te plaatsen.
Product List