Team meeting
Afgelopen woensdag hadden we een team meeting en het was ontzettend gezellig! Ik had een leuk projectje voorbereid voor de anderen om te maken. Een 1 sheet wonder mini-album. Dit album kun je makkelijk in je tas stoppen met wat leuke fotootjes.
Last Wednesday we had a team meeting and it was so much fun! I prepared a fun project for the others to make. A 1 sheet wonder mini-album. This album fits easily in your purse with some cute pictures.
inspiration
Het mini-album is gemaakt naar aanleiding van de projectbeschrijving van Maria (www.papierrascheln.blogspot.com). Het is echt heel makkelijk te maken en vervolgens helemaal aan te passen naar je eigen wensen. Je kunt er dus ook heel goed restjes mee op maken 🙂
The mini-album is made with a tutorial of Maria (www.papierrascheln.blogspot.com). It's a very easy make and you can totally decorate it to your own liking. It's a very nice project to use up all your scraps 🙂
fresh florals dsp
Als basis heeft iedereen Smoky Slate gebruikt met daarbij een vel Fresh Florals DSP in hun favoriete nieuwe In Color! Ik heb gekozen voor Tranquil Tide, niet persé omdat het mijn favoriet is (want dat is Lemon Lime Twist :)), maar omdat het mooi past bij mijn foto's.
As base everyone used Smoky Slate cardstock with a sheet of Fresh Florals DSP in their favorite new In Color! I chose Tranquil Tide, not because it's my favorite (that's Lemon Lime Twist) but because it fits well with my pictures. We used the stamp sets of the Softly Sayings and Oh, Happy Day card kits by Stampin' Up!
De stempelset die ik gebruikt heb komt uit de nieuwe kaartenkit van Stampin' Up!: Soft Sayings. De andere teamleden konden niet alleen deze stempelset gebruiken, maar ook de stempelset uit de Oh, Happy Day kaartenkit. Beide kits zijn nu verkrijgbaar. Het is echt een fantastische deal  42,50 euro voor een kit met 20 kaarten, inclusief stempels, embellishments en een stempelblok! Wil je er ook een bestellen? Stuur mij dan een mailtje 🙂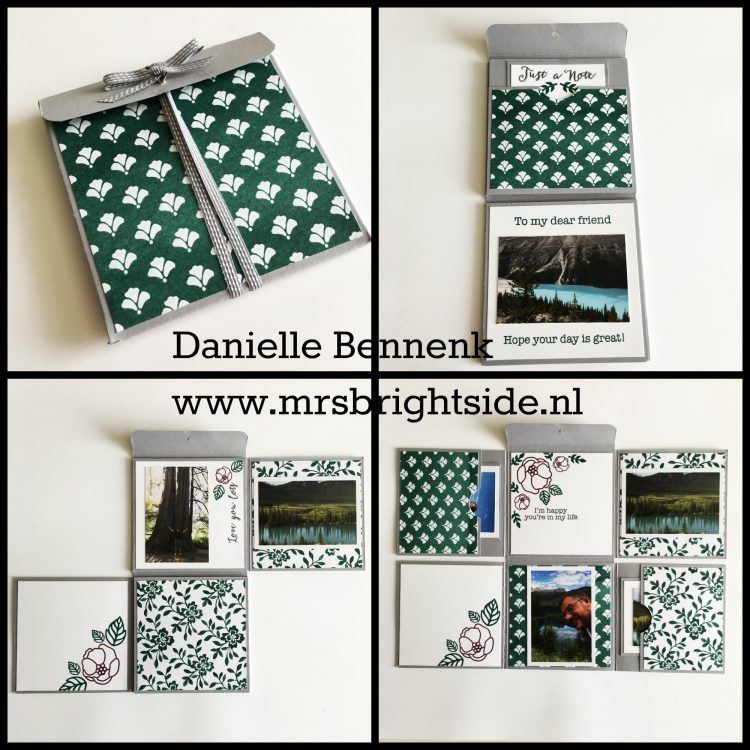 more scrap Sunday inspiration
Vandaag tonen diverse  stempel & scrap vriendinnen hun Scrap Sunday creaties. Hieronder vind je een linkenlijst. Het is geen bloghop, want niet iedereen zal iedere week meedoen, maar door op hun naam te klikken kun je hun blog bezoeken en genieten van hun creaties.
Today, a couple of my stamp & scrap friends are also showing their Scrap Sunday creations. Below you'll find a link list. It's not a blog hop, because not everyone will participate every week, but by clicking their names you can visit their blogs and enjoy their creations.
Product List